Facebook Police Chief and ex-SO, Jojo Zawawi reveals some interesting facts in her latest posting on the Facebook "Scientologists" group.
Apparently her effort is to "D/A" the spoof email that was sent out by thetaburst informing one and all that the dates of the events may change. 
But she also reveals some other interesting news: 
There will be no showings at Missions. 
There will be no repeat showings and no DVD's made.
But gosh, if this is so damned important, why not let everyone see it? And why no "repeat showings" (don't count on it) and no DVD's available.
Simple answer: when Marty Rathbun, Tony Ortega and I used to post excerpts of His speeches on the internet the hammer came down.  COB does NOT appreciate anyone criticizing his performance or picking apart what he says and showing him to be a liar. They could NOT figure out where they were leaking from, so after a series of failed efforts to find the leak and more and more "security" on the event videos, they finally decided not to put them out other than to Orgs and then only with VERY tight security.
Dear Leader is preventing the faithful from hearing His words of brilliance because He fears non-sycophants might hear it.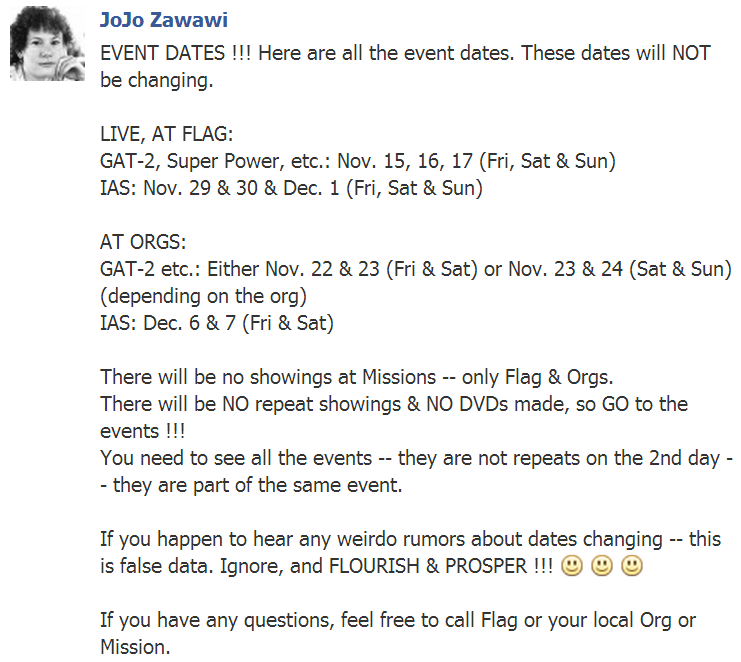 Obviously there is some difficulty getting people to "register" so now they are offering "gifts" if you come in and do it.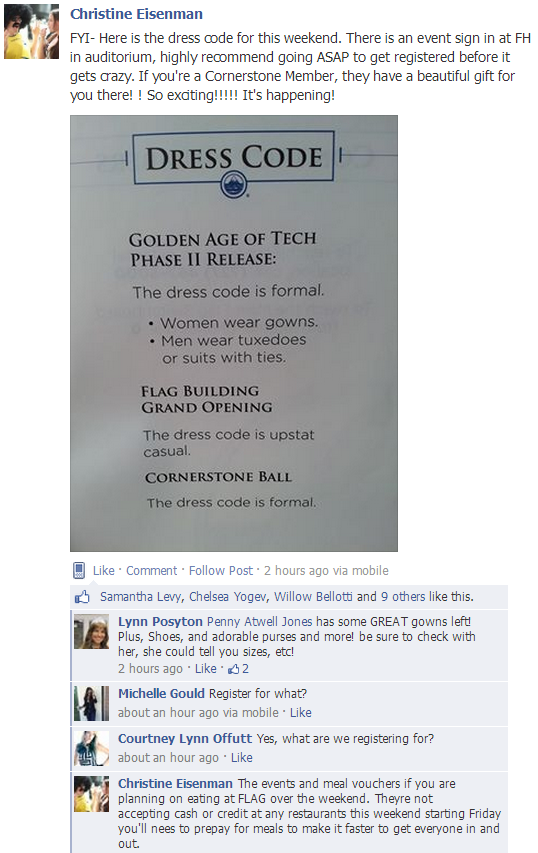 Oh dear, change of plans. Now they DONT accept cash or credit at any restaurants this weekend… 
As usual, that old glamourpuss Penny Atwell Jones is planning on making a killing darling with her gorgeous gowns and accessories for all the fashion challenged Cornerstoners and Humanitarianistas.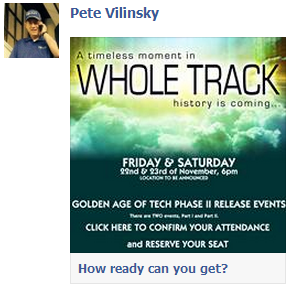 How ready CAN you get for a timeless moment in whole track history bullshit? 
What the hell does this even mean?
Volunteer Ministers
Apparently my comments about the timely church PR release of the training session on Palau prompted a reaction (its always good to know they keep reading my blog….)
The VM website put up a "Message from First Responder Ayal Lindeman on Typhoon Haiyan in Philippines". Now this guy does get up off the couch and go places to try and do what he knows. Agree or disagree with what the VM's do, many of them truly want to help and think what they do is useful. 
BUT, read the message carefully:
US Veteran first responder Ayal Lindeman is leading the international Scientology Volunteer Ministers disaster response team to help the Philippines recover from super typhoon Haiyan. Here is his message:
 This will be my second trip to the Philippines for a super typhoon Cat 5 response in less than a year.
 
The devastation is intense. We cannot sit by.  No one can. It is the true nature of a being to desire to help and the fact is that you can.
 
With these deployments, specialized equipment is needed and that takes funds.
Hmmmm, I guess he is "leading it" but he has not left yet as he "is leading" the team and it "will be my second trip" (as opposed to it is my second trip)
But, here's the rub. What a surprise. WE NEED MONEY!  The billion dollars the IAS has isnt enough yet to deploy some people and some equipment to the Philippines. GIVE US MORE.
What is going to be REALLY interesting is to see how many of the couch humanitarians get on a plane to the Philippines, how many get on a plane to Flag for the most important event in the history of any universe (never to be replayed) and how many remain on the couch. 
My bet is 1% head to the Philippines. 2 1/2% go to watch Dear Leader bloviate. 96 1/2% stay on the couch.