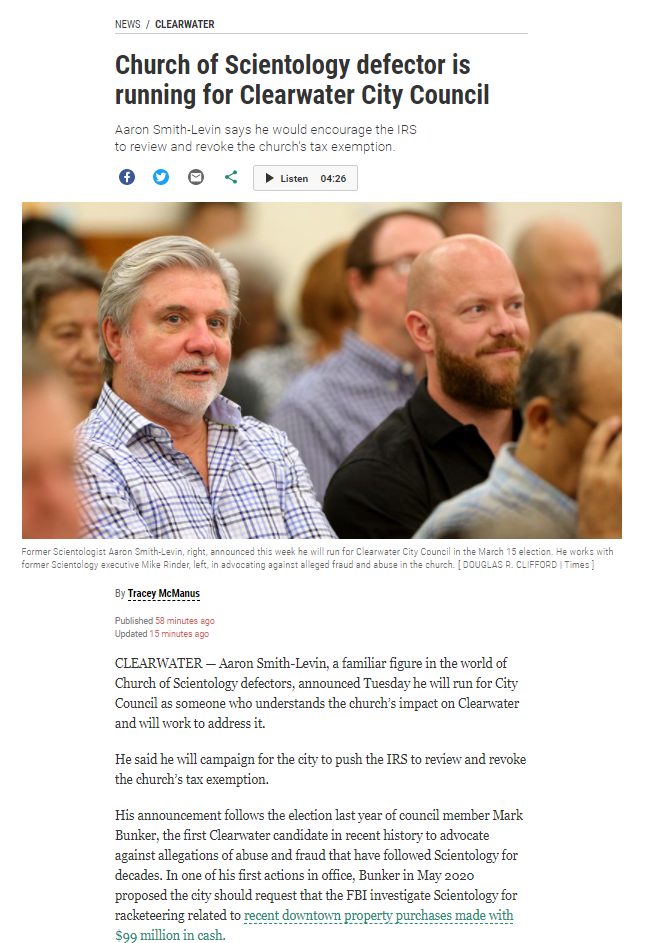 The latest Tracey McManus article  on scientology ran yesterday, announcing that Aaron Smith-Levin is running to join Mark Bunker on the Clearwater City Council. Unfortunately, the editor chose a photo that featured me more prominently than Aaron and some thought I was running (I do not live in Clearwater so am not eligible to serve on the City Council).
This is a significant event in Clearwater. Mark Bunker was elected to the City Council earlier. There is a new regime in Clearwater — a new City Manager (Jon Jennings) and City Attorney (David Margolis) are coming to town, hopefully they will get themselves acquainted with the truth about scientology. The old guard, two people Miscavige knew well and considered were his allies (I am sure they dispute this characterization), are no longer there. The Mayor, Frank Hibbard is a pragmatist but no friend of scientology. Clearwater and its relationship to scientology is changing.
Aaron poses the greatest challenge to scientology's control in Clearwater yet. He is a former Sea Org member who has been very vocal in his criticism of scientology, the Sea Org and David Miscavige for many years. He is jumping in with both feet, starting out by making his intention clear to use his position to demand federal agencies investigate scientology. He makes a very good point: Clearwater is more heavily impacted by scientology tax exempt status than any other community on earth (the revenue loss to the city is enormous) and their violations of public policy are more concentrated in Clearwater than anywhere else, so if Clearwater is not leading the way in demanding something be done about this how can anyone expect federal agencies to take it seriously?
This is a direct broadside at scientology, threatening that which they will try to protect at all costs. Their tax exemption.
How will scientology respond?
Certainly with Fair Game. You can expect to see more smear sites and new claims about what a reprehensible individual Aaron is. Korean POW style videos from "former associates" delivering scripted diatribes. It would be par for the course that they try to set him up with some scandal — the days of covert ops are NOT over. In the past scientology has used honey-traps, women sent in to obtain compromising photos. In the past, scientology has had enemies pulled over with anonymous reports of drunk driving or drugs in someone's vehicle, with a photographer ready to snap shots for subsequent Freedom magazine splashes. Contacting supporters asking questions intended to plant seeds of doubt that he is a nice guy ("We are investigating him for financial fraud, do you have any information that would assist in this inquiry?" or "We have received reports of animal abuse and are very concerned about this, have you ever seen him mistreat his dog?"). The range of potential actions is almost unlimited, and for this they will spare no expense. For anyone unfamiliar with the tactics of scientology, read Dealing with Critics of Scientology — the L. Ron Hubbard Playbook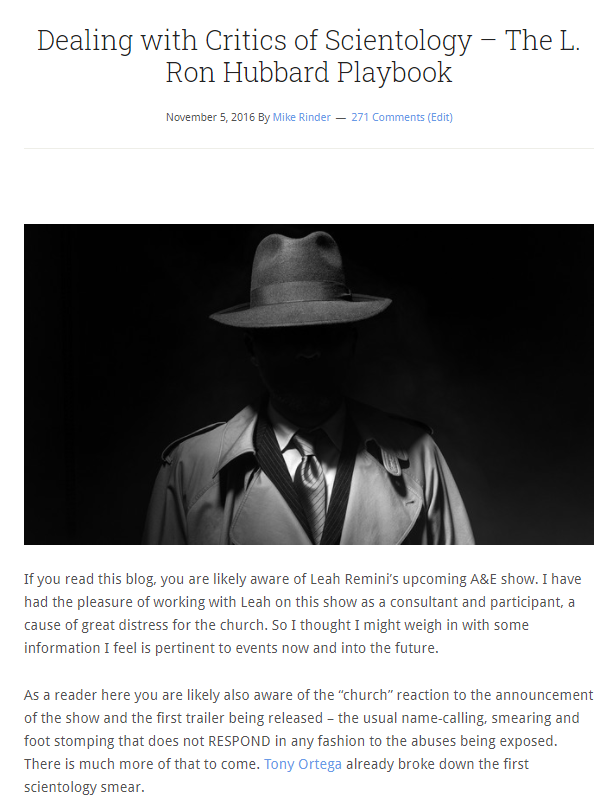 And this one: Framing Whistleblower — the Scientology Playbook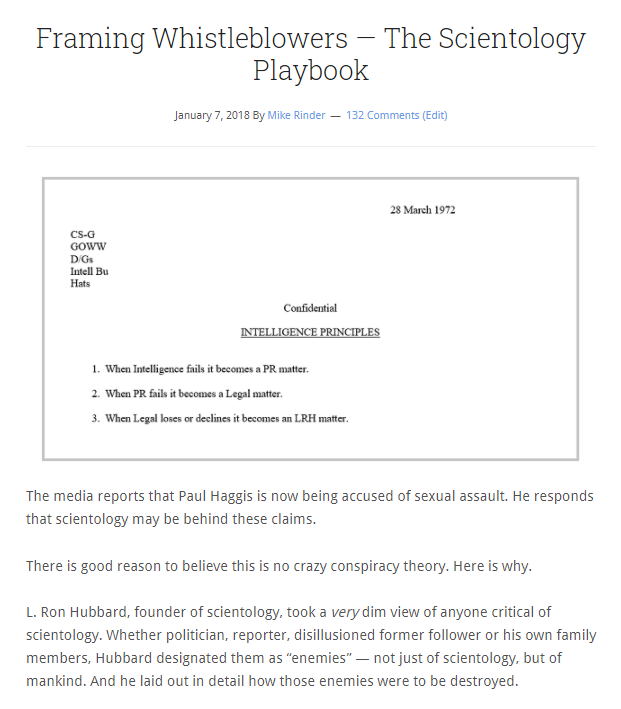 And this article about what scientology did to the former Mayor of Clearwater, Gabe Cazares — he was framed for a fake hit and run accident, had false documents planted in official records that he was a bigamist and much more: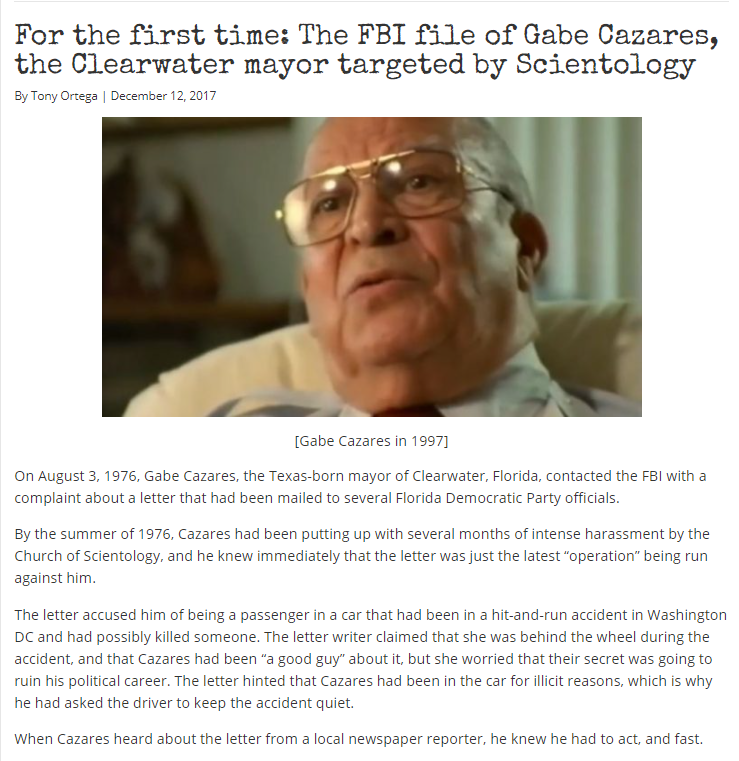 There can be little doubt that scientology will try to manufacture scandal to derail Aaron's campaign. We will wait to see what form it takes. And then cash in some "I told you so" chips.
The more interesting question to me is whether scientology will try to run their own candidate.
For decades they have been convincing politicians in the local area that they have a huge voting block in order to get them on their side. Some have fallen for it. Former Florida A/G Pam Bondi being a notable one. They have variously claimed 10,000 scientologists in Clearwater and 15,000 in Tampa Bay greater metro area. Both numbers are wildly inflated. And though they might have a few thousand who live within Clearwater City limits, this includes children and the large percentage of Sea Org members who are not US citizens. So, the number of votes they can muster is NOT great. But then again, 5,000 votes can win a City Council election in Clearwater.
Scientology could easily select one of their current puppets — Paris Morfopolous for example — and tell him to run. Even put up Lisa Mansell, their Sea Org member "Community Relations Director." They would certainly have the support of every eligible scientology voter in Clearwater who would be ordered to go out and vote for him next March. But I doubt this will happen. They fear the humiliation of a scientology candidate ONLY getting votes from scientologists which would give an accurate count of how many there are in Clearwater. That is the last thing scientology wants. More likely they will support Aaron's opponent like they did when Mark Bunker was running. Then it was Eliseo Santana who read scripted scientology dead-agent lines and his campaign manager was a vocal heckler of Bunker. They will no doubt provide financial support to his opponent through their network of local, wealthy scientologists who are directed in their activities by the Office of Special Affairs.
To reiterate: the simplest way for scientology to avoid Aaron taking his place on the City Council would be for them to get a scientologist elected. My bet is they won't dare try. And that itself will be evidence they don't have the political power they have long claimed in Clearwater.
Aaron is stepping into scientology's crosshairs even more than he already has been. Support him any way you can. This is going to be a significant move in flipping the script in Clearwater. And for those who have wondered "What can I do to help?" here is a golden opportunity. When the campaign season officially begins tomorrow, reach out to Aaron and see what you can do.