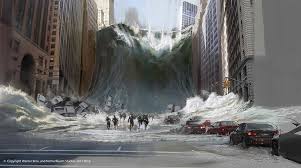 The tidal waves are coming. It's GARGANTUAN.
And what is IT?
A million file folders for the newest newly renewed ASHO and AOLA. Is this the third or fourth time for the "new" ASHO and AO? And they have been "Ideal Org/SH Size Orgs" for as long as those concepts have been floating around the bubble. So how come their files are in disarray AGAIN?
But in all our excitement about the files, let's not forget to get yourself confirmed for the events. We have NO IDEA when they will be, but make sure you sign up now, before Thursday at 2, to confirm your attendance for a date sometime in the future for some events that are GOING TO BE MONUMENTAL and the BEST EVER IN THE HISTORY OF ANYTHING for absolute sure. 
Oh, and did I mention there are brand new file folders! OMG.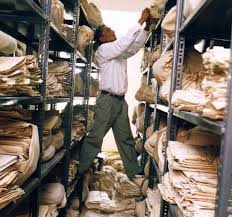 The only thing that excites a sheeple as much as a new donor status is a new file folder. Woohoo! Come and join the fun. 
Wonder when they are EVER going to get around to using computers for Central Files. They send out thousands of stupid emails a day, you would think they would have gotten over their file folder obsession by now…. 
Did you hear about how we have a million file folders?
Interesting note: ASHO is supposed to have the CF of all orgs — and if both ASHOs and AOLA only have a million CF files, they are falling a bit short on people. Because believe me, there are more names who are NOT on lines or even Scientologists any longer in those CF files than there are real IAS supporting KoolAid drinkers by a factor of at least 10 to 1. Those CF files go back to the names originally imported from SH when AO and ASHO were first set up in late 60's…. 50 years of everyone who has gone through an org and ended up in CF and it's about 650,000 total (split 2/3rds ASHO and 1/3rd AO).
Date: Sun, 29 Sep 2013 
From: CLO WUS <westuseventsunit@scientology.net>
Subject: RE: GET READY FOR THE TIDAL WAVES – THEY ARE COMING! HERE'S HOW YOU CAN HELP! ARC, KIT FINN – EVENTS UNIT

Hi Xxxxx. This email is going out to all Church members in the greater LA Field to:

#1.) Keep all briefed on all the gargantuan activities occurring.
#2.) Sign you all up to participate as we'll have a greater impact with all that is occurring because of YOUR involvement!

We're counting on you to do the following:

#1.) Sign up to come in to help label the million plus brand new file folders for AO and ASHO to ready them for their move in to their upcoming new renovated spaces…Our own Ideal Sea Org Orgs on LRH Way.

The files volunteer space is located right here on the base and goes from 9:30 a.m. daily to 11:00 p.m. with the exception of Sundays. It starts at 1:30 p.m. on Sundays and goes until 11:00 p.m.. (However if you want to come Sunday mornings email back and if we get enough volunteers for Sunday morning, we will work it out.)

#2.) The big events are coming and we want all Ready to not only confirm yourselves, but to be ready to confirm everyone, I MEAN EVERYONE, YOU KNOW!!! We'll need a lot of confirming happening from every Church member to make sure ALL Scientologists ATTEND each of these events! Please let me know you're in.

Civilization works because it's a team! We are the BEST TEAM and EVERYONE matters!

#3.) Let us know if you are going to Flag for the big events and/or who you know who will be going. THOSE LIVE EVENTS are going to set the pace for an unprecedented future for mankind!

#4.) THE COMMANDING OFFICERS, CAPTAINS AND ED'S FROM CLO WUS, CCI, AOLA, ASHOD, ASHOF, PASADENA, INGLEWOOD, VALLEY AND LA ORGS, ARE BACK THIS WEEK FROM A 9 DAY STAY AT FLAG WHERE THEY WERE FULLY BRIEFED ON ALL THAT IS HAPPENING. THEY WILL BE BRIEFING YOU…THE GREATER LA FIELD, AT THIS FRIDAY NIGHT'S GRADUATION, OCTOBER 4, 2013 AT 8:45 P.M. IN OUR NEW EVENT HALL AT
PAC! SIGN UP TO ATTEND AND BRING OTHERS WITH YOU! (CCI, INGLEWOOD, VALLEY AND PASADENA WILL BE HAVING THEIR OWN BRIEFINGS FOR THE FIELD AS WELL, BUT ALL ARE STILL INVITED TO PAC'S GRADUATION, THE MEETING PLACE FOR ALL SCIENTOLOGISTS IN GREATER LA ON FRIDAY NIGHTS.)

#5.) We want to know all Church members, their friends and family members are moving on their Basics Books and Lectures! Let me know in return you're on them and/or if you need any help at all in relation to this.

Please write back and let me know you are ready with your communication regarding all 5 points above.

Thank you!

ARC, Kit Finn