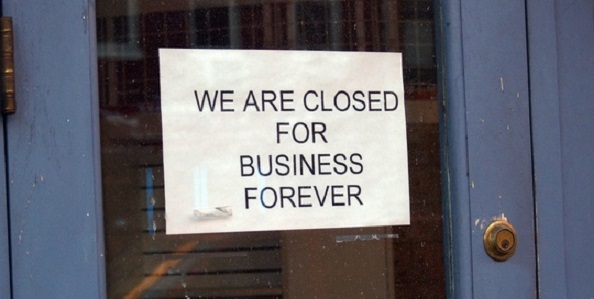 In the era of massive, straight up and vertical, 47X expansion in the wake of GAGII one could be forgiven for assuming that this would be most evident in the LA area — "home to the largest population of scientologists on earth" according to the infallible pronouncements of Dear Leader.
One might also assume that the boom is happening at the bottom of the Bridge with the massive international dissemination campaigns "sponsored by the IAS" and the enormous international dissemination center right there in LA, alongside the largest digital printing plant on earth at Bridge Publications and the state-of-the-art Audio Visual production facility in Riverside County so amazing it needs to be protected by 24/7 security guards, cameras, motion sensors and infrared cameras. And we haven't even mentioned the astonishing reach of scientology on the internet, or the new TV studio just purchased, or the 7 ideal orgs in the area, plus CC Int. And international management and the Flag Command Bureau. And Author Services and the IAS. The largest number of Sea Org members anywhere. It is a veritable cornucopia of amazing scientology pluspoints in the LA area — if anywhere should be experiencing the bursting at the seams expansion, it would be LA.
You would expect the Mission scene to be booming. Weekly announcements of new Missions opening in the area (after all, there are supposed to 20 Missions around each Class V org — that would be 120 just in LA) and the Ideal Orgs are supposed to be creating new missions and field groups like mushrooms popping up after a spring shower.
I seem to have missed the announcements of the new missions that have sprung up around Pasadena, LA Org, Inglewood and Orange County???
In fact, if you look at the scientology.org website they list a total of 34 missions in CALIFORNIA.
California include the following "ideal" Class V orgs:
LOS ANGELES
PASADENA
ORANGE COUNTY
INGLEWOOD
CC INT
SAN FRANCISCO
STEVENS CREEK
LOS GATOS
SACRAMENTO
And the following Not So Ideal Orgs:
SAN DIEGO
VALLEY
SANTA BARBARA
MOUNTAIN VIEW
That is 13 Class V orgs (not counting Day and Fdn spearate). That SHOULD be 160 Missions in California at a minimum, and the big ones should be turning into orgs (remember the Miscavige golden arrows spurting out of his ideal orgs to create new missions that then turned into orgs "and so the pattern repeats")?
But 10 years on from the first "ideal orgs" and not a single new org in California, not even a new Mission?
But I digress slightly.  Back to the 47X expansion in LA.
Here is the latest evidence of what a crock of shit that is. And according to a local Special Correspondent, this mission was unable to pay their rent or utilities bills for months and "OT's" were pitching in to keep it afloat, but even they apparently gave up on this lost cause:
From: Sunland Mission <sunlandmission.yahoo.com@send.mailchimpapp.com>

Date: Sun, Aug 31, 2014 at 9:32 AM
Subject: Sunland Mission Status Update
To: ctempster@gmail.com


Dear Sunland Mission Parishioner,

In order to re-group so that we can offer the full array GAT II services, the current Mission location has been closed. The new Mission location will be announced sometime in the future.

If you have been on service at the Mission, you may contact Stacy Kitchens or Lynn Simington to make arraignments to continue service at the Mission of the Foothills.

If you had course packs in the Mission, they will be taken to the Foothills Mission.

The Mission of the Foothills address is:

2254 Honolulu Ave.
Montrose, CA 91020
The entrance is in the back of the building facing the parking lot.
Tel: Tel: (818) 957-1500

ARC,

Execs and Staff
Sunland Mission
Now THIS is 47X expansion in the real world as opposed to the woodchip word salad that gushes forth from Dear Leader and is then repeated by the Minions enough times to make it "true for you."