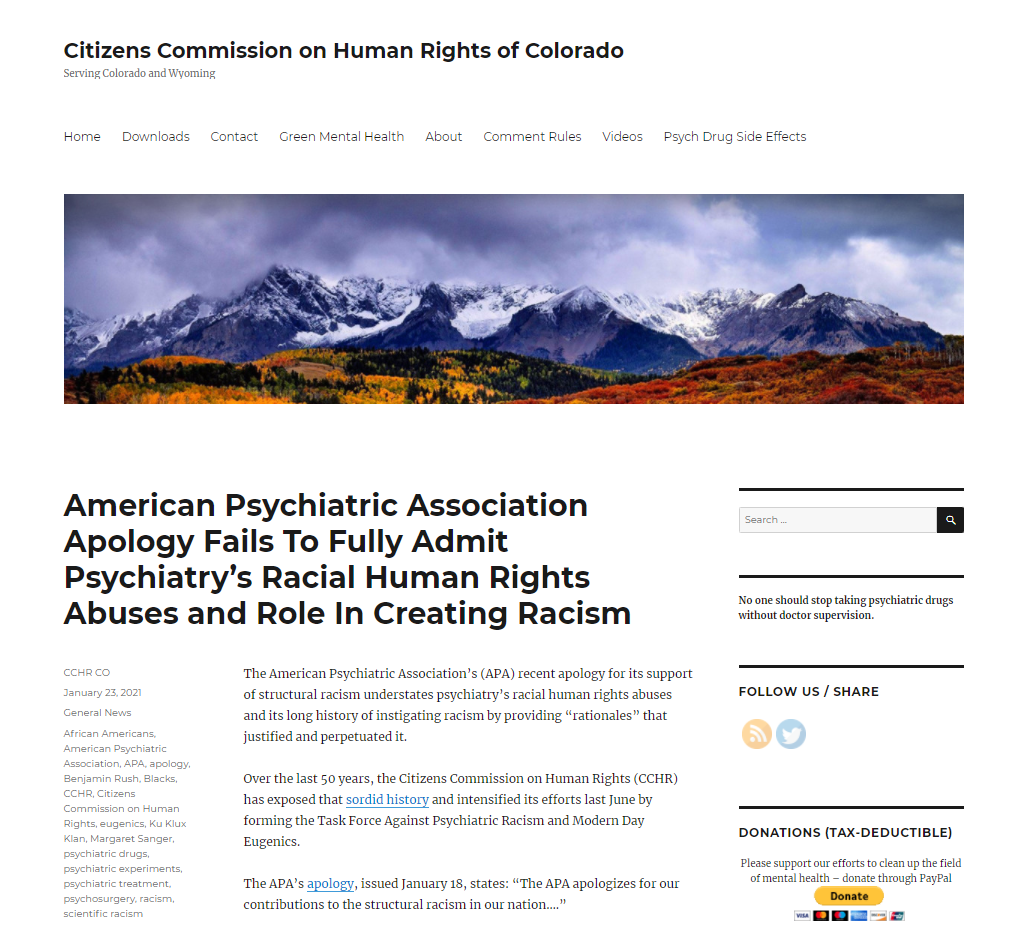 In every aspect of scientology, the hypocrisy runs VERY deep.
They accuse others of "hate" while perpetrating it themselves. The rail against human trafficking while engaged in human trafficking of Sea Org members every day. They shout loudly about anti-Semitism while supporting and promoting some of the loudest anti-Semites.
And here they are again. Complaining that the APA's "recent apology for its support of structural racism understates psychiatry's racial human rights abuses and its long history of instigating racism…"
CCHR thinks their apology is inadequate. Frankly, it seemed almost over the top to me — they are quoted as follows in the CCHR piece:
"The APA apologizes for our contributions to the structural racism in our nation…."
"These appalling past actions, as well as their harmful effects, are ingrained in the structure of psychiatric practice…."
They complain these statements are somehow not up to their expectations, yet there has never been a SINGLE apology for anything by scientology. And there never will be.
Let's stick with the subject at hand, racism. Where is ANY apology for Hubbard's blatantly racist statements? You can find a fairly good collection of them here: L. Ron Hubbard's Racist Statements
Some of my personal favorites:
"The trouble with China is, there are too many chinks here."
"India: wonderful place — except for its people."
"…the African tribesman, with his complete contempt for truth and his emphasis on brutality and savagery for others but not for himself, is a no-civilization."
"This is the only way I know of to keep Australia from being deluged with Asiatic hordes."
"You can put these things into the hands of some Chinese and send him to Hong Kong and we'll have cleared chinks."
"The Arab is to a point where he won't even follow a decent leader. He's got to have a man of blood, a man of cruelty, exaggeration and bigotry. Then he'll follow him."
"It is considered in England and the United States that the Government of South Africa is altogether too harsh with its native peoples. It is sadly humorous to notice that the native in South Africa, however, holds an exactly reverse opinion and the fault he finds with the South African Government is that it is far too lenient in its administration of laws throughout the native populace."
"The Zulu is only outside the bars of a madhouse because there are no madhouses provided by his tribe. … primitives are far more aberrated than civilized peoples. Their savageness, their unprogressiveness, their incidence of illness …"
"Actually, have you ever noticed how a Negro, in particular down south, where they're pretty close to the soil, personifies MEST? The gatepost and the wagon and the whip and anything around there—a hat. They talk to them, you know. 'What'sa mattuh wi' you hat?' They imbue them with personality."
Pot. Kettle. Black.