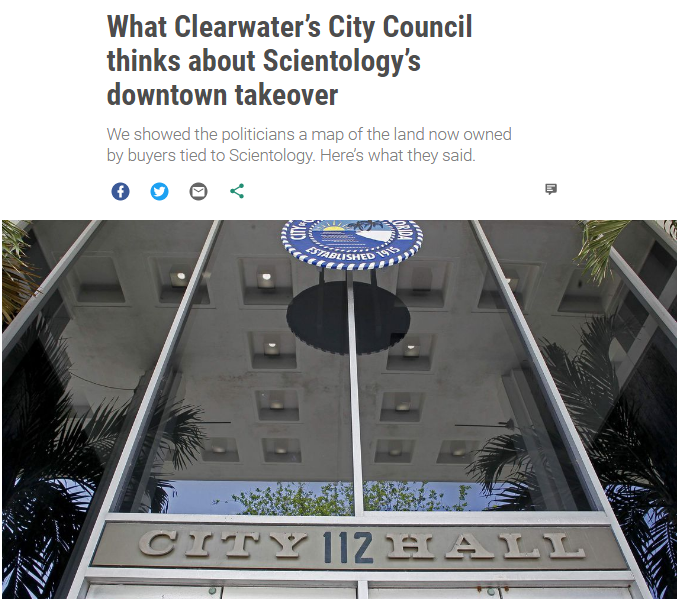 An interesting follow up piece by Tracey McManus quoting reaction from members of the Clearwater City Government to her bombshell expose from yesterday.
Unsurprisingly, the Clearwater politicos don't have much to offer in terms of how this happened to their city, what they think it means or more importantly, what they are going to do about it. They have been overwhelmed by a far more sophisticated and well-funded opponent that doesn't care whether they hurt anyone's feelings as long as they get their way.  Politicians in Clearwater in the last couple of decades have been more concerned about offending scientology than doing what is good for their city.
Scientology responded to the article in typical fashion with a letter from Gary Soter. He is the LA lawyer who is the go-to guy for who will put his name on letters most lawyers would not send. It is strange that if scientology was not going to have an official from the organization make a comment, that they did not have any of their Clearwater lawyers — either from the Johnson Pope firm or Ed Armstrong or Katie Cole from Hill Ward Henderson — provide a response. They deal with the city on property matters all the time, in fact Ed Armstrong was originally hired by scientology precisely because this is his specialized field and his cozy relationships with city officials. Why no word from them?
The quotes from the city officials were pretty much what we have come to expect.
The Mayor, George Cretekos, responded with cautious hypotheticals, but did seem to grow a little less equivocal than he has been in the past saying "it is "disconcerting" that parishioners have assembled property — he thinks likely under the coordination of Scientology leader David Miscavige — and are "not telling us what they want to do."" That's almost reckless by George's stamdards.
City Council member Jay Polglaze was even weaker: he could only manage that the pattern of property purchases "does suggest this is no accident," but also covered his bases "that they are not necessarily opposed to redevelopment of downtown, but that they want to have a greater influence on how it's redeveloping." Obviously he is very afraid of scientology.
In a rather bizarre quote, his dissed the flourishing Dunedin downtown area: "I don't think they want another Dunedin with 10 breweries in the core." I don't think there is anyone in Clearwater who would mind a downtown that could support 10 breweries. It would certainly mean there were plenty of real people there – the staff and all the scientologist that come in for auditing and training are not allowed to drink alcohol.
City Council member David Allbritton was less equivocal, "he believes Scientology leader David Miscavige is assembling properties "for the betterment of himself," whether or not the 2020 council supports him."
But then, covering all bases, the article says "he's gotten the impression from local church staff that Scientology would like to see a vibrant downtown. And some prominent members, like developer Moises Agami, have brought successful businesses into the city." Obviously he does not know scientology. This is a PR line they try to sell. Believe me, if Moises Agami was told to get rid of all non-scientologist tenants in his building by David Miscavige they would be gone faster than the downtown redevelopment plan vanished when the city refused to sell the Aquarium lot to Miscavige.
But he does seem to understand one important thing: "what happens to downtown next is now clearly up to Miscavige. They aren't doing it by themselves, it's coming from the head, and that's the problem with Scientology, you've got to go to the guy at the top because nobody's going to make a commitment without him." But who knows what this means to anyone?
City Council member Hoyt Hamilton was more forthright: "It doesn't take a rocket scientist to look at this map and see none of these properties, after changing hands here, came forward with 'here's what I want to do.' "
Hamilton also said:  "The city has to comply with the tax-exempt religious status the federal government granted Scientology in 1993. Maybe one day, the government will reconsider. Who knows, maybe we'll get lucky and the federal government will say 'you know what, let's verify our earlier decision'." Right on.
This is the most important thing anyone said.
He is on the right track. The biggest loser anywhere in the world from the IRS granting scientology tax exempt status is the City of Clearwater. Scientology loves to claim "we are the largest property tax payer in downtown Clearwater" — these days they are almost the ONLY property tax payers in downtown. But the real equation is, how much property tax revenue is Clearwater LOSING with the huge amount of tax exempt property scientology owns? The city would have MASSIVE revenues from these properties if everything was NOT tax exempt. The question is, are they going to do anything about it?
The big cop-out was Council member Bob Cundiff. There have been whispers that his notoriously soft position on scientology indicated he is a scientologist. I would bet against that no matter what odds you gave me. But because he isn't a scientologist doesn't mean he isn't sympathetic or even forwarding their aims whether wittingly or unwittingly. His comments to the Times on this matter read like something a scientology spokesman might have made, if they had put anyone forward to comment.
His first quote: "They haven't broken any laws." Well, of course he actually doesn't know that. But with respect to buying property, he is likely correct. It's not illegal for anyone to buy any property. But the point here is not whether it is illegal, it is whether it is in the best interests of Clearwater. It's not illegal for him to cheat on his wife either, but it's not much a defense if he got caught.
This "it's not illegal" spin sounds like a talking point from Ben Shaw or Lisa Mansell.
He is then quoted that "he couldn't speculate on what the new property owners have in mind for their vast sections of downtown." Maybe not. But I can be sure it's whatever is good for scientology- not what is good for Clearwater.
And he slipped into full-on scientology-mode spin mode as he played their favorite card in the deck — religious persecution:
"Cundiff said he wondered why the Times wasn't also looking at "how many properties the Catholic Church owns or the Presbyterian Church owns.""
Well, if Clearwater was dominated by the Catholic Church or Presbyterian Church that would be a valid question. He might as well have asked why they didn't look into how much property General Motors owns. What wall Bob? And he tacked on his patriotic pitch — gosh it would be "un-American" to be outraged about this.
"We as government officials and me as a council member and American, I'm not treading on any church's or any individual's right to buy or sell property."
And then another often heard Miscavige talking point: scientology is "known for keeping their properties looking nice. Let's just hope they'll be good property owners." Sort of forgetting that many of these buildings sit completely empty and a lot of them are unrenovated.
And finally, in a most bizarre false equivalency argument that even Miscavige would be ashamed of: "There's certain precedent in Orlando of the same thing," referring to Walt Disney buying an enormous amount of property in secret for what became Disney World. "I can't read minds," Cundiff said. "We'll have to see what they do."
That is really some fantastical magic thinking to make scientology seem like Disney.
Cundiff is a scientology apologist. In some ways even less understandable than if he WAS a scientologist.
It is time for some new blood in the city of Clearwater.
I don't know what can be done about the state of downtown Clearwater. But know this, it CAN get worse. Scientology and Miscavige are not going to stop… All that can be done is to get some people with backbones in place who will not continue to be bullied.  Hoyt Hamilton is on the right track. Every citizen of Clearwater should be contacting any elected officials they know to demand that the IRS review the tax exempt status of scientology. This unrestrained, untouchable, secretive money machine is like the Terminator. Undoing their tax exempt status is the only way to defeat them in the end.
This is why I continue to stress the importance of getting Mark Bunker elected to the City Council. Go to markbunker.com.
Never forget their objective: Clearwater known as the first Scientology city in the world.