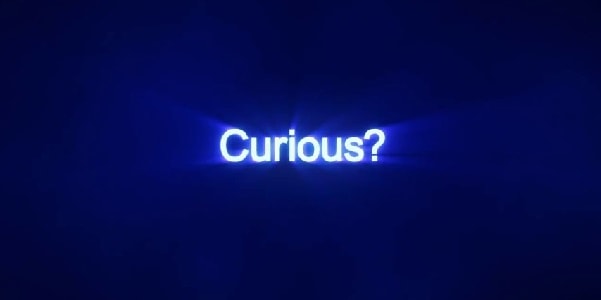 There is some mystery surrounding how many people watch scientologyTV.
Of course, there are no numbers available from normal audience tracking services as they are not selling ads, so they're not subscribing. It's convenient, as no doubt the numbers would be appalling.
But two things make this of interest.
They are spending a LOT of money to promote their "TV channel" with ads on the Super Bowl and Grammies and billboards plugging it (it is literally the ONLY thing the ad tells people to do — visit scientology.tv). Every one of the thousands of remaining scientologist on earth are being exhorted to get their friends, family and aquaintances to watch. According to scientology this is "must see TV" that satisfies the enormous number of people who are "Curious?"
And second, they accuse everyone else who exposes them — from The Aftermath to 60 Minutes to Anderson Cooper of "sinking ratings" and that the shows are trying to "gain an audience due to the popularity of scientology."
Well, there is one way to judge the audience of scientology.tv. Using Alexa rankings.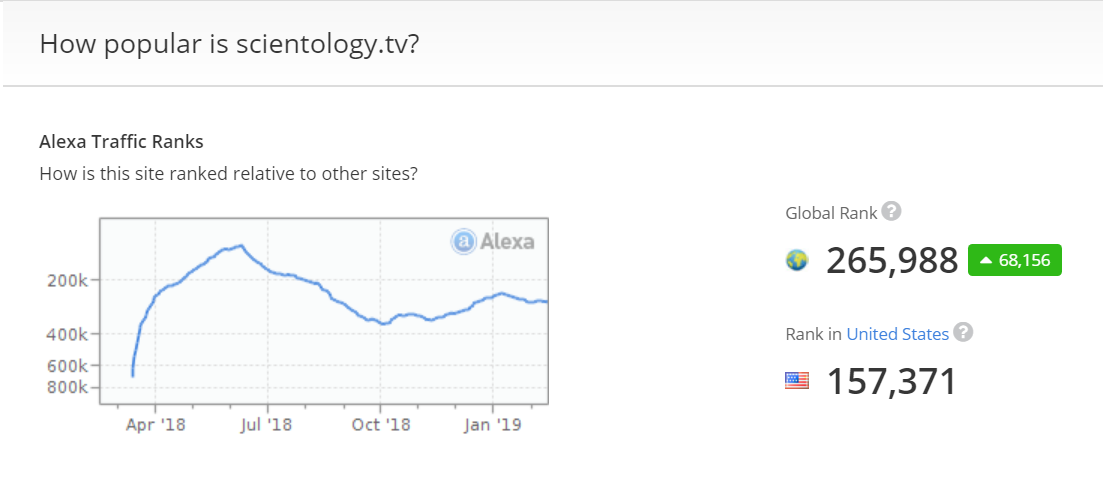 Hmm, what does that mean? There are nearly 266 thousand websites with more traffic on earth and 157 thousand more popular in the US.
And no response at all to the Super Bowl ad.
But this is pretty abstract. What does it mean? Because the Alexa ranking are only comparative to other sites, the only way you can gauge the size is by comparing this to other sites.
So, here is scientology.org — the big kahuna of the scientology world. With dozens of subsites and enormous efforts made to get links to attract viewers, even if by accident.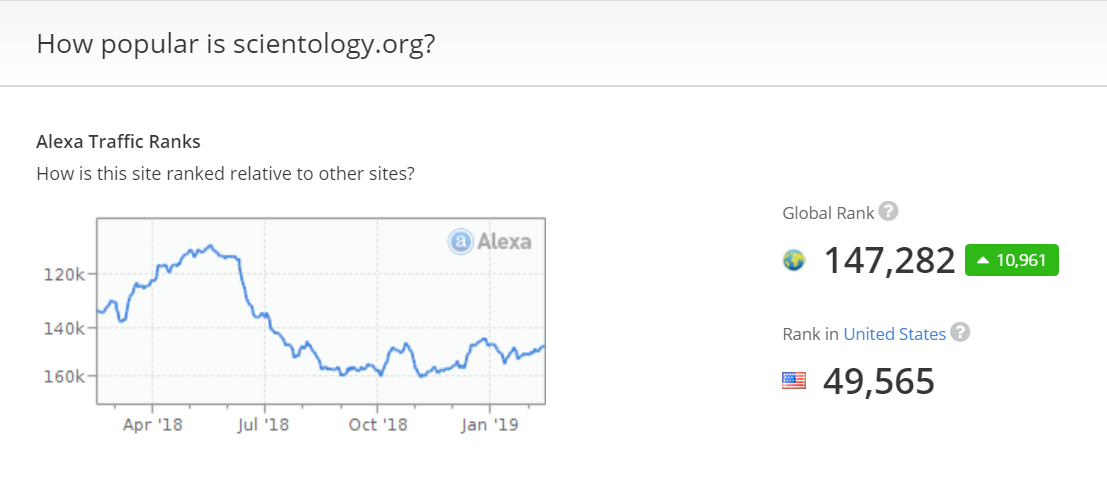 That is certainly better than scientology.tv. But how impressive is it?
Well, here is my blog ranking. I have never bought an ad for this blog or done anything other than do postings and sometimes link to them on Twitter and Facebook.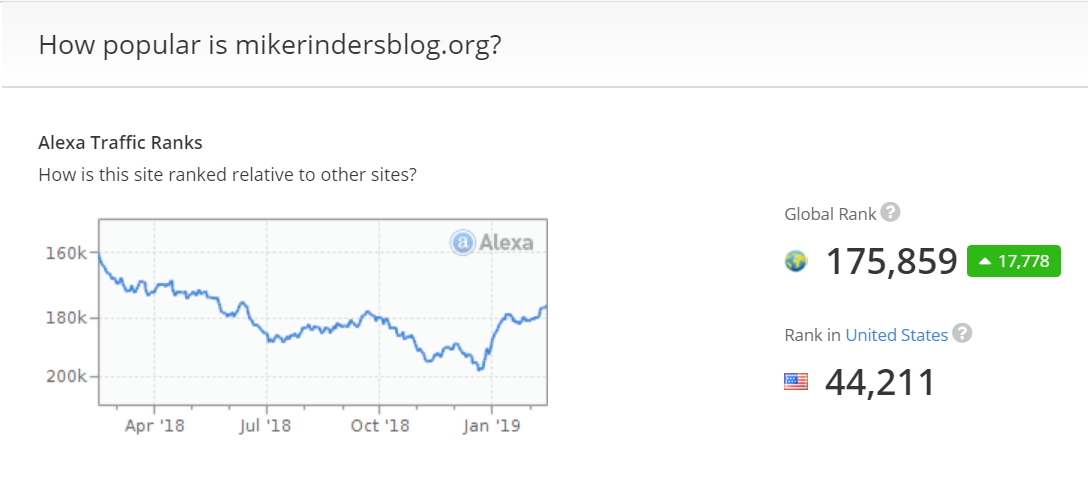 I am less popular than scientology.org in the world (but then again, an inordinate amount of their worldwide traffic comes from Indian and the Philippines — hot spots for clickfarms, but not for scientology). But in the US my little blog gets more traffic than scientology!
And Tony Ortega's blog — also no advertising and no legion of zombies being exhorted to watch — smokes them in the world (despite their clickfarms) and in the US. It's not even close.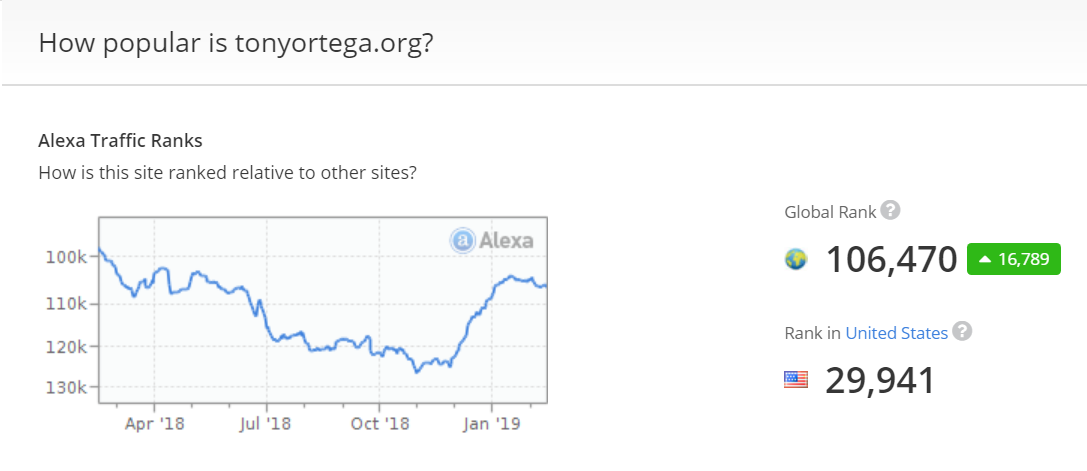 But perhaps the most apt comparison is the "failing" A&E TV site. That's a direct head-to-head. Even though people may or may not watch AETV on the website, it is available on Cable as well as DirecTV (scientologyTV is only on DirecTV).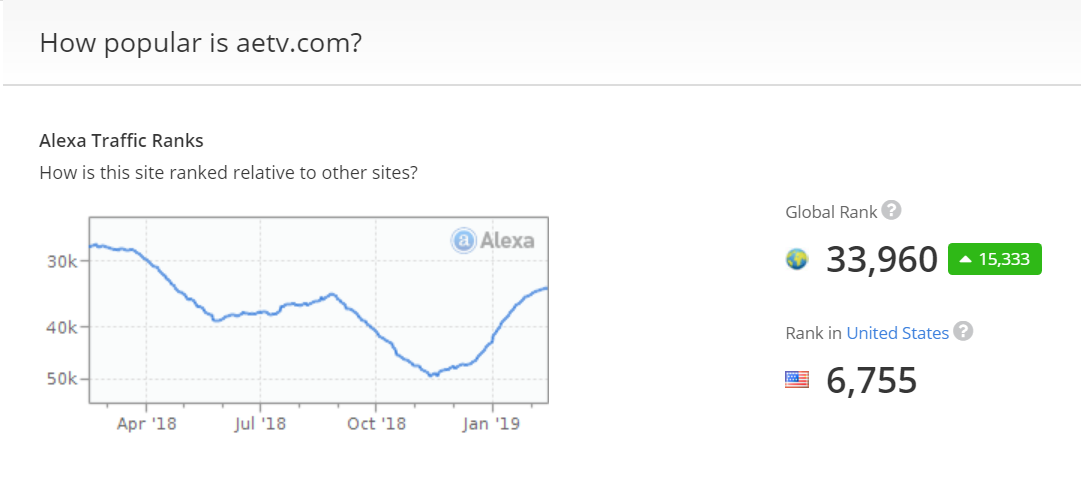 Oh dear, scientology is not even a flea on the leg of the A&E TV elephant. Though they try to pretend otherwise.
Next time you see Fast Eddie Parkin or any of the other scientology "spokespeople" proclaiming the enormous popularity of scientology and how everyone else has "sinking ratings" and "no audience because they are disgusted at the bigotry," know that it is another in the endless string of lies that spews forth from the fire hydrant of hype that is scientology.