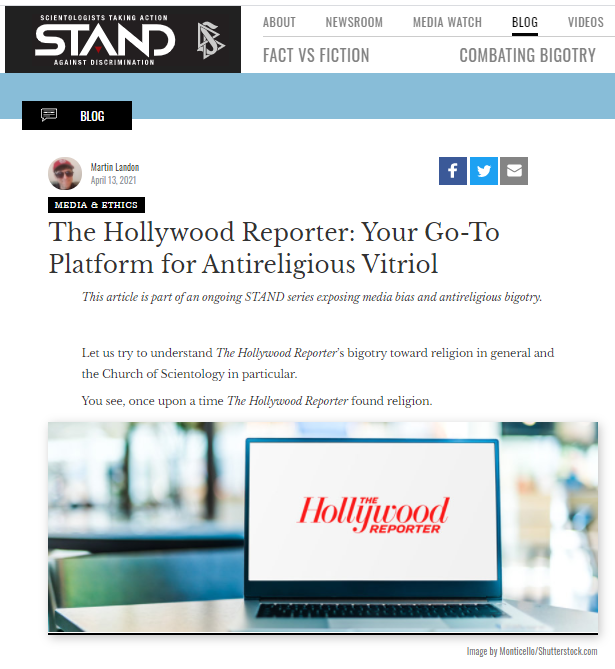 Of all things, STAND is complaining about The Hollywood Reporter's "biased" and "bigoted" coverage of the dismal flop that is ScientologyTV
They dredge up some old stuff they have used before about the founder of THR being a communist scare merchant in the days of McCarthyism to prove that the Reporter has a "history" of bias and bigotry and that somehow makes it so today…
An interesting standard that they might want to think through a little better, given their illustrious founder's checkered history and the fact that 11 leaders (including his wife) went to Federal prison… I guess that proves scientology is composed of wife-abusing, cheating liars and criminals.
But put that inconvenience aside, the rehash of their earlier story about Billy Wilkerson (as I recall they pulled that one out when they were complaining that someone from THR had been favorably inclined towards The Aftermath to "prove" how they must have been wrong) really only serves as an introduction to the main point. The nasty meanies at the THR don't like ScientologyTV.
Here is what they have to say:
If there is a Scientologist to interview, THR is absent. If, however, there's an apostate or a person who makes a living spreading hate against Scientology, THR is there with Lights! Camera! Headlines!
There are dozens of studios in Hollywood. Scientology Media Productions appears to be the only one targeted and marginalized by The Hollywood Reporter.
In 2018, the Church of Scientology launched its own television network from Scientology Media Productions in Hollywood. THR's subsequent review of the Scientology Network was a hatchet job, and a poor one at that (if one can rate the quality of hatchet jobs). The writer didn't bother actually watching the programs—that much is obvious. No research was done, except possibly a scan through the thesaurus in search of synonyms for "bad."
Possibly this, too, is following in Old Man Billy's footsteps, who, in exchange for his rave notices for Howard Hughes' Paramount Pictures, gracefully accepted free bucks from that billionaire when The Hollywood Reporter needed a financial hand. (One can only wonder if the present-day THR is likewise receiving under-the-table payoffs.)
What do you call "news" with a slant, but no facts? What do you call "reporting" that only interviews those who hate the subject matter being covered? What do you call a campaign composed entirely of smears and innuendo, which fluctuates from condescending superiority to indignant outrage? You call it propaganda, the very thing that titillated Billy Wilkerson back in the red-baiting days.
The Hollywood Reporter has become that which it once howled against: a cheap and pathetic propaganda tool, dispensing hate, bigotry and lies and an embarrassment to those in its employ—one whose only passing resemblance to a news source is that its writers can still spell.
Now, as anyone who has ever tried to watch ScientologyTV knows — it is a boring repetition of scientology propaganda over and over and over and over. Their "programming" is the same junk they had when they launched it in 2018. And it is just regurgitated endlessly as if they have an actual TV station.
The only reason ScientologyTV still exists is that it would be a massive embarrassment for Miscavige to shut it down. So, they continue to spend millions to keep it on DirecTV and continue to buy advertising to try to promote it. There are no audience figures made public for ScientologyTV — just as they don't make their membership figures public or the amount of money they take in public or the number of disconnections ordered public. But you can be sure nobody is watching this thinly veiled foolishness. They do have a website, scientology.tv, where you can watch their "programming" and they try to direct people to go to it with their advertising. That website does have a measure of its popularity. Scientology.tv has a global Alexa ranking of 426,202. This blog has a global Alexa ranking of 85,471. That means there are 85,471 sites on the internet that get more traffic than my blog. And another 340,731 that are even less popular than mine before you get to ScientologyTV. They are truly on the fringes of the internet.
The public, as Hubbard would say, are staying away in droves.
On top of that, none of the shows have garnered any recognition, been nominated for any awards, let alone win them. I guess in the twisted minds of the STAAD League this means everyone is a biased bigot because they don't like the propaganda scientology offers up as "TV." And they also demonstrate their bias and bigotry if they have anything good to say about the award-winning Aftermath or Going Clear programs.
Even funnier is the purple prose these guys use to try to sound educated. Like this: a cheap and pathetic propaganda tool, dispensing hate, bigotry and lies and an embarrassment to those in its employ—one whose only passing resemblance to a news source is that its writers can still spell. Interesting, I would take that as a perfect description of their own Freedom magazine (which they appear unable to get out these days).
It is somewhat bizarre they don't even seem to recognize how foolish they look. But that is understandable when you realize their real audience is INTERNAL. They produce propaganda to mollify any sheeple that may get restless or see something bad about scientology.
The STAND League embodies everything that is wrong with scientology.
UPDATE:
I guess they were aware the story published just now was coming as Karin Pouw is included with a weak sort of denial. Apparently they were getting in a pre-emptive strike on THR?