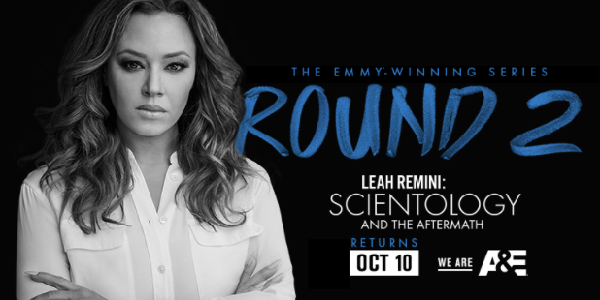 The next new episode of Aftermath is on 10 October. This week and next A&E is airing reruns of earlier episodes. There is plenty of material in those shows — I recommend watching them again even if you have watched them before as many people find more revealing information in each episode that was missed in the first viewing.
Relevant to Aftermath, and especially to scientology's response to every show a couple of observations/thoughts.
Do Scientologists Really Care?
It is a curious, and rather disturbing, fact that run of the mill scientologists on social media never (and this is without exception) express ANY concern for the abuses reported on the show.
They loudly and often proclaim themselves to be humanitarians, but 1 for 1 not one public scientologist or any official has said anything like:
"We are deeply concerned about what you are saying. We don't know if it is true or not, but we will look into it."
When Catholics were saying they had been molested, did the Catholic churches respond with hate sites about their accusers? Smear videos? No. Perhaps the church hierarchy was not always responsive, but MANY Catholics were outraged and they rightfully noted there is nothing in the Bible that says molesting children is ok. They did not try to proclaim it was "all lies" and the church was victim of bigotry and hate.
Scientology can't say the same thing. Their policy ("doctrine") calls for them to attack the victim and make the victim responsible for abuses and crimes committed against them. And to never accept any criticism of scientology as it ONLY stems from the "criminal acts" of the lowlifes who claim anything uncomplimentary about scientology.
Even a halfway decent restaurant or hotel that gets a bad Yelp review will reach out to express their concern and offer to make things right.
Has it been lost on the general public, elected officials, law enforcement and journalists to wonder: "Why do they all react exactly the same way? Is there nobody that ever has a concern that anyone of this might be true? If they are all in such thought lockstep, isn't this cause for alarm?"
One would hope more would ask these questions.
Everyone is a Bum
Scientology has a pattern of how they attack their victims who speak up about abuses:
a. Everyone is a nobody that has NO information
b. Everyone is a liar, thief, sex pervert, wife beater, failure etc etc
The "everyone is nobody" is provably false — they claim I held no position of authority and was "dismissed" for incompetence. Despite the fact that I walked out the door in London when I had been sent there as the international spokesman for scientology to deal with the BBC. At the time I was a member of the Board of Directors of Church of Scientology International and had been since its creation in 1983. It's the same story for everyone. And let's not forget, even a nobody has their own personal experiences, something that cannot be erased by name-calling.
But more interesting is the second line of attack.
If every person who leaves scientology is some sort of scumbag, what does this say about the efficacy of scientology? Many of these people held very senior positions in scientology. How did all these liars, thieves and bums make it to the top of scientology when it claims to have the ONLY technology to not only detect criminals, but to eradicate their aberrations?
Isn't this failure to detect and "handle" so many people, in fact EVERYONE who leaves scientology the greatest admission of failure of the "tech"?
We should not forget that L. Ron Hubbard said, in one of the last things he wrote:
Thus, at the end of a Confessional, when it has been fully completed, the Scientology auditor who has administered the Confessional must inform the person that he is forgiven for the sins he has just confessed, and that he is cleared of these sins and free of them.
The statement that is used is:
"By the power invested in me, any overts and withholds you have fully and truthfully told me are forgiven by Scientologists."
Talk about hypocrisy. The truth is scientology never forgives. Rather they take what people give up in their "confessionals" and use it against them. It's sick.
And for new readers here, I recommend this earlier essay on the subject of the policy of scientology: Dealing with  Critics of Scientology: The L. Ron Hubbard Playbook