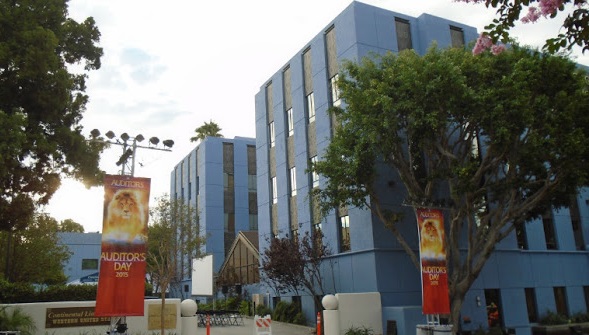 Here is another of the frequent scientology documents that prove they are lying about their "massive international expansion."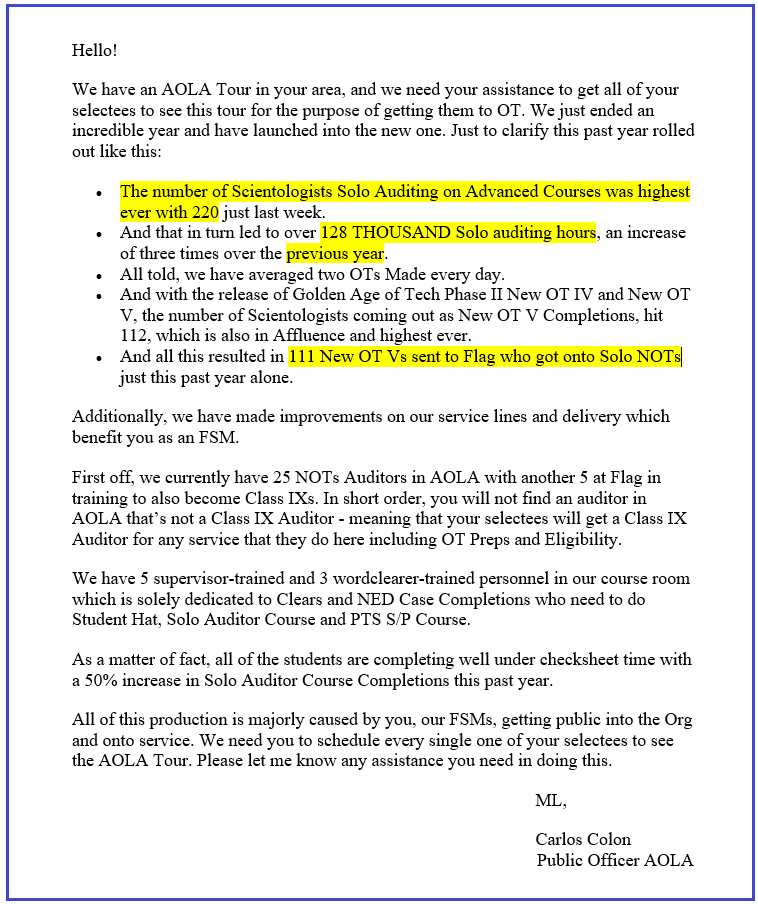 Let's look at these one by one.
"Highest Ever" number of people solo auditing at AOLA — 220. Remember, AOLA is the Advanced Org for the entirety of the AMERICAS.  Everywhere from Buenos Aires to Winnipeg and Hawaii to Barbados. 220 people (including staff and Sea Org members). Total. This is 220 out of ONE BILLION people in North and South America. That's about ONE out of every 4.5 MILLION people. According to National Geographic, you have a 1 in 3.7 million chance of being killed in a shark attack in your lifetime.
128,000 Solo auditing hours in a year (3 times what it was the previous year). For 220 people that is 582 hours a year or 11 hours a week. Not even 2 hours a day. And many of these people are at AOLA full time EXCLUSIVELY to "do their OT levels".  And this is 3 times expansion? Even though it was 4 years ago that AOLA was declared "ideal"?
Two OTs made every day. This is a scientology "stat" number. It counts everyone that completes the theory and then the auditing of each level separately. So, as far as OT's go, this is a total of 9 "OT's made" to get to OT V. 7 to get to OT III. So, if nobody drops off, they are making a couple of OT V completions a week. And there you go, they proudly announce they made 112 OT V completions last year and that is "Affluence and Highest Ever". What the hell are they so excited about? This is ONE in NINE MILLION people. There are more people born every milisecond in the Americas than are completing OT V in a YEAR.
There is another doozie in here. Clears and NED Case Completions need to not only do the Solo Auditor Course, but also the STUDENT HAT and PTS/SP Course!! Wow.
And of course, the usual bald-faced lie that everyone in scientology KNOWS is a lie "all of the students are completing well under checksheet time"… Why bother repeating this insanity over and over?
This is the penultimate pinnacle of the Bridge to Total Freedom. It is the largest Advanced Org in the world — the ones in UK, Australia and Denmark are tiny in comparison — and after 30+ years of "unprecedented growth" under the brilliant leadership of Mr. Miscavige they have attained this?
Well, here is another indicator of the lack of expansion. AOLA moved into the building they currently occupy sometime in the 70's. They are still in the same one. All these massive building have been purchased for Class V orgs — more in the Americas than in any other place on earth by far — and yet AOLA has not outgrown the same small building it has been in for 4 decades? It is the ultimate proof that there is no massive flow of people up the bridge, using David Miscavige's favorite measure of expansion  square feet of empty buildings  even just in LA where they have 4 ideal class V orgs they have not generated enough flow up the bridge to cause AOLA to need to expand its facilities? It's smaller than the empty new AO in Sydney!
And by the way, just to put this into context, though it is only my word and not empirical evidence: when I was WDC Sea Org and ran AOLA back in the early 80's it did more WDAH and had more OTs made than these figures — by far. Their ideas of "highest ever" is "highest since I have been here, and I came on post 6 months ago."
And just for good measure take a look at this post I did in 2014 — Scientology Shriveling. Media Take Note: They Lie To You — using this image: