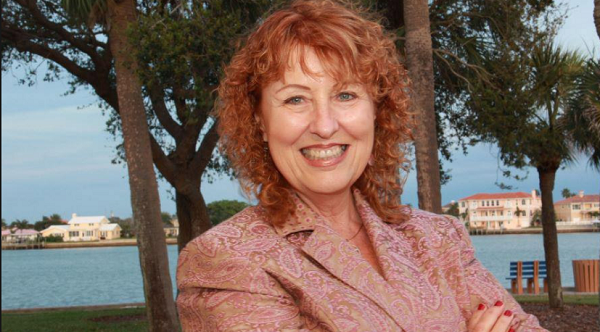 I have made plenty of jokes about Kaye Champagne over the years as the Chairman of the Flag OT Committee.
Sadly, she passed away yesterday.
This is a rather unusual post — not the snark I usually dish out for those who are the biggest cheerleaders of the clubbed seals. But the loss of any life — a wife, a mother, a friend — is never something to be celebrated or poked fun at. I am truly sad for her family and friends.
But perhaps more than any similar passing of late,  it offers insight into the mindset of scientologists and one of the strongest layers of glue that keeps people stuck to their faith in Hubbard and his "technology."
Death is a universal fear. It affects the rich and poor, the genius and the fool equally. It is the great unknown. Hubbard promised scientologists that he had conquered death with knowledge. Follow his path and you would gain an understanding of your eternal spiritual "beingness" and transcend the endless cycle of birth and death. He claimed to have found a path to provide everyone true immortality in the here and now. It is a powerful carrot — you don't have to wait to get to heaven, you can make your way to a happy eternity in this life and with it you can eradicate the fear of death. This beats a cure for cancer or anything else in the temporal realm — you can beat everything FOREVER.
With that in mind, read this message from Kaye (of course starting out with a quote from Hubbard):
"An individual is not as alive as his heart beats. He is not as alive as his toes wiggle. No. He is as alive as he can consent to play the role he is playing. If he is then playing that role by his own consent, he'll be alive to a remarkable degree." (L Ron Hubbard, lecture Health and Certainty)
To all of my many friends,
Hello, I trust that this message finds you all doing well in your many exciting and vital activities. 
I wanted to give you a message, from me. 
Some of you may not know this but for the past year while working on many projects I was battling an illness. At this time, it is no longer possible for me to continue my activities at the level I want to, and it is time for me to move on. It will be easier to start anew. 
I am sorry that I could not speak to each and every one of you myself in person, but there simply was not time. When you see this message, I will have gone on to a new life. 
I want you all to know that my hats have been fully turned over to very competent and stellar people, and all of the things that we have worked on together will not only continue but will flourish and expand. I will return of course, in times ahead, and we will see each other again. 
You have all been such an important part of my life, I want to thank you for your friendship, support, humor, bright ideas, and love. I love you too. 
I would like to ask you all to take this moment to look at how you can take up just a bit more, as my shoulder will not be at the wheel for a while. See how you can step in and help just a bit more, do just a bit more, contribute your time and energy just a bit more. 
You will see me again very soon. 
This so captures the scientology mindset. Hubbard told me what to think and I am convinced that what he said is true — and I will profess this to all other believers and proclaim my "certainty" in the tech. Perhaps it is valuable to have provided comfort to someone at the end of their life by persuading them they are just moving on to a lovely new body. But as an OT VIII and highly celebrated scientologist who has achieved all that Hubbard sold, has she in fact accomplished this goal?
We will probably never know. But there is evidence that this is NOT the case. Just for starters apparently auditing could not cure her year long illness.
The odds are extremely high that she will NOT be back to join the Flag OT Committee. Even though she expresses "certainty" this will be the case. It flies in the face of 60 years of evidence. 50 years of Sea Org members being granted a 21 year leave of absence, and not a single one of them has ever "come back"… Not even the Commodore himself.
As with most things in scientology, the promise of abilities, powers and enlightenment exceeds what is delivered. But that does not stop people from asserting that they HAVE achieved the glorious state of fully exterior with full perceptions or cause over matter, energy, space and time. Even when it is clear they have not.
It's sad she has died of some unknown illness that NOTs could not cure. It's not surprising she sent out such a Hubbard-like message to her faithful followers — though it is absolutely surprising that Hubbard himself failed to do so despite him "causatively discarding his body to continue his advanced OT research," not even a final goodbye or "I'm turning over to the Broekers, scientology is now in their hands."
But I am of two minds whether it is sad that she continued to be blind to reality all the way to the end or whether whatever measure of comfort that blind faith may have given her has value and is in some way a blessing.
Either way, Hubbard certainly tapped into one of the fundamental traits of religion — providing hope in the hereafter.