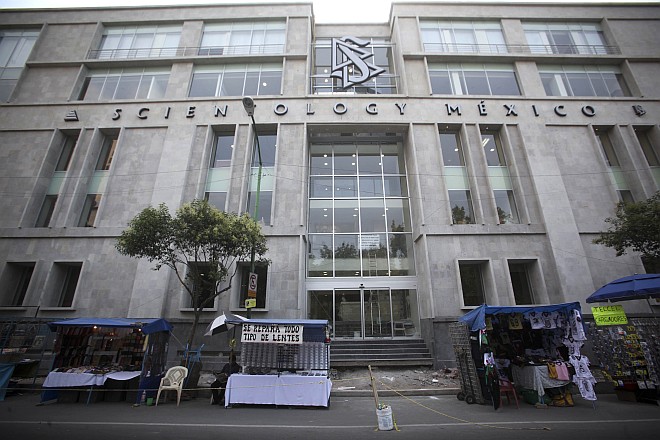 AN OVERVIEW OF SCIENTOLOGY IN LATIN AMERICA 
by:  Special Correspondent.
I just happened to visit Mexico City and here is some information about  the Scientology scene in this country. 
As a background Mexico City has 21.2 million people. Per a report from March 2012, a Dianetics spokeperson claimed 5,300 followers in the City alone.
You can arrive at your own conclusions as far as the straight up and vertical expansion.
Mexico City has several Organizations – ODD, ITD, ACD, IFA and Centro Cultural Latino Americano. They are known as Organizations because despite various requests, the Government Office has not approved them to be registered as "Churches."
Here is some brief information about Religion in Mexico, from Wikipedia:
The government does not provide financial contributions to the church, nor does the church participate in public education.
In 1992, Mexico lifted almost all restrictions on the religions, including granting all religious groups legal status, conceding them limited property, and lifting restrictions on the number of priests in the country.
The Catholic Church is the dominant religion in Mexico, with about 82.7% of the population as of 2010.
Despite the lifting of virtually all restrictions in 1992, Scientology has been denied authorization at least three times, even if they have presented 8 kilos (about 17 pounds) of 'valid documentation.' Why?       
Here is what the Government Office concluded as the reasons for denying the recognition as a religion:
-Dianetics Organizations are known to evade taxes and they still owe some.
-Dianetics and Scientology, after the Mexican Government's own search, found this group is involved in several legal suits such as France & Belgium due to fraudulent deals with the public.
-There is a specific Dianetics Organization that owes rent for over a year and there is no intention to remedy the matter.
The main purpose of those directing the request to be recognized as a religion is to obtain tax exemption, no other purpose than that.
Currently several OTs have come to realize the fraudulent Fundraising Events and endless donations and some have silently withdrawn their support. Without it, the Orgs are even struggling harder as those OTs were the main force in delivering conferences and bringing people in.
Without remorse a story is well know among the Mexican Scientologists; A Class VIII C/S, trained at Flag for years, was dismissed some years ago from the Organization for sexual misbehavior. This person now audits in the field, authorized by the Orgs, and is the Chairman of the OTC. But the Orgs lost a Class VIII auditor and Senior C/S.
A fairly accurate article was published in March 2012 by Juan Pablo Proal in a well-known magazine Progresso. The article explained:
Sea Org Members earn 150.00 pesos a week (about 11.50 USD) for their 12 or more hour workday. They have no Social Security, nor any legal contract to protect them. If the staff gets sick, they get abandoned.
Foreign members work with no valid visa and, when their tourist visa is about to expire, they take a trip to Guatemala, re-enter Mexico and keep going until the newly renewed permit expires.
They do lie to other Latin American countries' individuals promising them work. Once they arrive the individuals are made to sign a Sea Org contract. In one specific instance a girl from Colombia needed to return to her country to renew her documents, she was not allowed to do so and the culprit Sea Org member that forcefully retained her, ended in jail for extortion and kidnapping with force. He was sentenced to 4 years in jail.
And the story goes on with other horror anecdotes.
More recently a public paid for his Mark VIII E meter. When he asked when he will get it, he was told to first return his old Mark VII. He protested as he had paid for it, but he was told "no return of old e meter, no receipt of new one and no refund of your payment".  As of about 3 ½ weeks ago all the public was asked to turn in their old e meters, some of them did so. "What will happen to them?" someone asked. The answer was "We don't know. The order comes from way up lines."
Finance-wise millions of pesos have been collected for the Ideal Orgs and IAS.  Where is the money?
To have further reality on finance, 1 dollar equates to 13.00 Mexican pesos.
One intensive of auditing is about 13,000.00 pesos (about 1,000 USD). However, the minimum salary in Mexico City ranges between 155.00 and 463.00 USD monthly. For people in higher position, with a title, their pay range is about  4,900.00 USD monthly. Senators and such range in 11,500.00 USD monthly.
Do the math on when the man in the street could reach auditing at those rates plus the new e meter is being charged in USD.
In visiting, for about one hour, OCD (Organizacion Cultural Dianetica) it was observed that the glasses in the entrance were broken, the little wooden roof covering the entrance was also torn apart. No public went in. Suddenly a person came out with another and they did what was obviously a locational. Oh, a public being audited. No, later on we found out he was a staff member receiving ESTO steps.
As if by magic I met a person that has no knowledge of Dianetics or Scientology; she did mention having seen the Org, opened in full fanfare by the 'leader' in 2010. She said she went in but left after 10 minutes as nobody was in reception and the place was empty.
More people are leaving the organizations in Mexico City. OSA of course has started its investigations asking public to "spy" on X or Y person as they haven't shown up for a while and then report back to them on what they find.
We could not take photos but I hope the narrative above gives you a good picture of the real scene of Dianetics and Scientology in Mexico City.