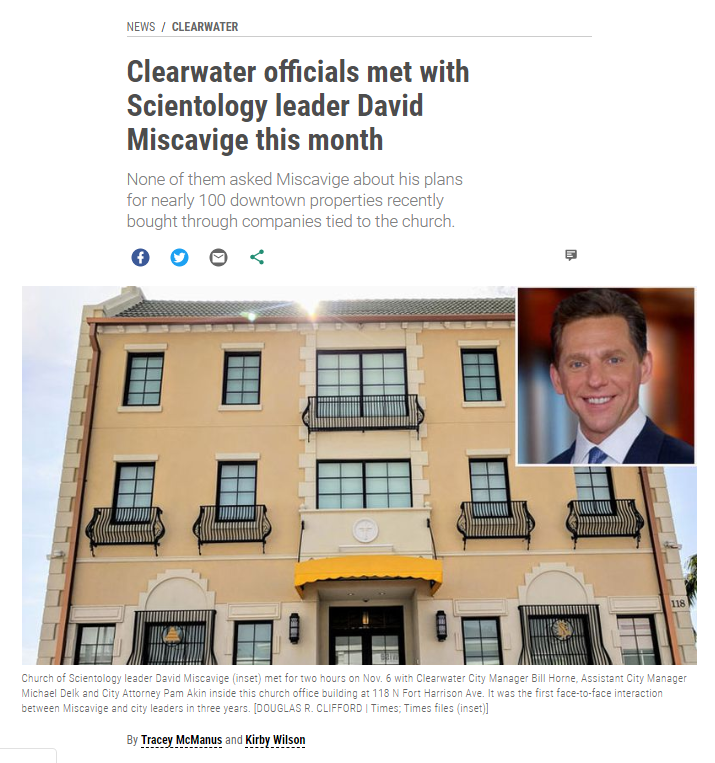 Tracey McManus is on the ball again. Reporting on the ongoing efforts of Miscavige and Co. to fulfill their plans to make Clearwater the "first scientology city".
Her latest story covers a recent meeting between scientology's capo di tutti capi and three non-elected city officials. Miscavige has had a long term relationship with City Manager Bill Horne and City Attorney Pam Aiken. It seems they brought along Michael Delk so he could be introduced to the big cheese.
Miscavige first began schmoozing Bill Horne and Pam Aiken when he was here trying to keep his ass out of a sling in the Lisa McPherson case. Miscavige considers them to be his allies in the city and speaks of them in those terms — whether they are  in fact or not. I recall plenty of times Miscavige barked out to his minions to "set up a meeting with Pam" or "get Bill on the phone" as if they were just another member of his organization. So, it was no surprise to me that this is who the meeting was with rather than with the Mayor and/or City Council.
The meeting was obviously conducted on his terms. There was no public record of the get together and the three city officials met on Miscavige's turf: carefully staged in the conference room on the ground floor of the "West Coast Building" (or "WB" as it is known internally) rather than in Miscavige's grander suite of offices in the NW turret of the "Flag Building." I have attended many meetings in that conference room with Miscavige — it is the location of choice that is away from public view and there are no scientology activities near that office so it raises no questions "what are those people over there doing?"
According to Tracey's reporting, not one of the three officials asked Miscavige "about the church's plans for the acquisitions or why the deluge of purchases was made."
Why the hell not? Apparently Horne said the sit-down "was intended to "reestablish communication" after several years of silence from Miscavige and to "cement a commitment that we continue to meet." The meeting, requested by Miscavige, was not the setting for difficult discussions, he said."
Apparently there is NO setting these people would consider appropriate to ask about scientology's intentions? Miscavige asked for this meeting, yet the city officials felt it inappropriate to ask him what he plans to do with the enormous number of properties they have gobbled up since Miscavige last "cut communication" with them?
But what was really odd about Horne's perspective on this is his statement that "the Times' reporting on Scientology's activities complicates the city's ability to communicate with church officials because "they know that we are constantly asked by the media to share what we discuss, what we talk about, confidences.""
Excuse me Bill, don't you work for the citizens of Clearwater? If it wasn't for the reporting of the Tampa Bay Times nobody would be saying ANYTHING about the fact scientology has taken possession of your city. You seem to think that making the public aware of what you are talking about with Miscavige is in some way harmful? To who or what is it harmful? Your reputation? David Miscavige's tender feelings? Your special relationship? What you discuss SHOULD be out in the open. There should be no "confidences". You are playing to the wrong audience and it is time for you to wake up and smell the coffee.
And Michael Delk is like a lamb being led to the slaughter. He says they showed Miscavige the updated plans they have for revitalizing downtown and Miscavige: "seemed to take a lot of interest in that, had good comments about it, spoke positively of it. He reiterated on many occasions that their objectives were the same as ours: to have a successful downtown."  Here is some good advice for you Michael: You can believe the words coming out of his mouth or believe the reality of what you see in the real world. I would suggest you treat the former as nothing but puffery until supported by the latter. Ask the city council members what Miscavige was saying to them when he was schmoozing them with his grand plan for downtown 3 years ago that he then unilaterally took off the table because the city dared not to sell him a piece of property he wanted for a swimming pool. Don't be fooled Michael.
As usual, Mayor George Cretekos was not involved — but after the fact said he would have "liked to get an answer on the church's plans for its new properties but that it's important to first "have a basis of understanding and communication."" My translation of his comments "I'm too chicken to ask too, so I am glad I wasn't there."
City Council member Bob Cundiff took an even more abused-wife stance: "I would not ask a question to someone that would make them angry and not give me the information I'm looking for," Cundiff said. "There's no sense in doing that. I'm not saying that's Miscavige. That's general communication."
Why is it seen as so "offensive" to ask Miscavige what his plans are? Or why he has been buying up all these properties?  It's going to make him mad? Why isn't it the other way around? Why isn't Miscavige worried about making the city mad?
This is like a bunch of children in the schoolyard who are afraid to say the bully is taking everyone's lunch money because they think it might "upset" him. This is the sad state of affairs that is reality in Clearwater.
Once again, THIS is exactly why Mark Bunker MUST be elected to the Clearwater City Council.
Scientology is toying with these officials like a cat playing with mice.
Go to markbunker.com to support his campaign. It is important for the future of Clearwater. Someone needs to start saying what needs to be said and not continue to act like a bunch of battered wives.