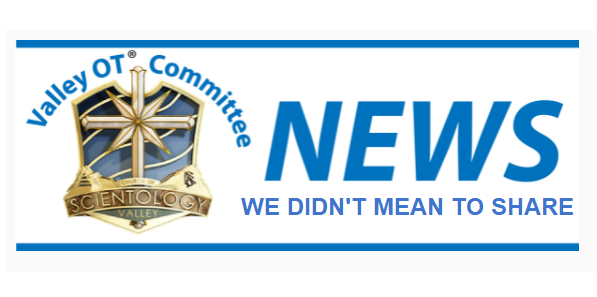 Another episode from the never-ending flow of inadvertent truths scientology publishes to the world.
The Valley OT Committee is top of the class in this particular endeavor.
Take a look at their latest offering.
First. Who use a photo of someone shoveling shit unless you are offering flood clean up services?
The photo is one thing. The write up hits an entirely new level.
This is the son of Kevin Wilson, who runs Sterling Management Systems WISE company. His mother Barbara runs Valley Org. Kevin had announced HE AND HIS WIFE were joining staff during one of the rah-rah events when fundraising for the white elephant building was going full blast. He never showed up. His wife took one for the team. Seems that son isn't interested in joining staff either. Wonder why not? Isn't it the right thing to do? Especially when you have a daddy revenue stream that can subsidize no pay?
I am sure that's what Barbara tells the people she is trying to recruit to join staff. That they need to put aside their "considerations" and that by joining staff they will make it possible to go St Hill Size and therefore start getting paid. It seems that pitch doesn't even work on her own family.
But the big reveal in this "success" story (that actually contains NO specifics as to what is so good about being on the OT Committee) is the admission that WISE Companies are a conduit for funneling people onto the Bridge. They deny this repeatedly when they try to force their employees to take WISE (scientology) courses as a condition of their employment "this is secular, and has nothing to do with scientology."
Yet here he is, saying publicly what everyone inside the bubble of scientology knows only too well. Sterling has FSM'd more than $100 MILLION into scientology. And THAT is the primary reason it exists. To "disseminate the tech" and "get people onto the Bridge."

This IS what they are proud of. This is why they exist. Despite whatever is said to the contrary when they attempt to avoid liability or bad PR.
Finally, this kid started working at age 14. "Full time."
Scientology, bringing back the Victorian era of child labor.