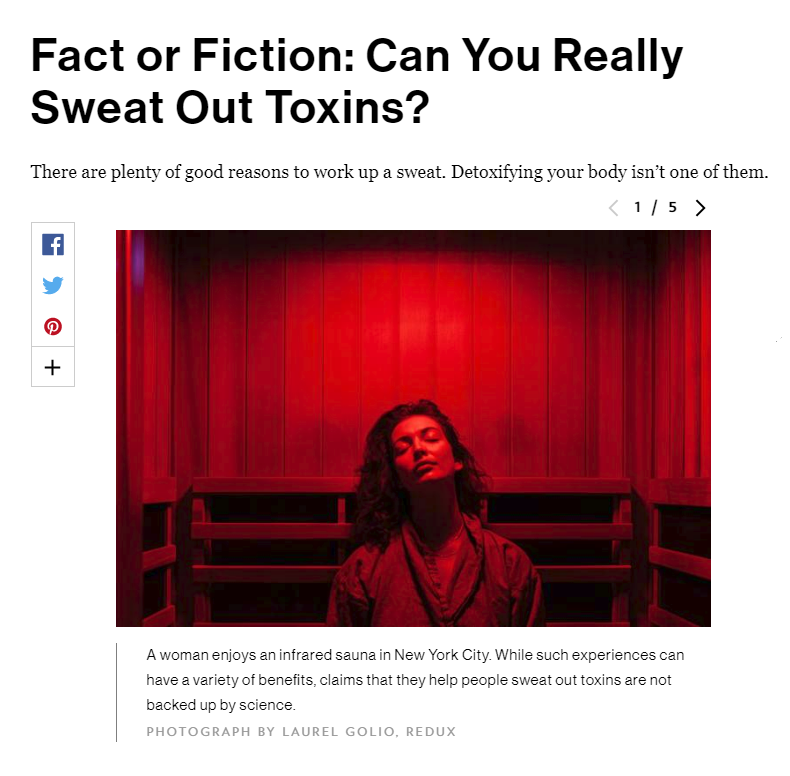 My old friend Bruce Hines forwarded this recent National Geographic article (emphasis mine).
It says in part:
From infrared saunas to hot yoga, towel-soaking activities are being touted not only as relaxation tools, but also as ways to stay healthy by flushing out toxins.
Too bad you can't sweat away toxins any more than you can sweat actual bullets. Recently published calculations back up what scientists have been screaming into their pillows for years: Sweating out toxins is a myth.
Humans sweat to cool ourselves, not to excrete waste products or clear toxic substances. That's what our kidneys and liver are for. Of course, there's usually some grain of truth at the heart of a myth, and toxic sweat is no exception. While sweat is made up mostly of water and minerals, it can contain trace amounts of various toxic substances.
But the new findings, published in the journal Environment International, show that even when we do excrete environmental pollutants through our pores, the amounts we can sweat out are minuscule.
…
So, what are the levels of harmful substances in sweat?
For most pollutants, they're so low that they're essentially meaningless, says Pascal Imbeault, who led the new study. Imbeault is an exercise physiologist at the University of Ottawa in Canada who's studying pollutants that are stored in body fat….
Because these chemicals are attracted to fat, they don't dissolve well in sweat, which is mostly made of water.
The full article is found at the link above includes a woman dying in the sauna (Terra Cognita's novel not too off the mark…).
This of course is directly contradictory to the "research" that L. Ron Hubbard did when he came up with the Purification Program. But in truth, he did not actually research, he merely had people "pilot" his "sweat program" and collected anecdotal information from them that "proved" it worked.
The Purification Program no doubt makes people feel better. They are sweating in a sauna and exercising, eating and sleeping well. And they are paying for the "result" that they will be free from the harmful effects of drugs and will be able to "think more clearly" so they want that to occur. Just like those who attest that handling snakes cured them of arthritis or speaking in tongues made their cancer vanish.
Of course, the true believers will tell you that science will eventually catch up with the genius of L. Ron Hubbard and that there are volumes of "success stories" from people who attest to the workability of this "technology."  But what they will NOT tell you is that there HAVE been attempts to scientifically prove the claims made for the Purification Rundown and they have never confirmed any of the "science" that is the underpinning of the entire theory. There was even an organization formed called FASE (Foundation for the Advancement of Science and Education) that spent many years trying to prove this. They failed.
Nor will they tell you that L. Ron Hubbard considered his "discoveries" on the Purif such a magnificent accomplishment that he directed a campaign be done to get him a Nobel prize for his genius because this was going to "change the planet" and "save mankind from the ravages of drugs." Needless to say, that didn't happen. He also ordered the ex-Guardian Office personnel that he considered had betrayed him by getting caught to sell $20 million worth of Purification materials and programs as "amends."
This is not even contemplating the high doses of niacin that are added to the sweating in the Purification Rundown (see my earlier post The Danger of Niacin).
Scientology should not be allowed to continue to sell this service with claims of "evidence" and "research" that it "removes toxins from the fatty cells through sweating", nor without adequate warning about the dangers of niacin.
Here is the explanation of the Purification Program on the scientology.org FAQ page — the most conservative explanation/pitch anywhere (some of the claims you will hear about the Purif when they are attempting to sell it are truly mind-boggling):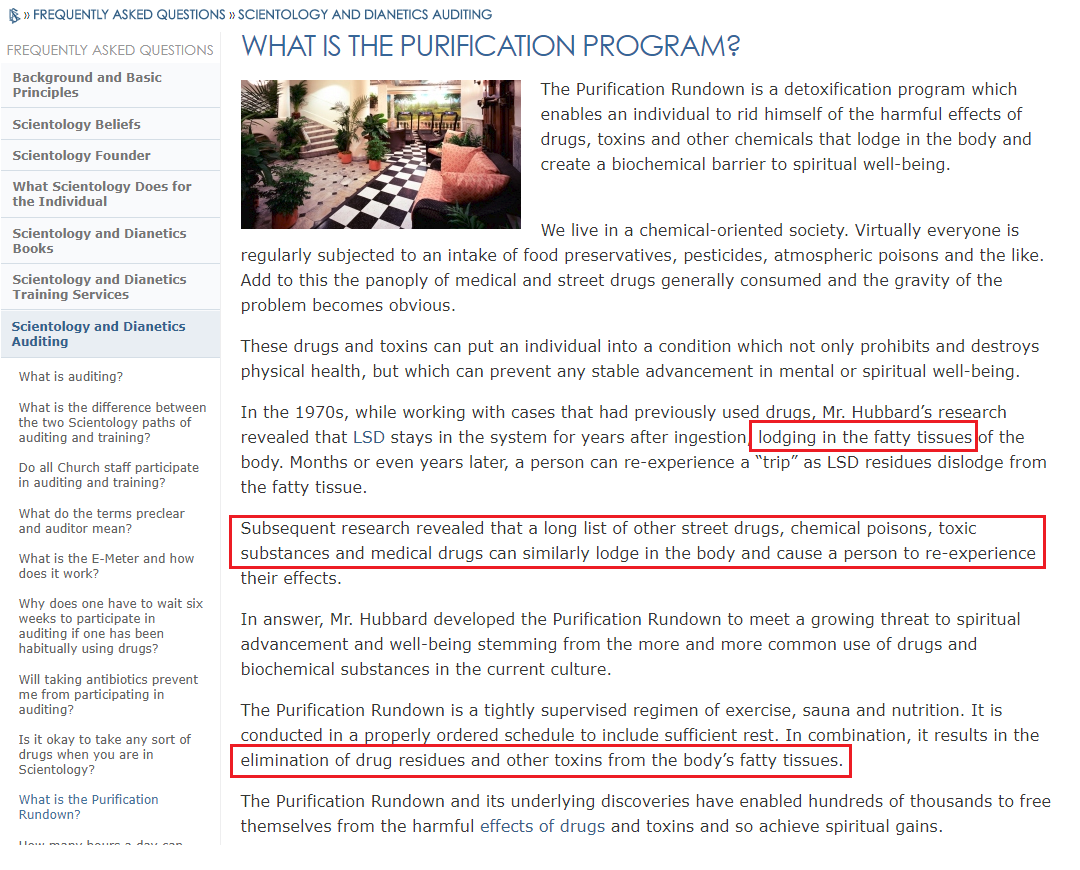 And this is from the "Clear Body, Clear Mind" sub-site.
This is the best they can do to support the "research" — a quote from Kirstie Alley's FSM and general scientology celeb hanger-on, Michael Wisner: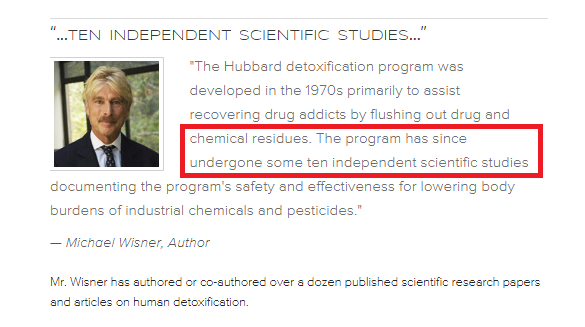 Funny, you cannot FIND any of these "independent scientific studies" and you can bet everything you own that if they DID have them, they would be being HEAVILY touted.
The Purification is another of the "well-researched breakthroughs" of L. Ron Hubbard that are nothing more than his ideas wrapped in claims of "research" to make them sound like they are not matters of faith. After all, who wants to have faith in a science-fiction author? But everyone wants to believe "science" and "research." And to this day, scientology STILL presents Hubbard's ideas not as things you should do because you have faith in them, but as truths backed by research and science. This is the overriding con of scientology. Their "faith" is no better or worse than believing in a virgin birth or Moses parting the Red Sea. But they try to pretend it is NOT faith, that it is "science" and "proven by research." It is nothing of the sort.