A continuation of the post from Wednesday "Sailing into the Sunset."
They kindly include a sort of "Summary" for each continental area and their progress towards "ideal" status. It is quite revealing.
They also have a key that details the different "milestones" along the way to actually getting a new building.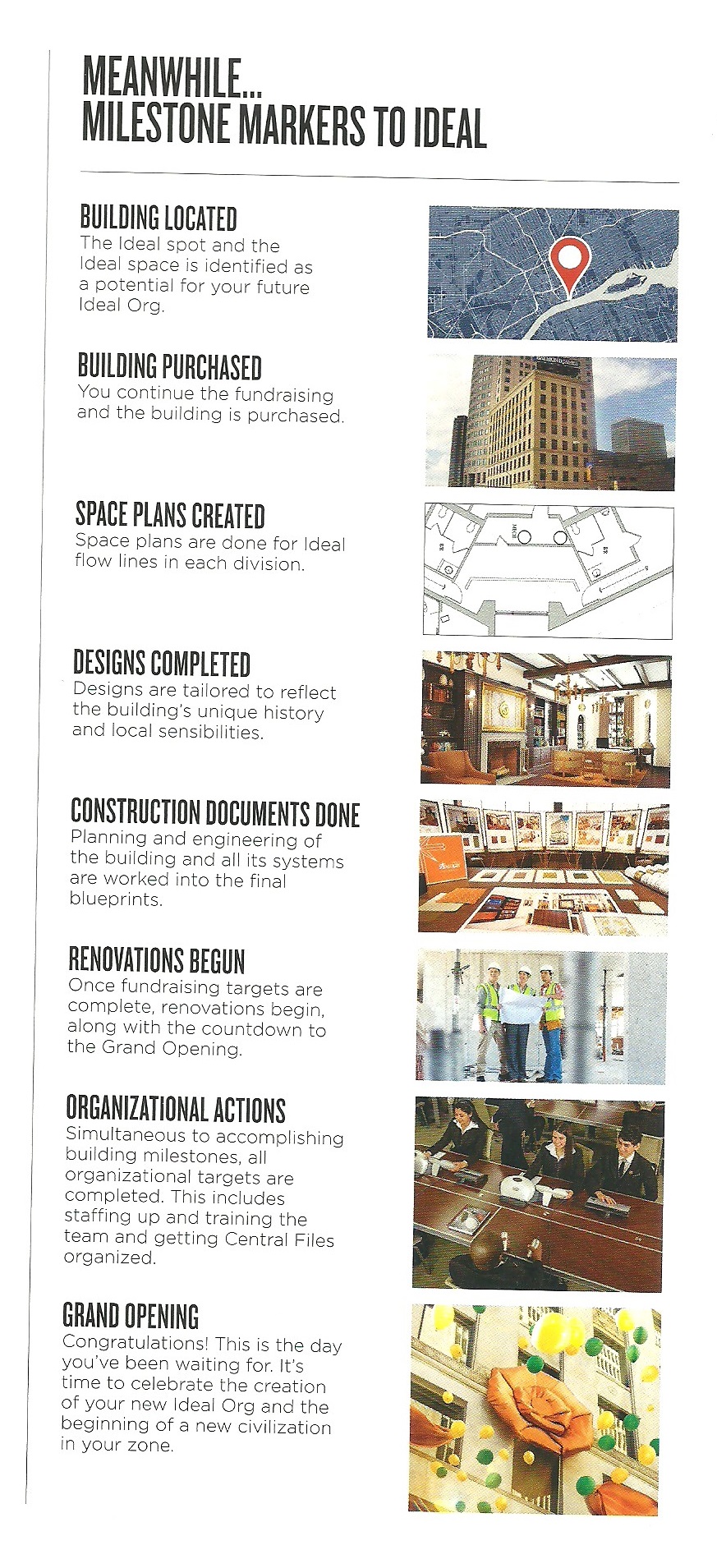 Woohoo  — what used to be a single "accomplishment" of moving into a new building (this happens all the time in the "wog" world, in scientology it is some major accomplishment) they have now broken down into 8 separate "accomplishments" so they can pat themselves on the back 8 times and have an "epic" announcement (fundraising) event for each of the 8 "milestones."
It's a transparent ploy to make it seem like more is happening and to collect more money, but the sheeple seem to fall for it…
Let's take a look at the "massive international expansion" reflected in their "milestone" accomplishments of moving existing organizations into new premises.
They conveniently broke each scientology continental area down.
United Kingdom:
Three orgs done. No new ones opened. Three "construction documents done" and a building purchased.  No mention at all of Brighton….
And the entire "continent" — the home of St Hill — has 63 "OT Ambassadors."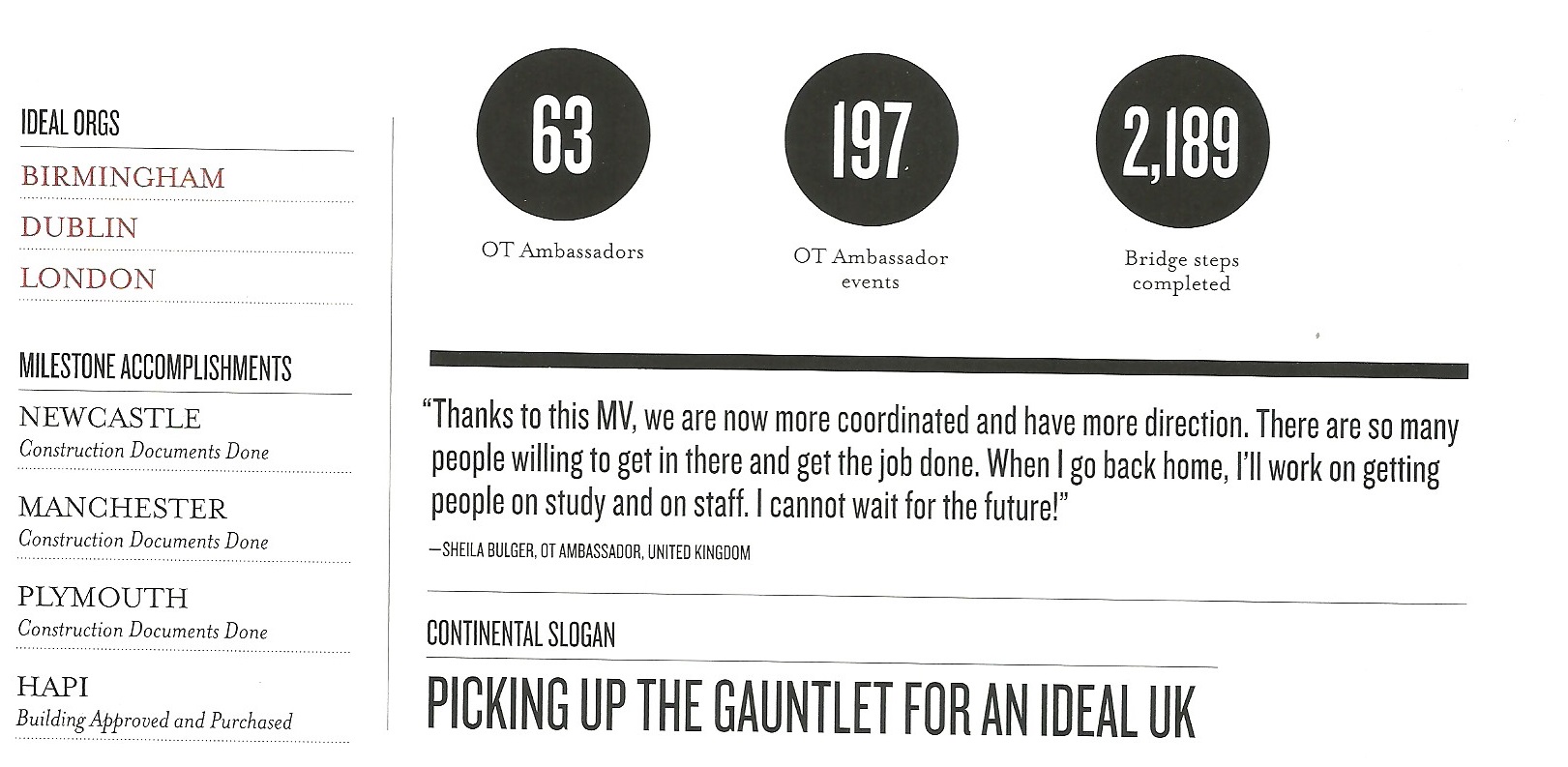 ANZO
You have to love their slogan: "Clearing the Largest Population on Earth" — and not a single org at all in Mainland China, India, Pakistan, Indonesia, Korea or the Philippines which is more than half the world's population. There isn't even an org on the South Island of New Zealand. Let alone Singapore, Malaysia, Vietnam or Cambodia. And one lone org for all of Japan and even though it's been "ideal" for a decade they haven't opened any new missions, let alone orgs.
74 OT Ambassadors for the largest population on earth?
And "milestone 9" added – "under contract."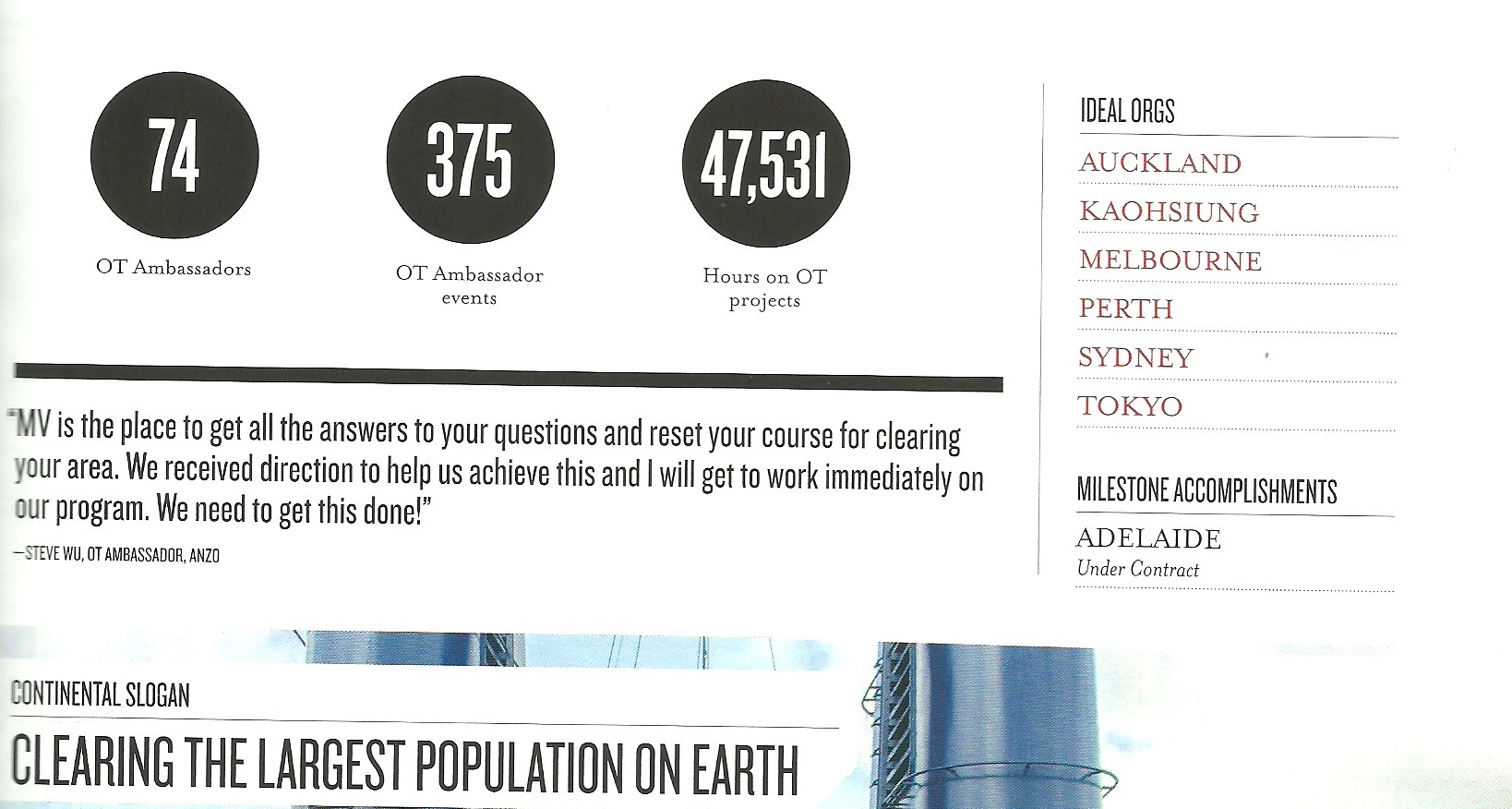 Canada
UH oh. Only 41 OT Ambassadors.
And STILL no mention of Toronto, one of 3 buildings in North America that were considered acceptable to be an "ideal" org (NY and Austin being the other 2). They didn't even need to buy a new building and still they can't get it done.
Calgary? Vancouver? Edmonton?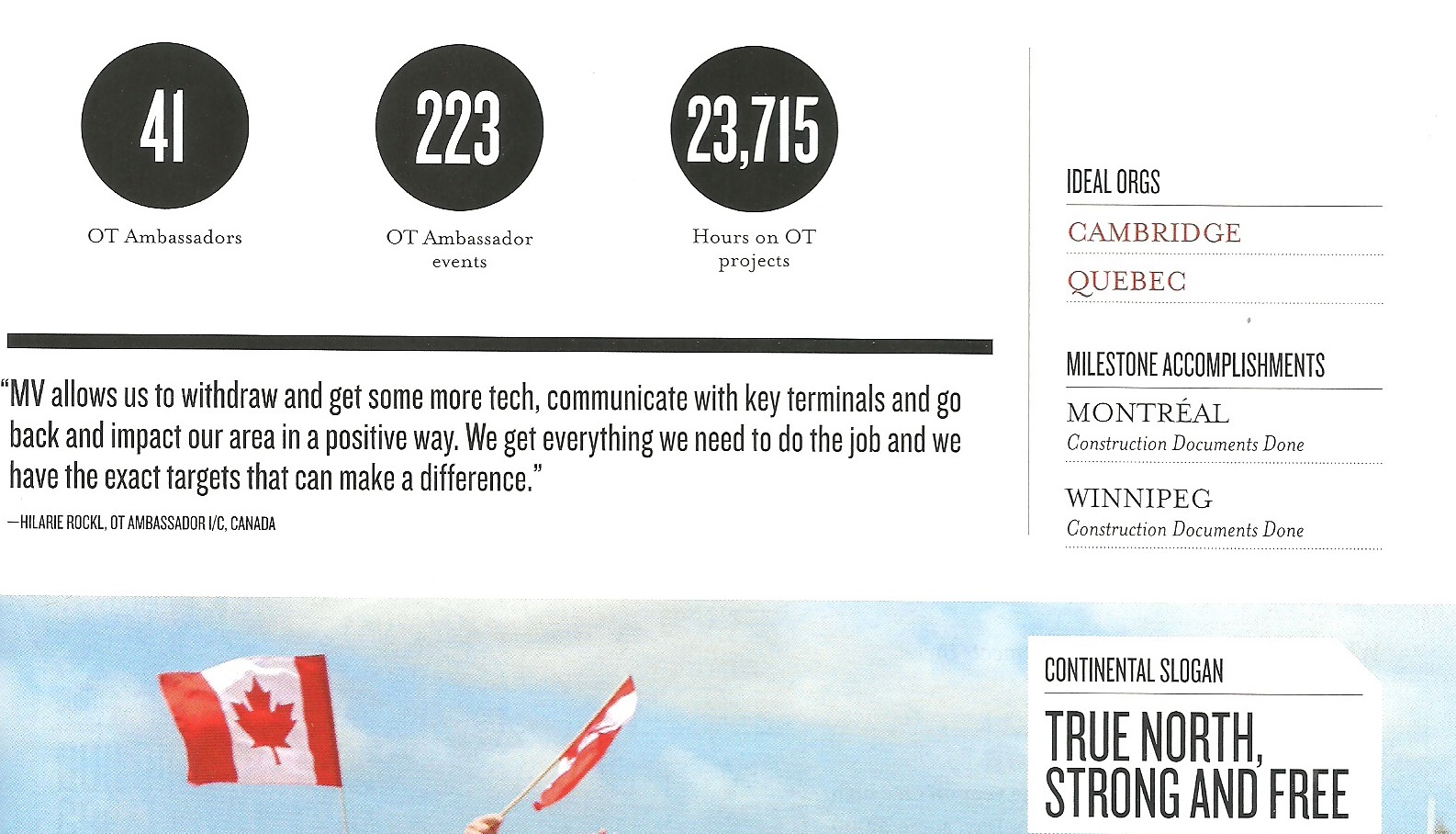 Africa
ONE "ideal" org opened and it is an artificially created and unnecessary "Advanced Org".
Capetown, Bulawayo and Harare have had buildings for a decade or more — bought by the IAS with money they could not get through exchange control.  But they cannot muster any resources to move them forward.
But the biggest omitted of all. There are only orgs in 2 countries in all of Africa. They have a combined population of less than 75 million. The African continent has a population in excess of 1.2 BILLION people.
And they tell themselves they are "building the next great civilization" with 28 OT Ambassadors.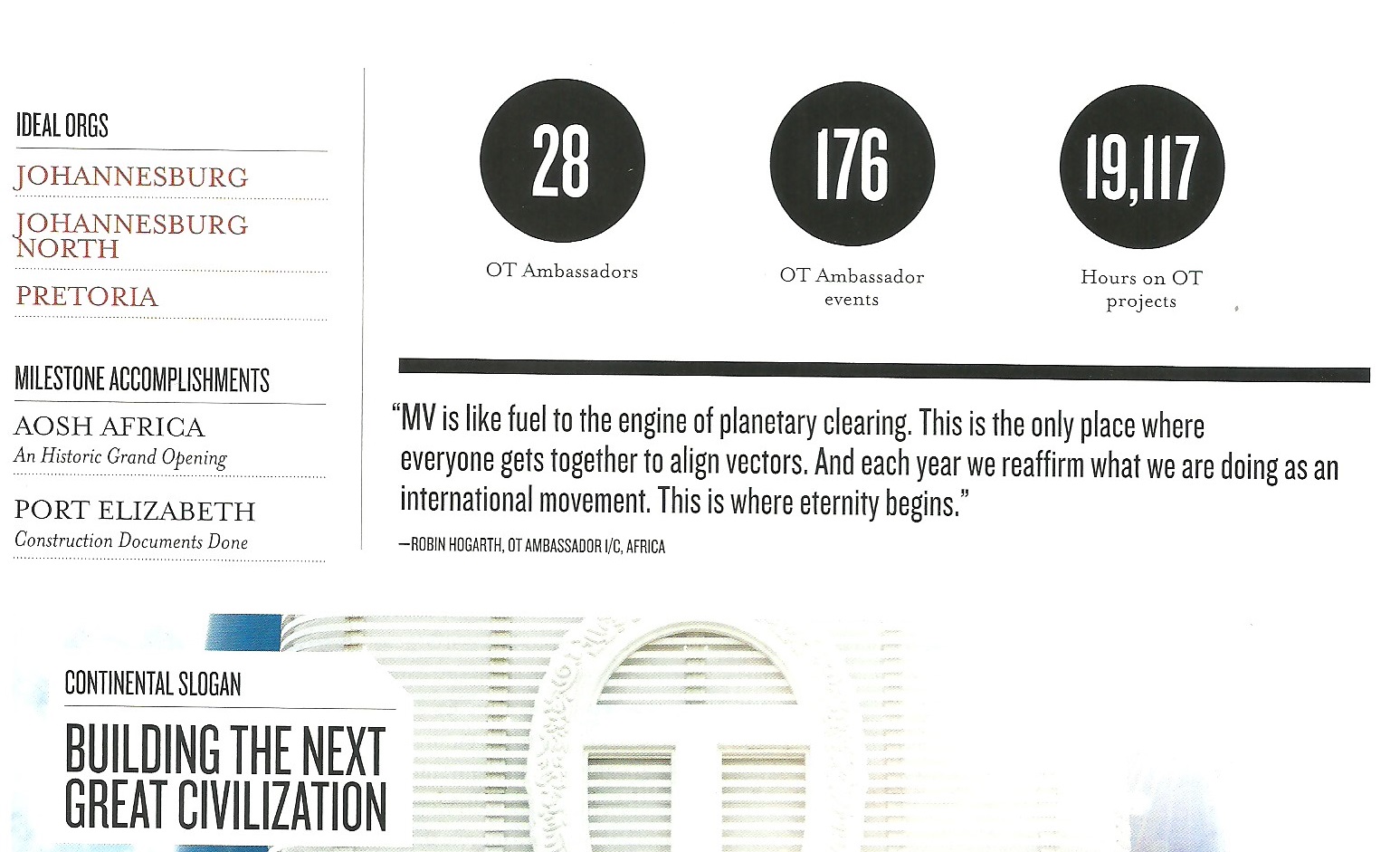 Europe
Again, no new orgs opened.
One new building moved into.
A large number of countries with no orgs at all — Ukraine (where according to several events, LRH tech was being used to run the government), Belorussia, Poland, Czech Republic, the Baltic States, Bulgaria, Slovenia, Serbia, Syria, Jordan, Iraq, Iran etc etc…
The vastness of Russia "covered" by 2 orgs.
Still not a single "ideal" org in France, though a building was reportedly purchased. But not even mentioned here?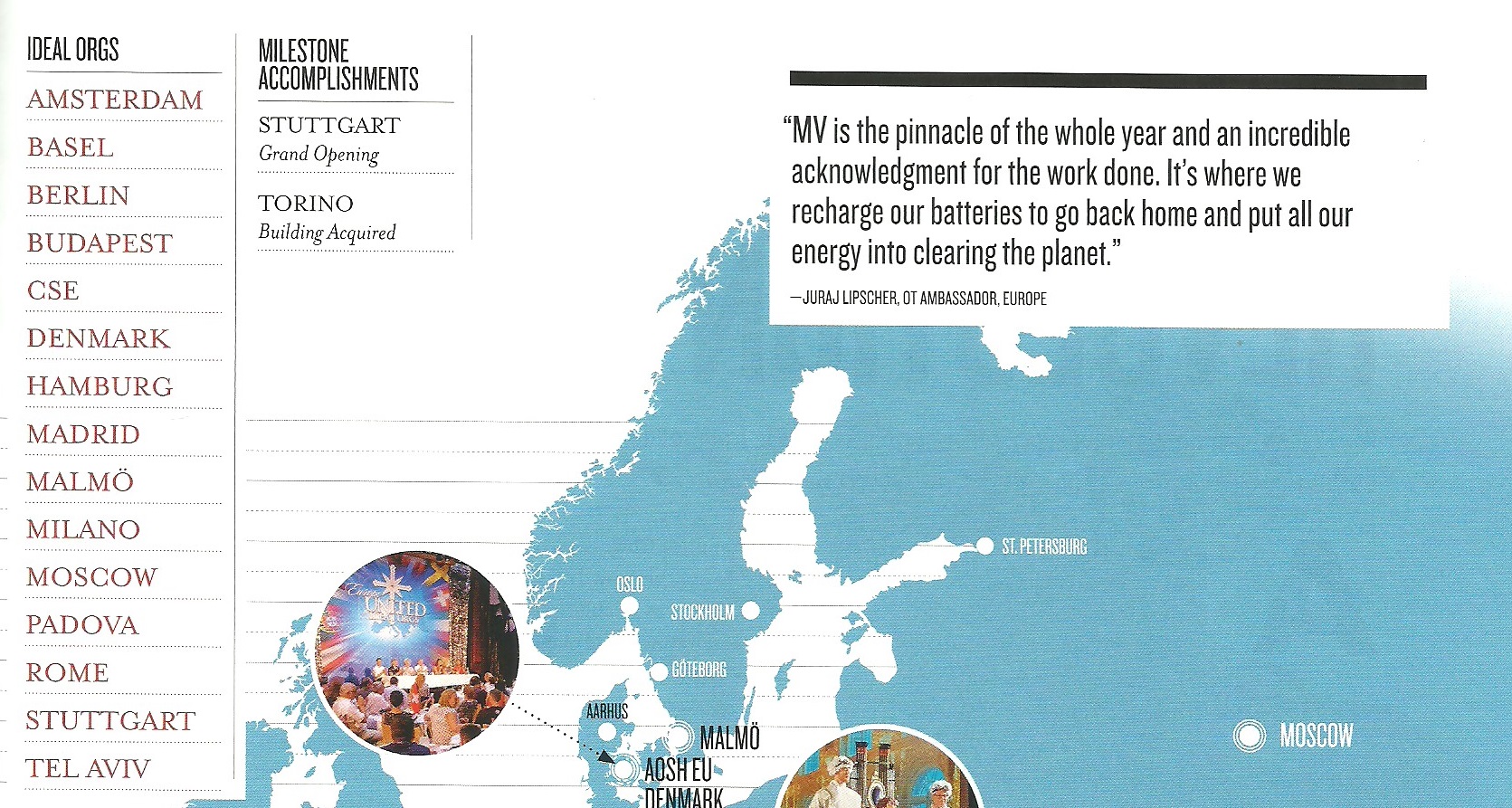 Latin America
No accomplishments AT ALL. But the events apparently never cease to amaze the OT Ambassadors.
Again, the largest and most populous country in Latin America — Brazil — does not have a single org. Let alone an "ideal" one. No country in central America other than Mexico has an org. No org in Peru or Chile.  Things are not looking good for scientology in Latin America…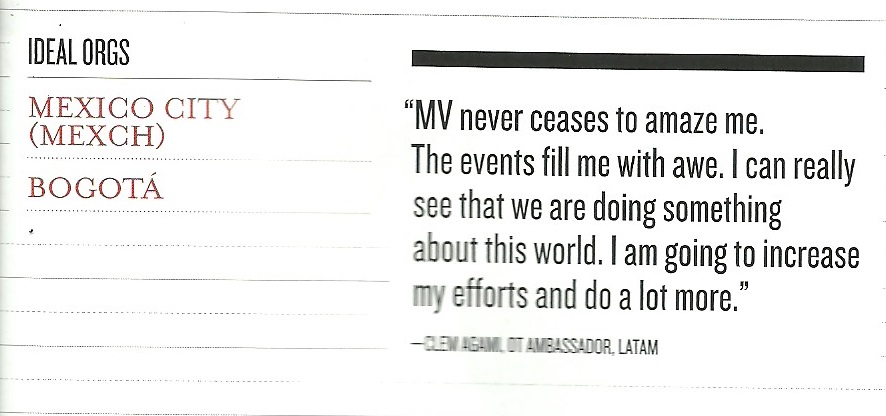 Eastern US
They had a ribbon yanking! Yay team.
They invented a new "milestone" after "construction started" which is "under final renovations." Now up to 10…
Bet Chairman of the Bored was disappointed there is STILL no word of any progress on that building they bought in Philadelphia a decade ago… Boston still going nowhere. Nobody is sure if Long Island is still open at all.
But at least Philly and Boston are probably included in that amazing statistic of "square feet of ideal orgs on the runway"… milestone 11 when there are no milestones at all?
Will EUS ever get around to opening an org in Maine, Vermont, New Hampshire, Rhode Island, Maryland, Virginia, West Virginia, North Carolina, South Carolina, Alabama or Mississippi?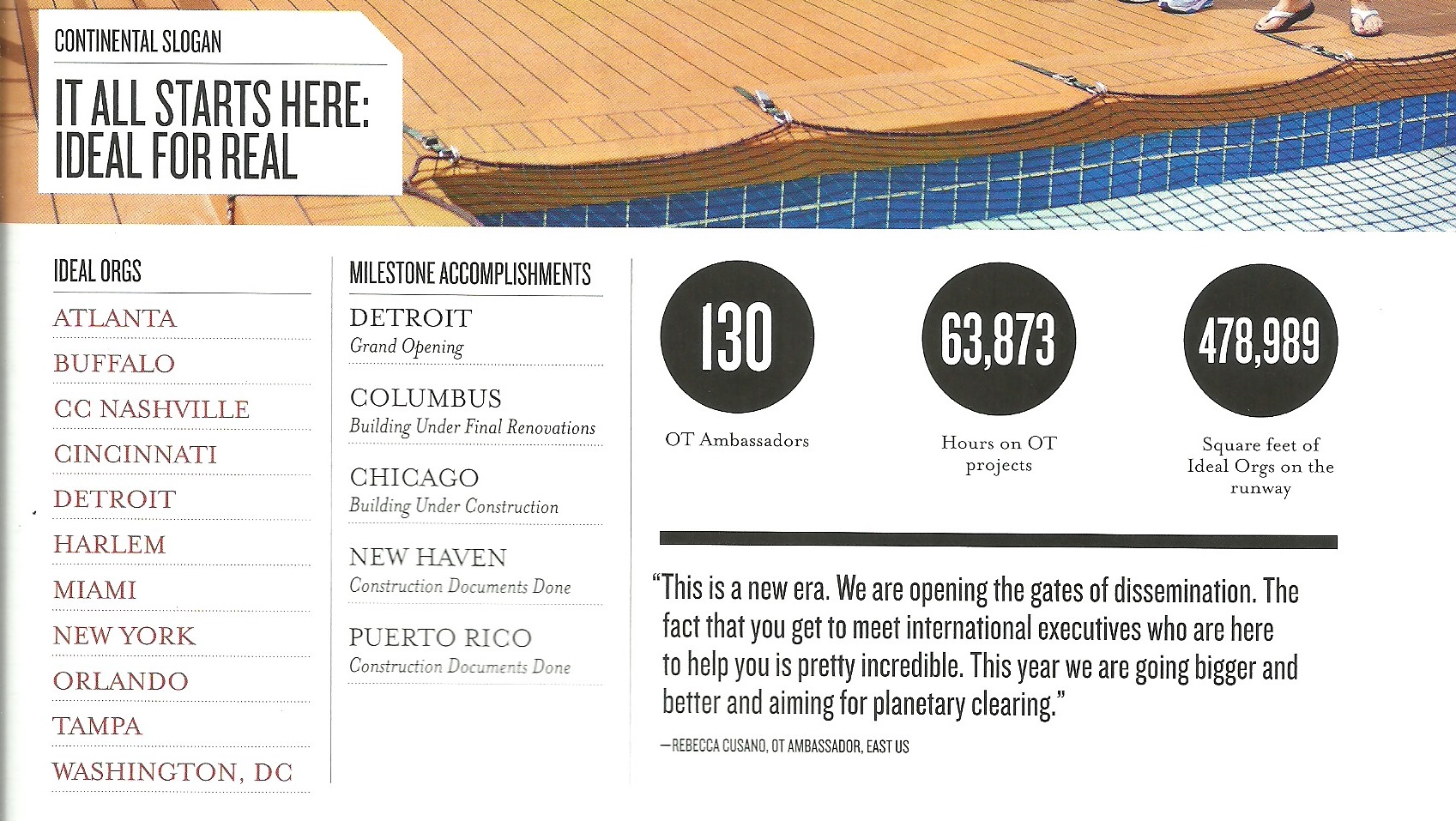 Western US
And they wrap up their summary with the 600lb gorilla in the "ideal org" world. Western US.
No org actually OPENED, but now Kansas City has an additional milestone of "next ideal org for grand opening." Woohoo. Milestone 12!
And with all these ideal orgs, they are no closer to creating any impact on anything than they were 10 years ago. In fact, they have gone backwards. And there are still no orgs at all in Idaho, Montana, North and South Dakota, Wyoming, Nebraska, Oklahoma, Iowa or Wisconsin. How are they failing to reach into this vast swath of the western United States when they are virtually all the way "ideal"?
Wasn't the pitch that these ideal orgs would in turn open new missions and they would become orgs which in turn would open new missions etc? This was the "theory of expansion" that the COB pitched (and still pitches — "an ideal org represents 10X expansion across its zone").