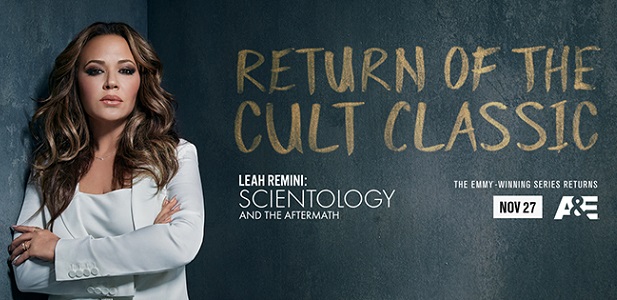 Most of you likely saw the clip of Leah reading the letter from scientology before last night's show:
A response from @LeahRemini to a last minute statement from The Church of Scientology about tonight's all-new episode of #ScientologyTheAftermath at 9pm. pic.twitter.com/W1FZYUBIrG

— A&E Network (@AETV) December 11, 2018
This is the transcript of the statement:
The Church states that it supports religious freedom for all and respects the religious beliefs of others, for all faiths, as enshrined in its Creed. The Church accuses Remini of spreading vitriolic religious hate and bigotry that instigates violence. The Church also insists that this disgustingly bigoted show spreads lies and foments discrimination, as was done in Germany in the 1930s. The Church urges [the network and its owners] to stop turning a blind eye to their effort to profit by spreading lies and religious hate.​
Here are some things you may not know.
The letter came in at midnite Monday to A&E. Scientology had been asked to respond to this show for many months, just as they have been asked for every show. We also ask them to provide someone we can interview for every show. They never do. They send these things at the very last minute so that when their statement is NOT included, they can cry "unfair bigotry — they refuse to carry our side of the story." (Hey, they won't even let us follow them on Twitter or Facebook, we are blocked, but they follow us..)
Leah had flown into NY for a press day for Second Act. She arrived at 2am and then had to be in hair and makeup at 5 for her appearance on Good Morning America and then to a bunch of other media. A&E sent a camera crew to her hotel to shoot her reading the letter while she was preparing for another appearance. Unlike ScientologyTV which is simply internal infomercials, A&E is a real TV network and the logistics of changing or adding anything to a show the same day are monumental.
We wanted to include this letter as it is the BEST example of the lying hypocrisy of scientology. So it was a massive combined effort to get this done — for which scientology should be eternally grateful. We will likely never bother to do so again, unless they top this Hindenberg with something even more explosively outrageous.
And this is the big one: Leah Remini's heritage, according to her DNA test is 49.5% Ashkenazi Jewish (European Jews) who were decimated by the Nazis in the Holocaust.
Let's analyse this for a minute.
Scientology teams up with the anti-semite Louis Farrakhan and even presents his right hand man and most avid defender, Tony Muhammad with their highest "human rights" award (The IAS Freedom Medal).
They then claim they "support religious freedom for all and respect the religious beliefs of others" but have never said a single word about the hatred that spews from the NOI. But these paragons of virtue then accuse A&E and Disney of "turning a blind eye to lies and religious hate."
But the final insanity is when they stoop to comparing Leah to "Germany in the 1930s." That is disgusting. Talk about bigotry. They, defenders of the anti-Semites who they have hopped into an unholy alliance with, are accusing a woman with a predominant Jewish heritage of acting like the Germans in the 1930s.  Vomit.
This might be an appropriate moment to ask Scientology, that famous question asked of Senator Joe McCarthy:
"Have you no sense of decency, sir, at long last? Have you left no sense of decency? Have you no shame?"
Of course, everyone knows the answer to this. The truth is they had no sense of decency in the first place.
And as scientology becomes increasingly desperate and Miscavige becomes more and more worried that his safe haven hiding behind the skirts of his tax exemption and the First Amendment may be eroding, their responses will become more and more unhinged. This is Exhibit One. No doubt there will be more to follow.