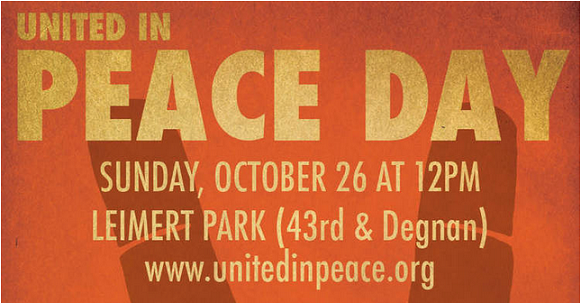 The latest scientology/Nation of Islam collaboration front group activity.
This "United in Peace Day" is being promoted in scientology circles as the "first public recognition of TWTH's role in producing LA's historic drop in crime" (what do they put in the water in scientology buildings?)
And here is the "Confidential" briefing about this event (I wonder why this is confidential?)
Of course, like everything else in scientology, it is a pitch for money… It is such a vital and important activity, but not a penny of the hundreds of millions of dollars vacuumed up by the IAS could be invested in buying WTH booklets to distribute. Nope, we will use it to get MORE money.
Here is a link for the website for United In Peace.
Of course there is no mention of scientology or Nation of Islam on the website, though Tony Muhammad features in the "What People Say" as the "Founder" along with "Reverend" Alfreddie Johnson (though he is NOT a "scientology minister") as one of the "Co-Founders". How is Tony the Founder if there are other co-Founders? Doesn't it by definition make him a "Co-founder" too? Maybe the others are "Assistant Founders" or "Deputy Founders"? Whatever, not the strangest thing about this affair by any means.
Here are the excerpts from their website.
But this is where it gets interesting.
The WHOIS for this domain is shown below (emphasis added).
Squarespace is their web host, but Corey Waldin is Vice President CC Int.
Registrant Name:Corey Waldin
Registrant Organization:Squarespace
Registrant Street: 459 Broadway 5th Floor
Registrant City:New York
Registrant State/Province:NY
Registrant Postal Code:10013
Registrant Country:US
Registrant Phone:+1.3477584644
Registrant Phone Ext:
Registrant Fax:
Registrant Fax Ext:
Registrant Email:mageditor@celebritycentre.org
Why is scientology not making itself known in this effort?
If there IS some sort of "recognition" about the TWTH role in reducing crime in LA then you can bet the church is going to shout it from the rooftops.
Why are they not up front — out loud and proud? After all, scientology is experiencing it's most massive growth ever and its popularity today is unsurpassed at any time in its history? So, why not say this is an initiative of the Church of Scientology Celebrity Centre and identify Alfreddie Johnson as "IAS Freedom Medal Winner"?
And I will repeat the same thing I have said numerous times, just because it bears repeating.
If The Way To Happiness is SO effective in improving conditions and has so dramatically reduced crime in Los Angeles, what the hell is going on that scientology is not spending a few MILLION dollars distributing it to everyone in LA, California, the entire United States. If they truly have the answer why not give it to EVERYONE? Instead of begging for more money to add to the billion dollars they have already collected?
As someone emailed me this week on a different subject: WTHTWTH?