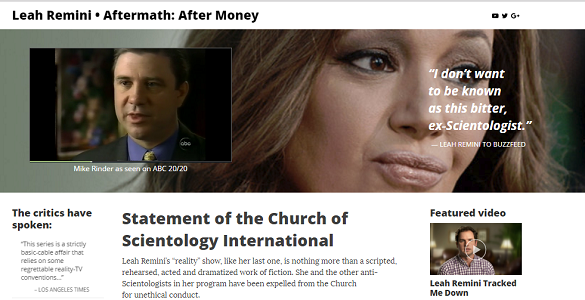 To the surprise of absolutely nobody, scientology wasted no time rolling out a whole new website of smear after the premiere of Leah Remini: Scientology and The Aftermath. Because of this, Thursday Funnies have taken a one week hiatus while I comment on this latest development from the fevered mind of Miscavige.
Cleverly (?) titled  Aftermath: After Money (no doubt Miscavige got a kick out of that, probably thought it up himself, laughed at his own cleverness and his sycophants all laughed along with him) it announces in its headline what has come to be the hallmark of scientology's "Dead Agent"* efforts: They accuse everyone else of what they do. Starting right with their "clever" title.
Hey there Scrooge McDuckavige, do you know that docuseries like this are done on a shoestring budget — absolute peanuts compared to a network sitcom? If Leah was interested in making money she would be doing what she has very successfully done in the past, making a sitcom. Or if she really wanted to be rolling in the dough she could start a tax-exempt charity that claims to do good around the world, produces staged fundraising videos, hands out gauche statuses and gaudy trophies and then sit on the piles of money her team of vultures fundraisers extracts. Sound familiar?
The other hallmark of a scientology "Dead Agent Caper" is to absolutely ignore what is being exposed (see definition of Dead Agent below – scientology cannot do anything not covered in policy written by L. Ron Hubbard). Never respond. Just pretend the rapes, broken families and destroyed lives don't exist and ramble on about what poor victims you are and how terrible people are exposing your putrid, diseased underbelly.
So, here is the "Statement of the Church of Scientology International" about Leah Remini: Scientology and The Aftermath sentence by sentence.
Leah Remini's "reality" show, like her last one, is nothing more than a scripted, rehearsed, acted and dramatized work of fiction.
Now the first episode has aired you can decide for yourself whether the show was scripted, rehearsed, acted or dramatized.
If you want to see "gun-to-the-head" scripted videos check out the ones on the church page from Todd Woodruff or my brother, daughter or ex-wife. Those things are North Korean POW level awful. As I said, accuse others of what they are doing.
She and the other anti-Scientologists in her program have been expelled from the Church for unethical conduct.
Well, that is likely true. AFTER the fact. They love to "expel" (?) people after they have left of their own accord, rewrite history and claim they kicked them out.
Funny, when I left, I was actually being the international spokesperson for scientology and had flown to the UK to deal with BBC Panorama. Are they really trying to say that I was "expelled for unethical conduct" but was still appearing on TV on behalf of the mother church? No different from Leah – she left of her own accord, not because anyone "threw her out." Hell, David Miscavige hisself was trying to "salvage" Leah to the very end.  Same for everyone else in the show, some of whom literally had to escape and were chased by security guards to try and prevent them from leaving.
Leah Remini is in it for the money and now tries to pretend otherwise.
See above. I can assure you this is not a moneymaking venture for Leah. There are a LOT of other ways she could make a LOT more money than a docuseries. But put that aside, look at Kirstie Alley. She has been living fat and happy (well, at least the former) off Cheers residuals for decades. And she still forks over beaucoup bucks to scientology. King of Queens is still in syndication all over the world. The biggest increase in Leah's spendable income was actually leaving scientology- no drain on her income is a MUCH bigger increase in her net wealth than anything she might get from making a docuseries.
Her claim on Today that, "I'm not going to get a dime," as executive producer of her new reality TV show is disingenuous. Ms. Remini obviously is being compensated for this show, just as she profited from her book. 
Even if she were being compensated for this series, I would be sure it is a loser for her (as in she could earn a LOT more doing comedy but cannot because she has been involved in this show).  But hell, David Miscavige is recompensed handsomely for being involved in scientology. His compensation is massive – hot and cold running servants, apartments all over the world, private jets, imported food cooked by his personal chefs etc etc But of course there is absolutely nothing wrong with Miscavige (and a lot of fundraisers) making a pretty penny off scientology but how dare anyone else muscle in on his racket. And in scientology's twisted logic, if Laura Prepon is compensated handsomely for playing a drug-dealing lesbian on Orange Is The New Black it's wonderful, as long as she keeps forking over to scientology. Watch out if she ever decides she has had enough of scientology — they will have a field day with her. And finally, profits from books is L. Ron Hubbard/scientology's forte. They internally publish their own books and charge 3X standard prices for a similar book in a bookstore. The profit made on scientology books makes the $12 plastic cup of beer at a baseball stadium seem like a give-away.
In addition, she recently attempted to extort the Church by first demanding $500,000, followed by an additional $1 million, because the Church invoked its First Amendment right to respond to her false claims with the truth. This shows the extent Leah Remini is willing to go to in order to distort the truth about Scientology.
The church writes dozens of threat letters and has hot and cold running lawyers soaking them for millions every year. Leah's lawyer sends them a letter and suddenly they are butthurt about their rights under the "First Amendment" being messed with. Hey there – how about HER First Amendment rights? Or mine? Oh, we don't qualify for that because we have been "expelled."
By the way Dave, Leah's letter did not say you were not allowed to speak the truth. It did not say "give me money and I will stop doing the show." In fact, the letter was about things YOU said, not what she was doing or threatening to do. It was focused on the lie you repeated about her concern over the well-being of your own wife being falsely labeled a "publicity stunt. " Scientology bullies people all the time with legal letters threatening to sue them into oblivion "if you air this" or "unless you do that." THAT is extortion. And you do it ALL THE TIME.  Leah's lawyer laid out your lies specifically and stated they have already caused harm and wish to be recompensed for the damage you did. That is not extortion. Extortion would be "unless you pay me $1.5 million I am going to put together a series of shows that will tear you many new, gaping assholes (your words about John Sweeney)." That would be a form of extortion. But that is not what happened at all.
And then somehow, you then conflate your mischaracterizations into "proving" how far Leah will go "in order to distort the truth"?  What, did Dan Sherman write this for you?
The mark of a true bully is the guy that kicks sand in everyone's face and as soon as the favor is returned, starts screaming that he is being "being assaulted and blinded by razor sharp pieces of silica stabbed into my cornea." That is you Dave. A big crybaby.
Leah Remini has repeatedly disparaged and exploited her former faith for profit and attention through a series of failed publicity stunts, …
…well, I guess the legal letter worked. They are scared now to say that Leah filing a missing person report on Shelly Miscavige was a "publicity stunt" so it's become a generalized statement of nothing. Wonder what they even consider these "stunts" were that they cannot name them?
…culminating in her reality TV show featuring a cast of admitted liars who to make a buck have been telling differing versions of the same false tales of abuse for years.
Again, no "publicity stunts" "culminated" in the TV show. It's a bizarre and logically flawed statement.
As for the "admitted liars" this may be true. I have certainly admitted to lying WHEN I WAS IN THE CHURCH. It is common, in fact routine, for scientologists to lie when they are operating on the "greatest good for the greatest number of dynamics" and the greater purpose of "planetary clearing." To be clear, not a single person in this (or any other) show has admitted to lying SINCE leaving the corrosive influence of scientology.
Many of their allegations have been reviewed and discredited in courts of law.
Name one. Just one. Scientology and Miscavige are terrified of appearing in court on ANY of these issues. Miscavige sends armies of expensive lawyers to fight to the death to prevent him from ever having to answer up to any of these charges. The one time in recent history where this did come up in court was when the church sued Debbie Cook in San Antonio. One session of Debbie Cook on the stand recounting her personal stories of abuse caused the church to run like cockroaches when the lights are turned on. They could not get out of that courtroom fast enough.
A&E's promotion of their agenda smacks of bigotry.
What does this even mean? "Smacks of bigotry"? Scared to come right out and say "A&E is bigoted"? What a ridiculous and meaningless assertion. Why is A&E evan "smacking" of bigotry? Because you don't like what they air?  Remember those First Amendment rights you cherish so much? Well?
It also is sad that Leah Remini attacks and exploits those who tirelessly worked to help her when no one else was willing to tolerate her behavior. The Church was always there for Leah Remini, including picking her up from the ground after her meltdown following her firing from The Talk.
Hahaha – cue the tiny violins. Poor scientology who have nothing but Leah's best interests in mind.
Read Leah's books for a description of the "tireless work" they did to help her. They DID tirelessly work to take her money. That would be about it. Her book also describes the events surrounding The Talk.
Leah Remini has become what she once vowed she would never be: "This bitter ex-Scientologist." As we have stated numerous times, Leah Remini needs to move on with her life and career. 
Well, so what if Leah IS a "bitter ex-scientologist"? The number of extremely bitter ex-scientologists continues to grow daily. Scientology is the only one to blame for having accumulated an army of bitter ex-scientologist. Do they think the Catholic church is creating bitter ex-scientologists? Maybe it's the psychs? Could not possibly be them — they never do anything wrong.
And you know Dave, you lost your chance to dictate what Leah Remini does in her life. You had that for 20 years – like every other good scientologist if you told her to jump she jumped. Now you don't have that luxury. You seem to think that because you say someone should "move on" they should snap to attention, respond "Yes, Sir" and be on their way. That only works in the bubble. It really sucks for you that the real world isn't like scientology sycophant land. Funny how life works like that.
She needs to stop blaming the Church and others for all of her personal and professional setbacks and take responsibility.
Well, I have yet to hear her blame the church for "personal and professional setbacks" — what are you even talking about? That you took millions of dollars from her? She should stop complaining about that? Or that you tried (and failed) to destroy her family? I am sure you would LOVE her to stop naming you and quietly go away. But like I said, you lost your chance at that. Maybe you shouldn't have kicked her and expelled her but instead tried to keep her on your side? Hell, you had everything going for you. She WANTED it to all be true. She wanted to be in scientology. And you screwed it up.
Most of all, she needs to quit promoting hatred and religious intolerance as a means to line her pockets.
Hahaha. If you honestly think that anyone outside your shrinking bubble buys into the idea that exposing rape, fraud, Fair Game, breaking up families and other abuses is "promoting hate and religious intolerance" you are worse off than even I think you are. It's an interesting trick – have "religious scripture" that calls for doing all these things and then when someone exposes them, yell "religious intolerance." But that is exactly what scientology does. You are such cry-babies.
"Leah Remini: Aftermath" is really "Leah Remini: After Money."
So amazingly clever. I have my own "clever" phrase for you: $scientology: If it's not fundraising, it's not $scientology.
And finally, the real point of all this.
They say NOTHING about destroying Amy's family with their sordid disconnection control mechanism. Nothing about Amy being raped and the church covering it up. Nothing about David Miscavige beating people up. Nothing about 24/7 security watch to prevent someone from leaving.
No, they respond with NOTHING other than ad hominem attacks that are manufactured out of wholecloth.
*Dead Agent: A term Hubbard borrowed from Sun Tzu's Art of War to describe a spy whose cover has been blown. Hubbard adapted it to the field of "PR" where he decreed that if you are being attacked by someone you find the biggest lie they are saying and disprove it. From then on the person will no longer be a credible source of information – hence a "Dead Agent" or discredited source. This was then made into a verb "to Dead Agent" and is in common use in scientology. Unfortunately, L. Ron Hubbard did not contemplate that someone saying something negative about him or scientology could be TRUE. So, the only thing they are left with is to ignore the true statements and still try to "discredit the source" by claiming they are "in it for money" are a "sexual pervert" (or something similar) or are telling lies because they are an "apostate" and "it is well known that apostates lie." They MUST try to "discredit the source" if they are saying anything negative about scientology, because that is what you do according to L. Ron Hubbard.
Postscript: