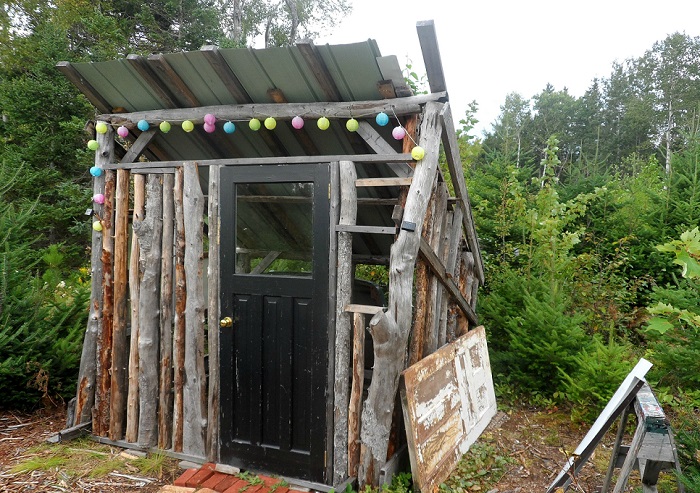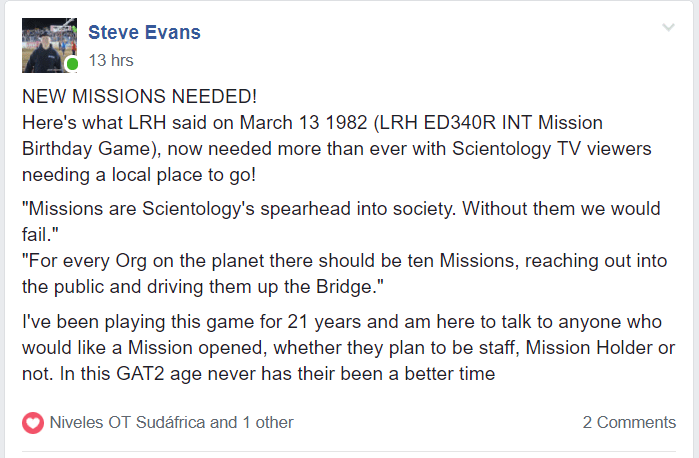 Since 1982, when Hubbard wrote that directive, the number of missions in scientology has been steadily DECREASING.
In 1982 there were about 150 orgs — the same number as today (despite the "massive international expansion"). I have commented on this a number of times.
Yet, at no time in scientology history has there ever been anything CLOSE to 1500 missions (10 per org).
Today there are less than 400 with a large percentage of them nowhere near an org — off in the wilds of central and eastern Russia and other former soviet bloc countries.
Hell, not only are there dozens of states in the US that have no org, there are states that don't even have a single mission.
But there is the promise of Ideal Orgs that Miscavige claimed with his little "arrows" diagram. He asserted these orgs would result in many new missions and groups opening around them and they would in turn become orgs and the cycle would "begin all over and keep repeating."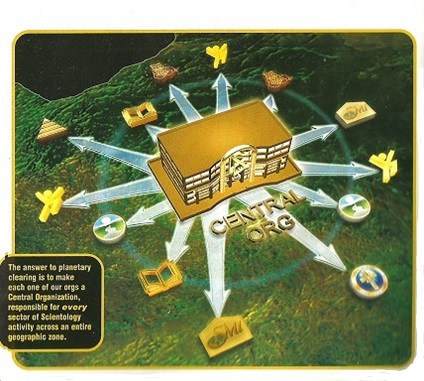 Back in the day, scientology published a list of missions and orgs in the back of books. But that became too embarrassing as people could easily track the numbers and locations and see when they disappeared. Now they list the "continental organizations" only in the books.
Even if you go to scientology.org there is no simple way of finding the total number of missions. You have to search by zipcode or city. You cannot just get a complete list of all missions or even all missions in a geographical area.
Let's take Florida for example  home to Flag, three "ideal orgs" and the largest community of OT VIIs and VIIIs on earth (not to mention those with super powers, Cause Resurged and stably At Cause and Exterior with Full Perceptions from the L's). By Hubbard's mandate there should be at least 40 missions if they were operating at a minimum….
Here is what the result of searching "Florida" is: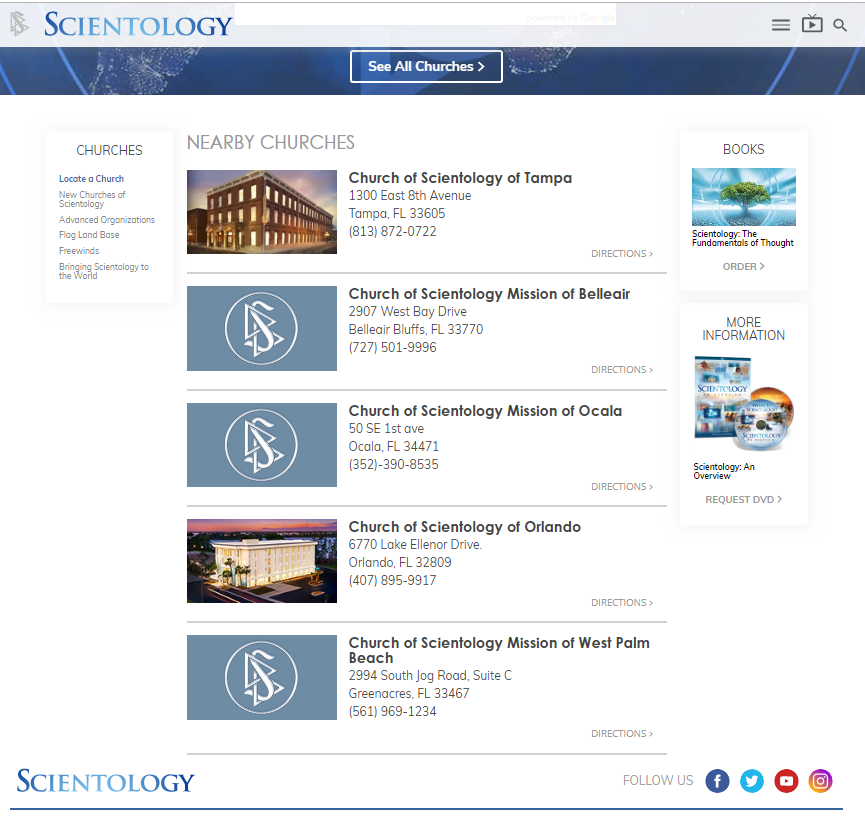 This doesn't even include Miami org.
So, if you use "Miami" as the search term, you get the following:
Just to be sure, I tried "Orlando":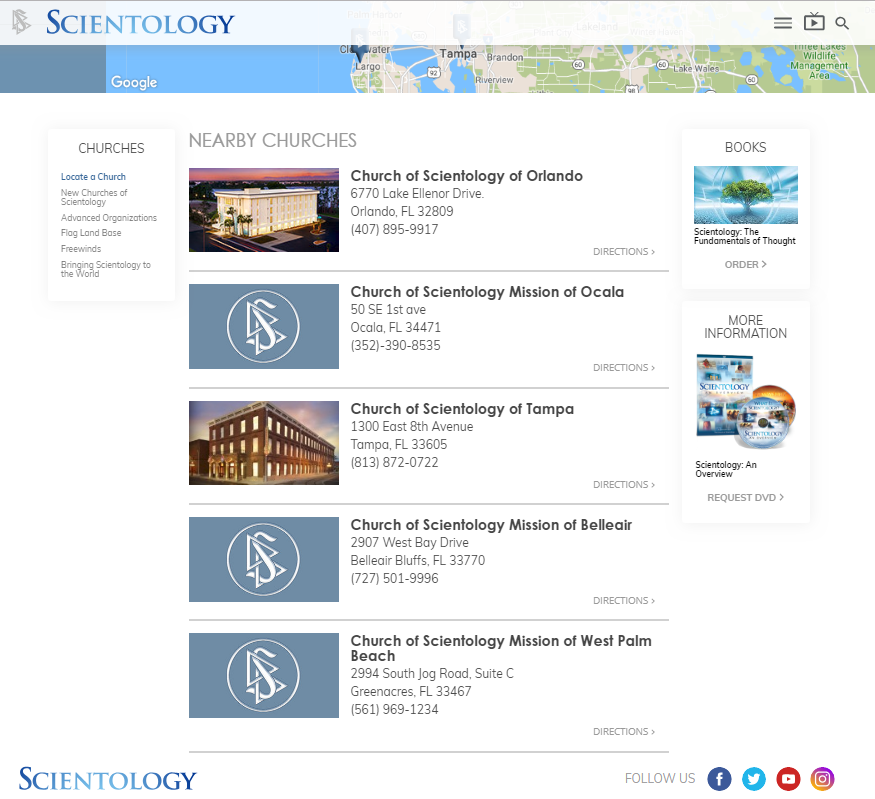 So, the grand total of missions in the entire state of Florida is THREE.
Belleair
Ocala
West Palm Beach
The Missions in Clearwater and South Tampa closed their doors. So too Ft. Lauderdale. That is all there has EVER been.
This is the "ideal" program at work. "Ideal orgs" are NOT opening missions. And the "ideal" insanity has spread to Missions as a gimmick for fundraising. Two of these missions are "ideal". Ocala which was a pet project of the Travolta's staffed with Eastern European imports and Belleair which survives off Flag rejects and Flag public trying to avoid the regges by claiming to be "on course" at the Mission.
Of the supposed 12,000 (or whatever number they are using today, I think this was the last figure I saw) "orgs, missions and groups" they tout around the world, only about 500 are orgs and missions. The rest are anyone's guess. But whatever it is, the number of places where scientology is available continues to shrink. And even those missions that ARE still counted are primarily part-time activities run out of someone's home or office. The days of the big missions with 100+ staff are long gone. In fact, they were wiped out pretty soon after Hubbard wrote this quote.
Steve Evans — whoever he is –may or may not know all this.
But no matter because all scientologists are ever hopeful that their dreams will come true. Always sometime in the future. No matter how much evidence there is it will NEVER happen — 10, 20, 50 years of proven failure — they maintain a completely irrational belief that it WILL happen "because Ron says so…"
And he remains ever deluded that "scientologyTV" is actually causing anyone to be interested in finding out more about scientology….
So sad.