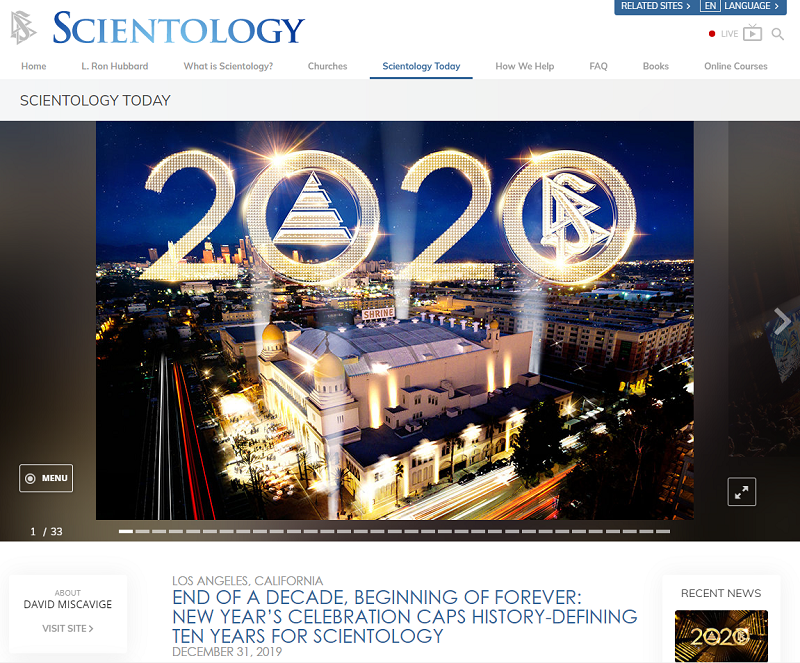 Dan Sherman conjured up a verbal orgasm of gushing babble to hype the sheeple at the scientology New Year's Celebration.
No need to attend the event, you can read all about it at scientology.org in 10 minutes and spare yourself the pain of  "Standing O" calisthenics every time Dear Leader actually completes a run-on sentence.
At the outset, let's remember that the "turn of the decade/century" event in 1999 was held at the LA Sports Arena — a FAR larger venue than the Shrine Auditorium. Given the unprecedented, massive, straight up and vertical expansion they claim to have experienced over the subsequent 20 years, why was this event not held at the Staples Center to accommodate the 20,000 people who wanted to attend? Or more accurately, the Rose Bowl which would fit the 10X expansion from 1999? With each of the ideal orgs in the almost ideal California bringing 10X expansion, how come there weren't 100,000 clamoring to hear the Dear Leader spout forth his oddly cadenced Shermanspeak? There were nearly 10,000 in 1999. But only 6300 in 2019?
Now, to the hype. They get off to a roaring start:
Thousands congregate in Los Angeles to celebrate the culmination of the greatest period of growth in Scientology history.
But there is no evidence of this anywhere to be seen. Just empty words claiming greatest growth and "thousands"…
The adjectives, even in the Cliffnotes version on the website, are thick.
Just beyond the brightly lit skyscrapers marking the downtown LA cityscape, the spotlight shone on the famed Shrine Auditorium where Scientologists assembled to celebrate a record-shattering decade:
And the proof of this is?
A Golden Age for Scientology.
More than 50 new Churches arising.
Publishing and multimedia facilities taking flight.
And the launch of Scientology Network Television.
Huh?
A fuzzy "Golden Age" (that began in 1996), 50 "new Churches arising" but in fact there are NO NEW CHURCHES, only new buildings, Publishing facilities "taking flight" — in the internet age, and scientogyTV the largest drain on scientology reserves in history for no audience.
All previous decades combined? Seriously? You do know that in the 1950's it went from 0 to organizations around the world. In the 60's and 70's the number of organizations grew by 10 times. Since then, not so much. Since the mid 90's it's been constantly contracting.
"Yes, tonight we celebrate the fact we conquered time. Since, how else could anyone accomplish so much in ten fleeting years?" began Mr. David Miscavige,  "But, either way, our theme tonight is 'Time.' Time past, time present and what this decade signified in terms of a future that's already preordained as glorious. So, lest anybody take it for granted, well, let's just say, this is not only the best time to be a Scientologist, it's also the best time to become a Scientologist."
He says this shit with a straight face!
And here are the "specifics" to prove this astonishing accomplishment.
In evidence of an unprecedented ten years for Scientology worldwide, Mr. Miscavige proceeded with a stunning visual presentation highlighting a parade of epic achievements:
The Golden Age of Knowledge—Accomplished:
This was basically done in 2007. Remember the Basics and the Congresses and ACCs? And Dave — where are the Briefing Couyrse Lectures and COURSE? If the Golden Age of Knowledge is "accomplished" in the last 10 years I guess this is no longer part of it?
Creating a Publications Power Plant: The establishment of Bridge and New Era Publications, exclusively dedicated to printing and manufacturing the written and spoken words of L. Ron Hubbard. The only facilities of their kind and capable of producing more than 250,000 books and nearly 1 million CDs per week… 
Absolute genius investing all that money in making CD's. The technology of the future! And perhaps you haven't noticed that most books are sold today in digital format. You still don't have ANY.
Building a Global Distribution Center:
More cutting edge printing plants…
The Release of Golden Age of Tech Phase II:
Whatever this means. There is still no Briefing Course, no Class VIII Course, no OT IX and X
Erecting a 21st-Century Flag Cathedral:
Yep, took 20 years and only happened after the Garcia's sued… It now sits virtually empty.
Forging New Millennium Ideal Organizations:
This one got the real fudge treatment "churches of Scientology shed inaugural ribbons across 12 time zones and 22 nations" I suspect if you add it up, there were more new ideal org buildings between 2003 and 2009 than between 2010 and 2019!
The Church attained landmark victories and recognitions in multiple countries, including a watershed Supreme Court decision in the United Kingdom.
And in the United Kingdom, the single specific you cite, scientology has still not been granted legitimate charity status and thus does not have tax exemption.
Flipping the Switch on a Multimedia Broadcast Center:
This has been a total bust. Nobody watches it. They have run out of programming. It's a 5 acre nothingburger.
He then delved into the "sectors of scientology" and the proof of their astonishing, watershed, epic expansion in a decade is:
Association for Better Living and Education (ABLE):
In Lima, Peru, a 41-year police veteran became an emissary of The Way to Happiness and helped cut crime rates in Lima by 20 percent.
Sure…
In the Pacific island of Samoa, the Ministry of Education implemented L. Ron Hubbard's Study Technology through the nation's teacher network, reaching over 60 percent of the student population and thereby raising comprehension as much as 90 percent.
Funny how the ONLY things Applied Scholastics ever does is in Malawi or Samoa or Tibet. How about Peoria? St. Louis?
The inauguration of Continental Training Facilities in Mexico, the United Kingdom and Denmark, as well as Model Centers across the United States and as far away as Nepal. All told, the global network saves a new life every four hours and has earned better than 150 awards and recognitions for salvaging individuals from addiction.
Shit, no actual stats? Hasn't Narconon Arrowhead taken over the field yet? No mention of all the lawsuits and deaths?
Criminon is apparently dead. It got no mention at all.
World Institute of Scientology Enterprises (WISE):
In Hungary, an agriculturalist determined to reverse soil depletion from modern chemical-heavy farming techniques. Wielding a revolutionary bio-fertilizer yielding 25 percent increases in crop production, this engineer implemented Mr. Hubbard's administrative tools to bring his products to farms across Central and Eastern Europe. 
An entrepreneur out of Dallas, Texas, used L. Ron Hubbard's Admin Tech to thrive in a highly competitive restaurant business, where 8 out of 10 establishments shutter their doors in the first five years. Specializing in a signature pizza style, the restaurateur swelled locations to more than 40 throughout the Lone Star State and beyond.
And in the Czech Republic a WISE member formed a consultancy firm that has equipped business owners and managers with Admin Tech through more than 4,000 seminars and so empowered more than 80,000 professionals…
In 10 years not a single Forbes List organization has adopted the ONLY WORKABLE tech of administration? No Silicon Valley giants even though the ideal org is next to their parking lot? No major government? Just a guy in Hungary, another in Texas and a third in Czech Republic.
Probably should have just said nothing about WISE and hoped everyone forgot them like Criminon.
International Hubbard Ecclesiastical League of Pastors (I HELP) and Scientology Missions International (SMI):
This was even worse than wise. There is a group in Croatia delivering seminars, and a group "saturating" the capital of Costa Rica with "social betterment campaigns for human rights and morality." Seriously impressive stuff.
And so the SMI success story continued, with six new Ideal Missions dedicated in the past year.
That was it for the Mission network international "expansion" in the last decade.
Finally, mirroring a decade of meteoric expansion, a highest ever number of Power Field Staff Members (FSMs)
These are the full time registrars/FSMs that tour around conning EXISTING scientologist to redo services and pay more money.
Whereupon, as thunderous applause reverberated in the packed-to-capacity Shrine Auditorium, the night's celebration transcended to a tone of triumph. So it was, as the concluding moments of the Church's most momentous decade drew near, Mr. Miscavige left one and all with a final word:
"With that, we arrive at the close of this evening's event, and a moment to contemplate the next ten years. And the next, and the next and the next after that, until time runs its course and what L. Ron Hubbard told us is indeed fulfilled: That time is not behind us; it lies ahead in eternity; and we shall find ourselves in it, irrevocably. But either way, what is absolutely manifest destiny is all of us together for the next ten years. And in anticipation of which, I say: Happy New Year and Godspeed into eternity!"
Godspeed into eternity indeed…
I bet it was a total shitshow putting this event together. Miscavige must be losing his shit — I can hear him now "You motherfuckers produce NOTHING and you then expect me to stand on stage and try to make it sound like something is actually happening. I am the one who has to go out there and do all the work while you sit around sucking each other off."
And then he walks out on stage and expects everyone to cheer and give him standing ovations for what he has been cursing out as bullshit.
Surely even the dimmest of the clubbed seals had to walk away from this event and wonder "where's the beef?"
And doubling down on their crazy, they sent this out as a "press release" — including the last 3 paragraphs I quoted above."Whereupon" in a press release? It sounds ridiculous enough when Miscavige says it on stage. It is batshit crazy in a "press release."
It included a notation at the end:
Contact:
​Media Relations
mediarelations@churchofscientology.net
(323) 960-3500
As a note: they don't actually want anyone to call. If you do and ask for "media relations" you get an answering machine. At best you will be sent a message saying "Please put your questions in writing."