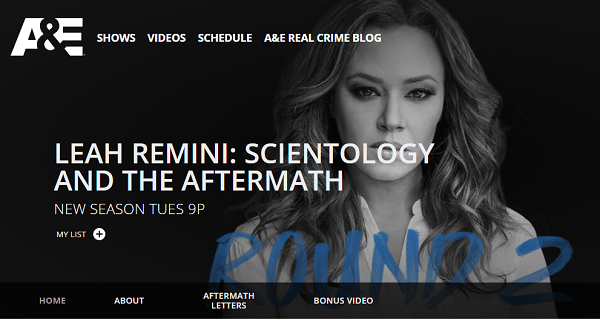 Though I commented on this in my post of yesterday, I wanted to highlight the insanity of the scientology response to the new season's first episode while it is hot off the press (Thursday Funnies are on hiatus for a week).
In a word. Lame.
Their "defense" for child abuse is:
We found three people who knew Saina when she was a child and she didnt mention she had been sexually molested — yes and I found 5 people who knew Jeffrey Dahmer and they said he never told them he had killed and eaten people. So it didn't happen apparently.
What they DIDN'T "find" was Mirriam or Saina's mother — even though they are TOTALLY under the control of scientology as Sea Org members. They trot out everyone else's family members to make their POW videos? How come their mothers are silent and invisible and are not denying that the events described by Mirriam and Saina ever happened?
Their 3 "testifiers" also say Mike Rinder and Leah Remini "definitely" "got to" Saina and Mirriam. How do they know this? OT powers at work perhaps?
We closed these places down, so nothing to see here — perhaps the only demonstrably true response. Though of course they do not address whether the abuses (sure is hard to deny those photos of the ranch with the child labor and punishments clearly in evidence). This is sort of like saying "the concentration camps are closed now, so nothing to worry about" EXCEPT the culture that allowed that to happen in the first place is still in place. And that we all know that scientology CANNOT change the writings of L. Ron Hubbard. So they are set in their ways, cleaning glass with wet newspaper and sending out telexes.
This is a vicious campaign of bigotry intended to stir up hate against scientology — "in this time of Charlottesville" — right.  ALWAYS blame the victims while assuming the victim position yourself. Here we have the wife beater complaining his wife is "ruining his reputation" and "turning his friends against him" by telling people he beats her. In the scientology world, every victim of their abuse is a liar, and they are all bigots and haters for talking about their EXPERIENCES. Of course, scientology never addresses any specifics. They name-call — "bigots", "liars", "apostates", "haters" etc — and somehow hope this will invalidate the sources of information.
There are 500 confirmed incidents of hate crimes that have been generated against scientology —  but they don't offer any proof of anything. The specifics they alluded to were proven to be false (see article here)
This is all being done for money — as with all other contributors to The Aftermath, neither Mirriam nor Saina was paid anything to appear. They did not choose to bare their souls on national TV as a gag, or to become famous (if anyone thinks someone wants to be famous for being the victim of sexual assault, you would be dumber than dirt). They, like all the other victims, speak out because they want to prevent OTHERS from experiencing what they experienced.
Again, because I consider it so important to keep reminding everyone of the POLICY of scientology — here is the scientology playbook on how to deal with "critics."