It appears this is the only thing they have going on inside the bubble.
Trying to hype people about what they did last year spraying Defcon 7 (or whatever it was) in some police stations in South Africa. They are giving themselves a pat on the back for "protecting our churches, our staff and our communities." That is a questionable claim. But, they did collect millions of dollars on the basis of needing money to pay their "staff" though it's unlikely any of it actually went to the staff (who are denominated as "volunteers" to avoid labor laws and thus do not in fact get "wages").
But their tune seems a little different than the one recently sent out by old Pete Vilinsky (why does an "ideal org" only have an Acting ED? And Pete Vilinsky is probably in his 70's by now)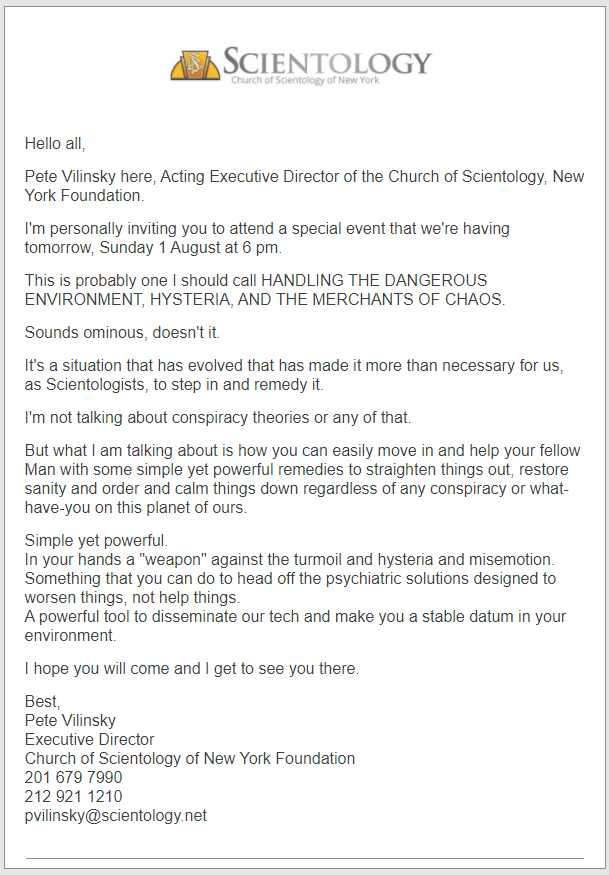 He makes it sound as though the "Dangerous Environment" of the pandemic is caused by the "Merchants of Chaos" and the "psychiatric solutions designed to worsen things." But he is not talking conspiracy theories or any of that…
They have some real problems with their messaging. This pandemic has twisted them into terrible knots. They don't know whether it's a "planetary bullbait," or if everyone is just PTS, if it's real or a hoax, if they should be lauding themselves for protecting their orgs and staff or if they should be exposing it for another of the media and psychiatry's diabolical tricks. The only thing they seem to all agree on is that if there is government money available, they should grab it.
One last note: I have heard from a very reliable source that any staff member who contracts Covid is automatically called before a Committee of Evidence. That's scientology in a nutshell. It's always your fault.