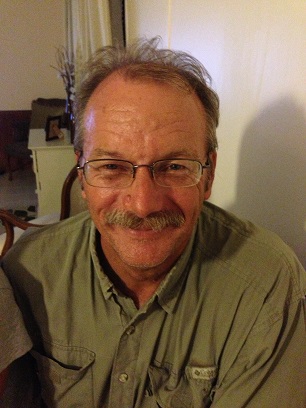 Another in the series of "Life Is Good."  I have known Terry since I worked with him in OSA in the 80's and 90's.  Terry is one of the nicest people I have ever had the pleasure to call friend. He is a talented stained glass artist, photographer and also runs guided kayak tours out of Venice, Florida.  It makes me very happy to see him doing so well.  Mike
My history with Dianetics goes back to 1951 in Wichita. I started reading Scn. books in late 1968 in the Ozarks, and moved to Florida to join staff in early 1969. I did the usual…volunteered, did basic courses, and when old enough, joined HCO staff in Miami in 1970.  Later, ran a City Office for Miami Org, and (finally) arrived in the Sea Org at Flag in 1981.
I left a much different Sea Org in 2001, after working at New World Corps Int., OSA Int. and Flag Liaison Office, and after completing about 30-40 missions/projects around the world.  Fortunately, I have worked with a fair number of Scientology Orgs, Missions, Dianetic groups during that time, met thousands of Scientologists, and made a lot of friends. I still think of most of that time as very positive, with a few exceptions…. 
I've just returned from the Courseroom in Georgia and very highly recommend it (please note the VGI's). I've personally seen and experienced better results there than anywhere else in my experience in Scientology, and would be very suspicious of anyone being nattery or spreading Black PR about the Courseroom. Granted, I wasn't looking for lavishly decorated ten-story buildings, empty of  public. What I FOUND was a growing community of Independent Scientologists who are delivering LRH tech standardly. Students and PC's are getting rave results by just doing LRH tech.  
My Bridge progress slowed in '71, but there were enough post cycles going on for three decades that I didn't bother with it. I headed up to the Courseroom to compete an incomplete Grade and get sorted out. Gayle Smith did an EXCELLENT job, and John and Candace Williams, Rocky and Cathy Green, and the students made my trip up there one of the best times of my life.  I have never experienced such smooth auditing, speed of service, and such an effective, and high ARC environment. I thought the earlier orgs (Miami, FSO, OSA Int) had the best delivery I'd ever seen…they have been superceded by a handful of very effective people. The Courseroom is growing, and getting great products. That's the long and short of it. Feel free to contact me if you have questions.
In a few days, life has straightened out: Repair Program done, Incomplete Grade completed, have attested to CCRD and Sunshine RD, and am starting SOLO 1. I'm having a ball! I recall how Scientology used to be fun, then it moved down to being enforced, then it was no longer Scientology and was even more enforced..:) .   Well, these standard auditing actions were FUN.
 As far as the Courseroom, a number of well trained Scientologists around the world have contributed to producing Independent Checksheets, using only standard LRH tech. These are without the arbitraries the C of S has become known for and certainly omit the "lets try this" counseling being done by some.  Every checksheet item/RD has the LRH reference and the staff know these. What I observed was a huge library of references, books, etc., and sufficient space for people to study or get audited. Size of the courserooms and auditing rooms will increase as more students/PCs arrive.   The grounds provide plenty of space, and the folks there seem to have excellent PR area control with the nearby towns, all the neighbors, businesses, etc.  It is a safe, uptone and friendly space, and I found it extremely comfortable to be there.  The delivery was superb, without the pressure of crush regging or wildly inflated prices for services. There was no suppress on communication (just the opposite), no heavy ethics, inval/eval, etc.  If you are looking for luxury accomodations or valets, or huge prices…well, those aren't there either.    Pluspoints, however, are found in abundance.  
As far as the auditing went, it was so smooth I was amazed. There didn't seem to be any complexity…Gayle ran the processes, I did my part and the wins just didn't stop. Any question got cleared up immediately, the auditor's TR's were natural, -the sessions ran great and the cognitions just got bigger and bigger. I got much more gain than I expected in the time I was there…let me rephrase that….I got MANY times the gain I hoped for.
Terry