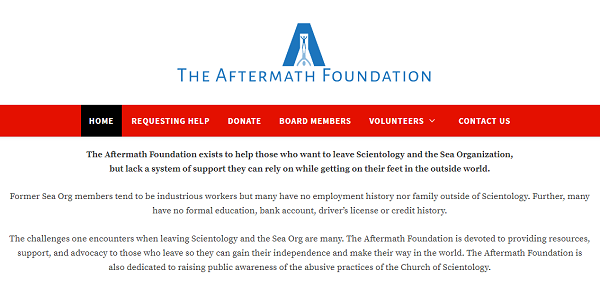 Many of you may have seen Aaron Smith-Levin's video posted on Tony Ortega's blog yesterday.
If you missed it, here it is again:

In response to the video a large number of people contacted The Foundation offering their assistance and making donations. The response was heart-warming and greatly appreciated.
Scientology can try to prevent The Foundation from helping people leave scientology — but they will never succeed. The members of the board of the foundation are not cowed by scientology in the least. We are aware of their dirty tricks. We anticipated there would be people sent in to try to disrupt our activities. It's the price of trying to help the victims of scientology and it is a price worth paying. It only makes us more determined and more convinced that the foundation has a vital role to serve. We feel a greater need to be effective and active, not less. And even Morgan and Cinjin should not be viewed with scorn but with compassion — for they are classic victims of scientology. The control over how people think and act, using their families as weapons against them, is enormous.
We never publicize information about those we are helping, until they specifically ask to do so for this reason. We don't want scientology to know so it minimizes the possibility they will be messed with. We always try to err on the side of doing what is best for the victims and take them at their word. If we become cynical and overly suspicious we will never be able to help anyone. We do what we can to avoid plants and suspect requests for help, but a few failures are inevitable. So far The Foundation has been very successful in assisting those who need help to leave scientology — especially those trying to escape the Sea Org and staff. A lone loss back to the cult is a pretty good batting average.
Aaron mentioned in the video there have been two VERY recent departures from "ideal orgs" that we have helped. One of them wants to go public shortly, so stayed tuned for that story. It gives some fascinating insight into the true state of "ideal orgs" — things we all know, but it is interesting to hear it from someone with VERY recent first hand experience.
Again, thank you to everyone who supports the Aftermath Foundation, everyone who supports Leah Remini Scientology and the Aftermath, everyone who supports this blog and everyone who supports the victims of scientology in any way. The large numbers of vocal supporters of this cause have changed the game. And it gives strength to those on the front lines and helps encourage reinforcements to join. Because this is a war to end abuses. For decades scientology has believed they could outspend and thus outlast anyone who challenged their imperious disdain for the law. They may still be able to outspend us, but they will NOT outlast us. And by a long way they no longer outnumber us.