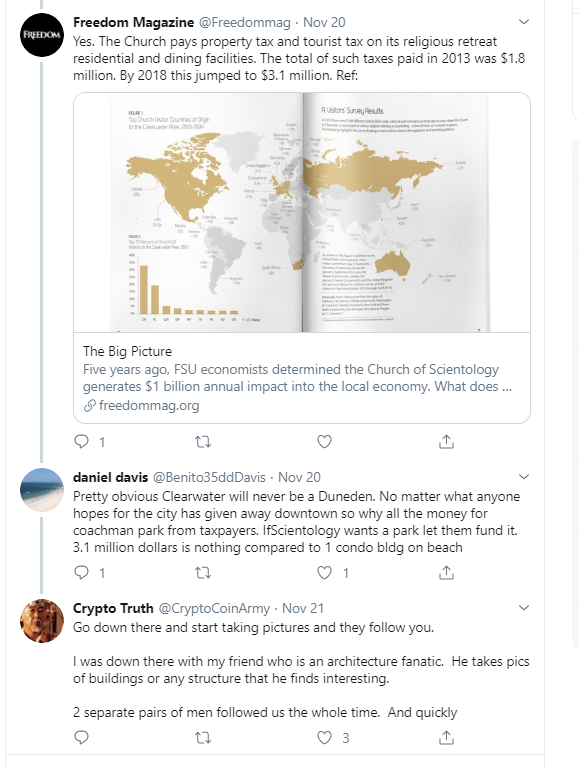 Scientology spews out paid ads proclaiming their wondrous contributions to society, most especially to Clearwater.
I see these things on Twitter and when I respond they delete my responses. So, in keeping with the time-honored solution of "doing what Ron says," I am putting my response on my own channel of communication where it cannot be altered (or deleted).
Their tweet above makes the bold claim that scientology paid $3.1 million in property and tourist taxes in 2018. And that they "generate $1 billion impact into the local economy."
As for the first claim — this may well be correct. But what it fails to mention is HOW MUCH REVENUE THE CITY IS LOSING. If every property owned by scientology (or now scientologists and nominee buyers in their name that are sitting empty and unutilized) was generating tax revenue, the City of Clearwater would be FLUSH! The MISSING tax revenues are probably more than $50 million per year. This is a shortfall that is subsidized by those who DO pay takes in Clearwater.
Far from being a boon to the Clearwater economy, the tax exempt status of scientology has hurt Clearwater more than any other single community on earth. Clearwater has the greatest incentive to undo scientology's improperly granted tax exempt status. Of course, it is the IRS that must correct their grave error and revoke scientology's tax exempt status. It is not within the purview of the City. But it is certainly within the ability of the city to use every available means of communication, call in every possible favor and use every political ally to bring pressure on the IRS to do the right thing. This is what City Officials can and should do. Clearwater has more to gain than anyone from the IRS being forced to do the right thing.
As for their second ridiculous claim that they "generate $1 billion annual impact to the local economy" this is pie-in-the-sky numbers extrapolated from figures GIVEN TO FSU BY SCIENTOLOGY. I wrote an extensive article about this flawed study: Scientology Takes Clearwater for Suckers.
Just as ONE example from this "study" they conclude: Scientologists annually contribute $87,867,000 to charitable endeavors. 
Of course, this money does not go anywhere NEAR the community. This is the money scientologists give to scientology organizations. Under normal circumstances, charitable giving would filter its way into the community. After all, this is what normal charities do. But not scientology. They are not building schools or hospitals. Or even feeding the poor. They are taking in the money and stashing it in overseas bank accounts. Period.
Once again, I say:
Elect Mark Bunker to the Clearwater City Council. He is not too afraid of scientology to speak his mind.
Go to markbunker.com.