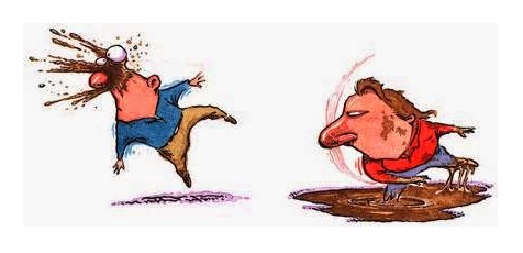 With two specials in 3 days, scientology has been working overtime on concocting smears about the show contributors. Of course, they NEVER respond to anything the people say, never dispute the abuses or the lies exposed by any of the contributors or on the show in general. They just sling mud.
They have nothing they CAN dispute, so their only avenue is to try to "discredit the source"…
Let's take their smears in sequence.
Tony Ortega
Of course Tony has long been a target of the scientology smear brigade.  But they have nothing new so they roll out their moldy old chestnuts — Tony Ortega "shamelessly shilled for the notorious online human trafficking and child prostitution enabler Backpage"  and "once mocked two brave teenagers after they went public with their story of being brutally raped by a career criminal."
I am not sure it is even worth rehashing any of this drivel — but for the record of new readers who may be coming to this site after watching these shows.
Tony was formerly the editor in chief of the Village Voice.  The Voice had controversial adult ads on the website (not in the paper itself), put there by a separate company called "Backpage." Tony was in charge of the writers and art department of the Voice, but had nothing whatsoever to do with advertising. He worked for Village Voice Media, Backpage was a separate company. But facts are not scientology's friend. They refer to him as "Backpage Tony", like they refer to me as "Wife-beater Rinder," though he had no involvement in the ads.  Tony Ortega was not a "shill" for any advertiser on the Village Voice website — clearly scientology doesn't understand how reputable publications have a wall between editorial and advertising (their publications are ALL propaganda and advertising and there is no distinction). I am not even going down the path of giving the real facts concerning Backpage as it would only be relevant if there was any connection.
As for the "mocking two brave teenagers" — the kings of victim shaming have some nerve making this accusation. Wow. For anyone interested, they can find the SATIRE piece Tony wrote 15 years ago criticizing NBC which had promoted two minors who were rape victims into some sort of perverted TV "celebrities."
But, of course the real issue here is that scientology responds to not a SINGLE thing Tony says. Ever. They have not responded to anything he has written for the Village Voice or on his blog. He has been doing this for decades. Scientology, with all the high-priced lawyers money can buy have not sued Tony Ortega for reporting anything inaccurately. Hell, they don't even TRY to refute what he reports.
That really says it all: the big bully with all the legal attack dogs money can buy do nothing but create webpages calling Tony (and everyone else) names.
And finally, because he was never a scientologist, they do not have a stable of POW victims to put lipstick on and sit in front of a camera and read a script about him. So, who do they use as their "authority" — Marty Rathbun! Not even worth discussing the insanity of that or his unhinged speculation.
As a sort of side-note, scientology keeps going after A&E's "chief enabler, Nancy Dubuc."  Now they are trying to taint her by saying that she "quickly distanced herself" from "her longtime "Project Runway" business partner Harvey Weinstein" — hang on there scientology. You know the old adage about people in glass houses not throwing stones. You know who has NOT distanced themselves from Harvey Weinstein? The star of one of Weinstein's biggest hits of all time, Pulp Fiction's John Travolta.
And then they move on to Quailynn McDaniel and Fred Oxaal, "still bitter at having been kicked out of the Church for their inability to uphold its ethical standards."  This is another of their laugh out loud lines that they use for virtually anyone who ever escapes scientology and speaks out. That they think people are bitter because they are no longer trapped inside the scientology bubble is a conceit that is hard to wrap your wits around, until you remember the level of delusion they operate under. Scientologists are certain they are "clearing the planet."
Apart from that, all they have for Fred is the Barbara Ayash card — what a wonderful woman she was for founding the Concerned Businessmen's Association and how terrible Fred was as he was "always demanding money."
In an ironic twist, the person who exposed how scientology used, abused and abandoned Barbara Ayash was none other than Marty Rathbun. See his blog post from August 2011 IAS Atrocities (part two) – Barbara Ayash.
Another IAS Medal Winner has bitten the dust thanks to David Miscavige's diversion of IAS donations toward suppressing the truth. 
Barbara Ayash was one of the early IAS Medal Winners.   She was famous for her Set A Good Example campaign.  Apparently, her husband funded it for two decades.  When he passed away Barbara was left destitute by Miscavige, IAS, and the "church."   Miscavige it seems is too busy bankrupting people with rolling thunder events, while wiping out the human resources goodwill that enables him to do so. Barbara has been reduced to begging on her own in a noble effort to make ends meet and keep the campaign going.
Here is a very recent email  from Barabara which serves as proof as to Miscavige's and IAS's true, hidden policies with respect to the overblown hype they feed followers in order to clean out their bank accounts.
Nothing inconsistent here — Marty can trash both sides of the fence and still they rely on him as a credible source. Talk about "unvetted."
Their final jab at Fred — he "graduated from selling rugs to selling cars."  Again glass houses bite scientology in the butt.  The head of the Flag OTC is the notorious rug sales queen of Pinellas County, Kay "Bubbles" Champagne. She is lauded and loved. How come she can be a rug salesman and is "A-OK" and nobody else can? And hey, I used to sell cars for a living, and you tried to make a big deal about that too. What do you have against selling cars? It's better than defrauding people out of their money for promises that are never fulfilled and destroying families. At least people get an actual CAR for their money.
Quailynn McDaniel
With not a shred of anything to use against Quailynn they announce she was "expelled from the Church in September 2015."  Well shit. That means she DOES have current information and must therefore be totally believable.  Her information is just 2 years old…
And then they then go where they claim they don't go (but in fact, do all the time).  They allege she was guilty of "sexual misconduct—including threesomes and strip clubs." Now, even if anyone was stupid enough to: a) believe it or b) think that somehow invalidates what she witnessed, you have to ask the next question: Where did such information come from? Only one of two places: a confessional or private investigators. So, which is it scientology? You want to sling the mud but pretend your hands aren't dirty from digging in pigshit?
You are despicable and the whole world sees it.
Within minutes of tonite's episode beginning to air, scientology trotted out their ad hominem attacks on Hana Whitfield and Russell Miller. Of course, they had it all prepared well in advance as they have been saying the same things about them for decades.
Hana Whitfield
Of course, Hana "remains bitter and consumed with hate more than three decades after she was expelled from the Church."  There could be good reason for this, given what was done to her (and has continued AFTER she left), but anyone who has ever met Hana (and I am sure any viewer of the program) would attest that she is not consumed with hate and doesn't have a cruel or bitter bone in her body. She is all class, soft-spoken grace and good manners. Though she is dedicated to helping those who have been abused by scientology.
Often, the question is asked of people who tell their stories "why didn't you sue them"? Like Marc and Claire Headley, Hana did. Scientology likes to characterize it as "a failed coup" which is far from the truth. They crow about how Hana's suit was thrown out (like they crow about the Headley's) as if this means everything they have said is untrue.  These cases are testament to the fact that the judicial system in the US favors those with the most money who can hire the best lawyers. Typically former SO members do not fall into the "wealthy" category. But you know scientology sued the US government for a billion dollars for engaging in a conspiracy against them and that was thrown out. Is that proof that everything scientology says is lies?
But perhaps one of the most vicious assaults leveled at any scientology whistleblower is the concocted assertion that Hana "conspired to murder her father." This disgusting lie has been repeated over and over and it is "supported" by a "statement" from her ex-husband, a devout scientologist. That statement doesn't even tie the statements of Hana's mother ("the conspiracy") to the actual murder of the abusive, child-molesting father. This claim is cobbled together out of bits and pieces of supposed "evidence" and scientology spent YEARS trying to get any police or prosecutors interested in re-opening the murder investigation. The man who committed the murder was convicted in an open and shut case. I know this was all a concocted story, it was an operation conducted by RTC to try to destroy her by pinning the murder on her. They failed, but they keep asserting it nevertheless.
Russell Miller
It is perhaps appropriate that this is the last smear to be addressed. Because this one is so absurd it belongs in the scientology Hall of Shame.
They start out with: "Once again, Remini must go back three decades to enlist a source." Hey scientology, you know L. Ron Hubbard died in 1986, and Miller wrote a biography about him — that began when Hubbard was still alive? You still use Dianetics and that was written nearly 7 decades ago? And you think it is still true… So what does that prove?
They then claim:  "Miller wrote a ridiculously inaccurate unauthorized biography of L. Ron Hubbard 30 years ago that relied entirely on bitter apostates."
Well, anyone who has actually READ the book knows that Russell Miller relied on a vast array of sources — from family members to childhood friends to contemporaries throughout Hubbard's life.
They go on to say: "The book is nothing more than a collection of the usual twisted, misleading and blatantly false allegations about Mr. Hubbard and his accomplishments…" and their final swipe is this:
"Miller littered his text with dozens of misappropriated copyright-protected passages from L. Ron Hubbard's unpublished writings. Miller's U.S. publisher dropped the book from sale in the United States following a judicial decision by a Federal appellate court that the publisher of Mr. Hubbard's literary works would effectively be entitled to collect monetary damages from the sales of any further copies of the book."
And here's the rub: scientology DID sue Miller and the book's publisher. They mounted a lengthy, expensive legal assault on Barefaced Messiah which resulted in publication being halted after about 15,000 copies had been distributed (though it is now once again being published by hero Humfrey Hunter of Silvertail books).
But understand, the basis of the lawsuit was NOT that there was anything INCORRECT in the book. In fact, the EXACT OPPOSITE. They sued on the basis that Miller had quoted unpublished works that belonged to scientology!  In doing so, they authenticated the works that he quoted in the book, claiming he had made unauthorized use of them.
So, his book is actually verified and validated by scientology. AND SCIENTOLOGY HAS NEVER SUED OVER ANY SUPPOSED INACCURACY IN THE BOOK. Not in the US or anywhere else in the world.
Meanwhile, the "LRH Biographer" (Dan Sherman) has been working for more than TWO DECADES on the "authorized biography" of L. Ron Hubbard. It will NEVER be published because there are so many lies and inconsistencies that cannot be accounted for.
Thus the 3 decades old Miller biography IS the official biography of L. Ron Hubbard.
Game, set and match.
BTW — if you have not read this book, it provides fascinating, well-documented and detailed insight into the Life and Lies of L. Ron Hubbard.