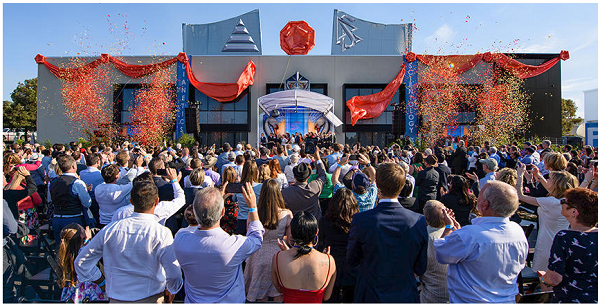 This is Scientology's headline on their website following David Miscavige's parking lot ribbon yanking: DOWN UNDER'S "CITY OF LIGHTS" WELCOMES NEWEST CHURCH OF SCIENTOLOGY
This is a double lie.
First, there is no "new church of scientology" in Perth. There is a new building, but that is not a "new church." It's the same crappy little scientology group that has been there for 50 years and has never amounted to anything.
Second, nobody welcomed them, except themselves.
Here are a few excerpts of Shermanspeak about the opening:
Perth may be far-flung, but the city's can-do, entrepreneurial spirit is a perfect match for the world's fastest growing, and coolest, new religion.
Fast growing and coolest? Don't they ever tire of telling themselves how incredible they are?
Take the most remote major city in the world, sandwiched between largely empty vistas of oceans and deserts; add in wave after wave of hardy and hearty pioneers from England, Scotland, Italy, China, Vietnam, Greece and a score of other ethnic homelands; cook all of that in with the gung-ho, can-do spirit of Down Under; throw in battalions of gold prospectors and diamond miners; sing a couple of bars of Waltzing Matilda, add a kangaroo or two and you have the setting for the planet's newest Church of Scientology: Perth, the capital and largest city in Western Australia.
Apparently Sherman has little concept of how utterly stereotypically insensitive he is. Gold prospectors? Kangaroos wandering the streets? Waltzing Matilda?  "Provincial" would be the polite term for this description. Country bumpkins? Trailer trash?
The new light in this "City of Lights" is just one block away from the Great Eastern Highway, a mere fifteen minutes from the Perth city centre…
Euphemistic Shermanspeak for "it's in an industrial park off the freeway near the airport way out from the city center where they used to be."
It is here more than 1,000 Scientologists and their guests—some crossing thousands of miles to reach Perth—gathered on Saturday, May 5, 2018 to celebrate the grand opening of a new Church of Scientology.
Yeah, they flew them in from all over the country and they could only muster 200 people (of course 1000 is a joke) — just look at their official shot at the top of the post. You can count heads in there. I didn't do so, but I would bet 200 is far closer to the truth than 1000.
Mr. David Miscavige, the ecclesiastical leader of Scientology, trekked 9,000 miles to reach Perth. He told the grand opening celebrants that he'll soon embark upon a ribbon-pulling trek across another 20,000 miles.
Gosh, why bother? It was a complete non-event. But apparently this is the ONLY thing he does. And he's going to waste more time (and money chartering private jets) doing more "soon."
Mr. Miscavige spoke of Scientology's new future in Western Australia. "And with that, we step out of Dreamtime to realise the final dream before that ribbon falls… "
Stepping out of Dreamtime? More culturally inappropriate idiocy. But more to the point, and notwithstanding all that has come before, in fact they stepped into the Twilight Zone of insanity just short of the front porch to infinity.
Mr. Miscavige has spearheaded a period of unprecedented growth with the opening of 65 new Churches in recent years. Perth marks number 66. 
Errm.  No unprecedented growth to see here folks… Just new buildings and they are all empty. It's all smoke and mirrors. Not an actual new church of Scientology in the world for decades. In fact there are LESS scientology organizations today than in 1993 when scientologybgained IRS exemption.
Blue-ribbon speakers and celebrants represented Perth's civic, cultural, educational, law enforcement and business communities.
Again, this is stretch for even the fervent imagination of the Sherminator.
Back in the day they used to con Mayors and Police chiefs, Senators and Religious leaders to spout platitudes at these events. Miscavige flew 9,000 miles to join in the exalted company of the featured speaker a "member of the Business Council of Western Australia" — and apparently a member of WISE who "spoke of his success in growing his company from five to 42 locations—all because of L. Ron Hubbard's administrative technology…" This is a first that I am aware of. Miscavige sharing the stage with a WISE member as a "dignitary." And the other 3 were a Professor of New Religious Movements (scientology has found a few of these around the world who have been paid well to offer "expertises"), a "Fellow of the Australian Natural Medical Association" (whatever this is?) and the "Founder of a charity partnership."
The photo op with these "blue-ribbon speakers" is also a hoot. Using obviously forced perspective, this was a case of "short person step forward" to try to make it appear that the diminutive Miscavige was at least taller than the fellow of the Natural Medical Association. Vanity is such a cruel master.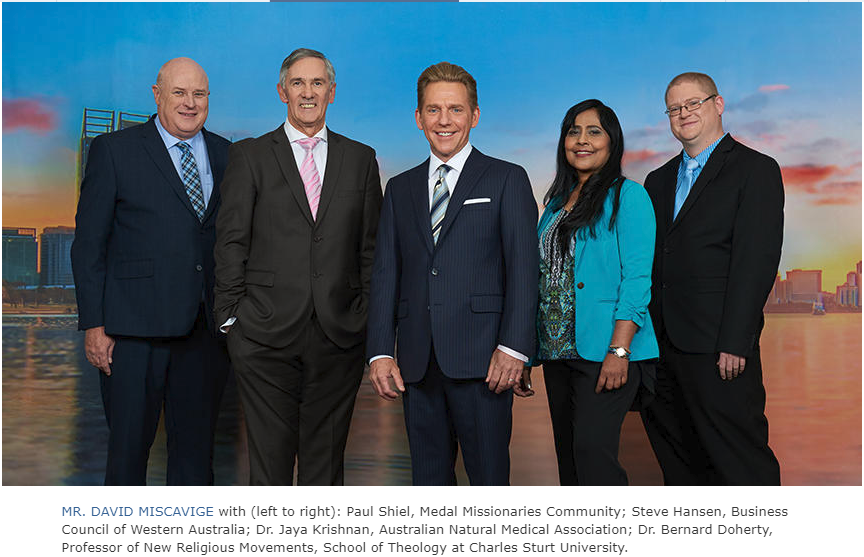 The law of diminishing returns was on full display for all to see.
The crowd was smaller than ever.
The "blue-ribbon" dignitaries were less blue ribbon and more blue plate.
The Shermanspeak was even more arrogantly out of touch.
All in all, another massive, epic, watershed fail.