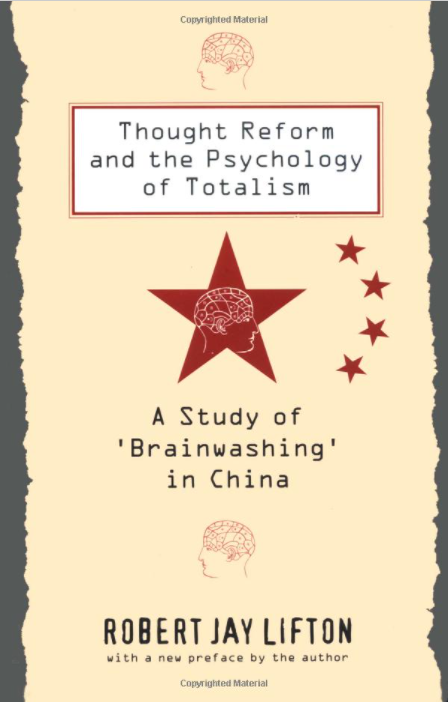 On one of the recent Fair Game Podcast, Chris Shelton recommended Robert Jay Lifton's book Thought Reform and the Psychology of Totalism .
Then Mockingbird posted a comment concerning this and I thought it important to include it as a post, as he summarizes the eight criteria for Thought Reform isolated by the author. I should note, there are many excellent articles at Mockingbird's Nest blog.
Here is his comment in full. I have highlighted the 8 criteria.
Mike Rinder recently pointed out something that most people miss, even experts.
He pointed out that the E meter is used to convince members that the auditor knows what they are thinking, and that the meter is ALWAYS right! That is a powerful suggestion!
If the auditor says something must be true, you believe them!
This adds power to the already hypnotic techniques used in Scientology. These techniques include mimicry, repetition, repetition-with-variation, paradox (aka contradiction aka confusion), vivid imagery, inspiring awe, attention fixation, leading questions, overwhelm, authority indoctrination and more.
I think that future podcasts with Chris Shelton and Jon Atack discussing this would be great.
The technique Mike Rinder described in my mind is best broken down by cult expert Robert Jay Lifton in his eight criteria for thought reform. The eight criteria have helped literally thousands, probably tens of thousands, of people to realize how their group manipulated them via covert persuasion.
The almost magical power of these words is in the fact that they reframe the insidious influence of the cult techniques and explain how these methods fool and affect people.
I recommend everyone study them and if you want to understand cults, including Scientology learn them until you know them cold. Learn them until you can explain them to a ten year old with no references.
I am going to include an abridged version and a link to the longer version.
I am also going to post links to some posts on the techniques used in Scientology.
I think that one of the things that inhibits recovery from Scientology the most is the extensive indoctrination that is jam packed with contradictions. You have confusion increased by the never ending mountain of contradictions in Scientology. That is intentional. Hubbard wanted the confusion to overwhelm you, so the only thing you know is that he has the answers and you don't. This is intended to increase suggestibility and dependence in you and authority and power for Hubbard.
Dr. Robert Jay Lifton's Eight Criteria for Thought Reform
Milieu Control. This involves the control of information and communication both within the environment and, ultimately, within the individual, resulting in a significant degree of isolation from society at large.
Mystical Manipulation. There is manipulation of experiences that appear spontaneous but in fact were planned and orchestrated by the group or its leaders in order to demonstrate divine authority or spiritual advancement or some special gift or talent that will then allow the leader to reinterpret events, scripture, and experiences as he or she wishes.
Demand for Purity. The world is viewed as black and white and the members are constantly exhorted to conform to the ideology of the group and strive for perfection. The induction of guilt and/or shame is a powerful control device used here.
Confession. Sins, as defined by the group, are to be confessed either to a personal monitor or publicly to the group. There is no confidentiality; members' "sins," "attitudes," and "faults" are discussed and exploited by the leaders.
Sacred Science. The group's doctrine or ideology is considered to be the ultimate Truth, beyond all questioning or dispute. Truth is not to be found outside the group. The leader, as the spokesperson for God or for all humanity, is likewise above criticism.
Loading the Language. The group interprets or uses words and phrases in new ways so that often the outside world does not understand. This jargon consists of thought-terminating cliches, which serve to alter members' thought processes to conform to the group's way of thinking.
Doctrine Over Person. Member's personal experiences are subordinated to the sacred science and any contrary experiences must be denied or reinterpreted to fit the ideology of the group.
Dispensing of Existence. The group has the prerogative to decide who has the right to exist and who does not. This is usually not literal but means that those in the outside world are not saved, unenlightened, unconscious and they must be converted to the group's ideology. If they do not join the group or are critical of the group, then they must be rejected by the members. Thus, the outside world loses all credibility. In conjunction, should any member leave the group, he or she must be rejected also. (Lifton, 1989)
From https://mbnest.blogspot.com/2015/06/dr-robert-j-liftons-criteria-for.html
Anyone familiar with scientology will recognize most of these criteria to present. Anyone who has been immersed in scientology, will recognize them ALL.
Though he set out to study Chinese brainwashing, Lifton isolated factors that had much broader application.
Of course, within scientology, Dr. Lifton is dismissed as a crackpot psych, intent on destroying mankind. And as part of the "Sacred Science" of scientology, his conclusions are to be rejected as these were not things laid out as truth by L. Ron Hubbard (at least not publicly, and I say this because Hubbard's Brainwashing Manual that he circulated supposedly written by Beria includes a lot of the same concepts). As part of the Dispensing of Existence no psych has any right to exist, in fact they are all to be annihilated, obliterated and destroyed for the good of mankind.
It is fascinating how accurately Lifton describes scientology.