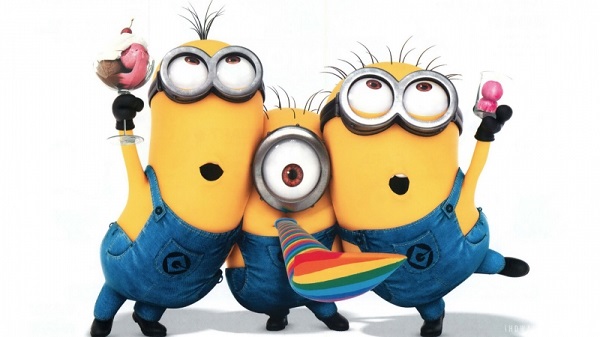 7.5 Humanitarian statuses…
Isn't necessarily someone with a lot of money. Unless you define not much money as a few hundred thousand.
Guarantee you they won't give you a 9X Humanitarian poster WITHOUT any money.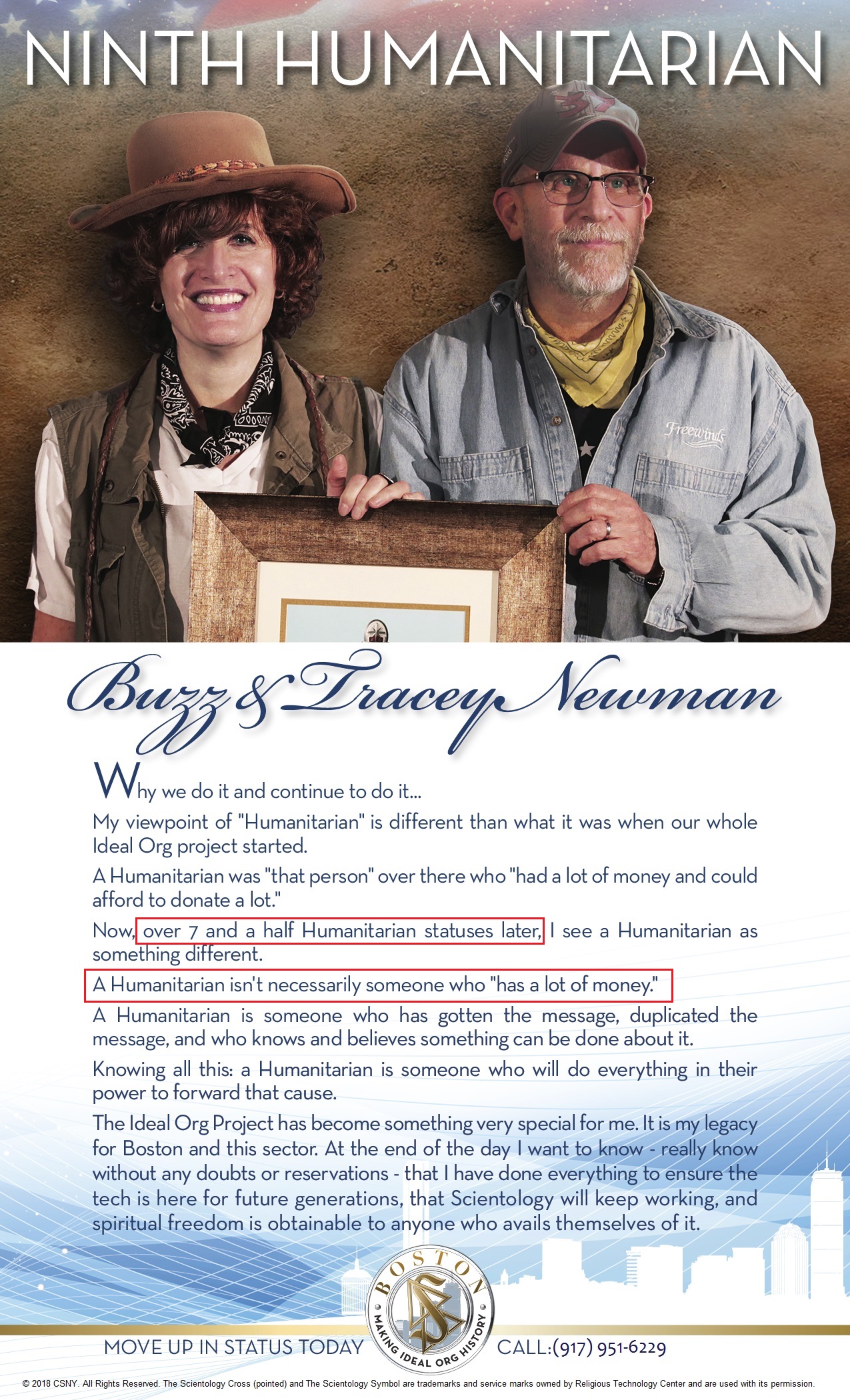 Quasi-Cincinnati…
…the new Flag.
Poaching people from all over the world.
Blazing a trail. Clearing the planet. In Florence Kentucky.
Jeanie always had delusions of grandeur.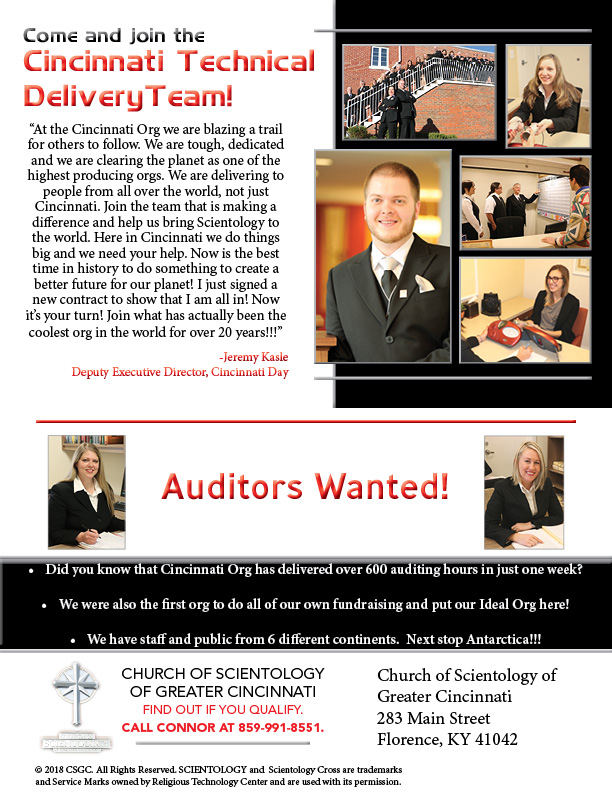 See what I mean?
Jeanie's out telling everyone else how to do it.
Though she's been in Cincinnati for 20 years and it's STILL not SH Size and Ron said it should be done in a "matter of weeks"…
But that's scientology for you. It's like the SO members that teach people how to make money. They "know" how to do it because they read something Hubbard wrote and can parrot it.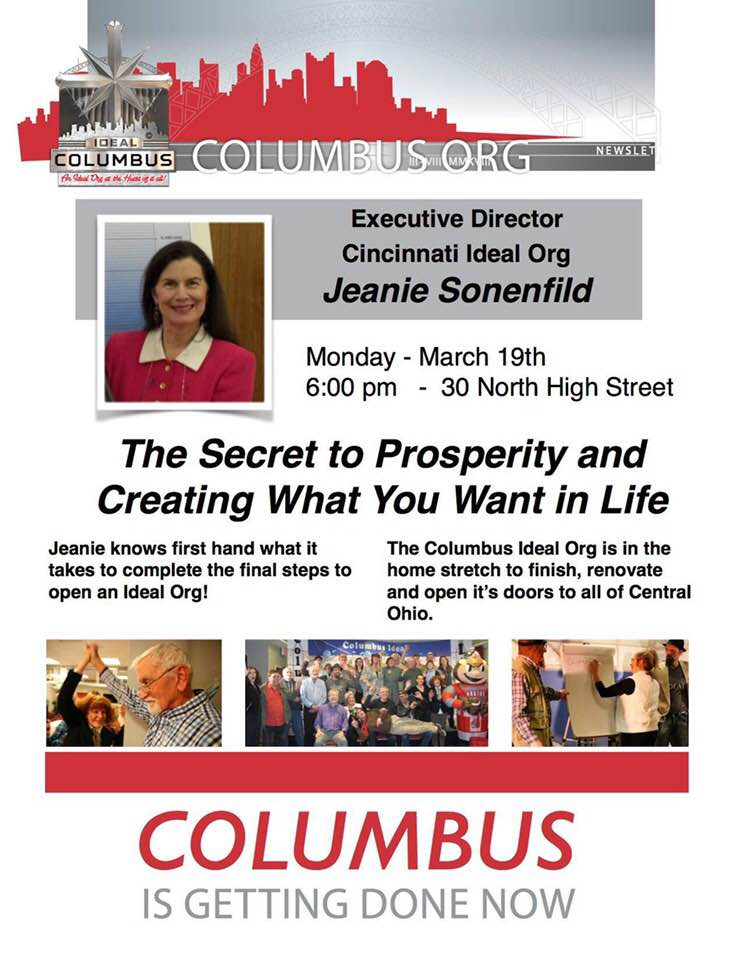 "Complementary" dinner
Where they shower you with compliments and tell you how great you are if you hand over some cash. I guess.
They really don't mean it's "free" — because NOTHING is free in scientology.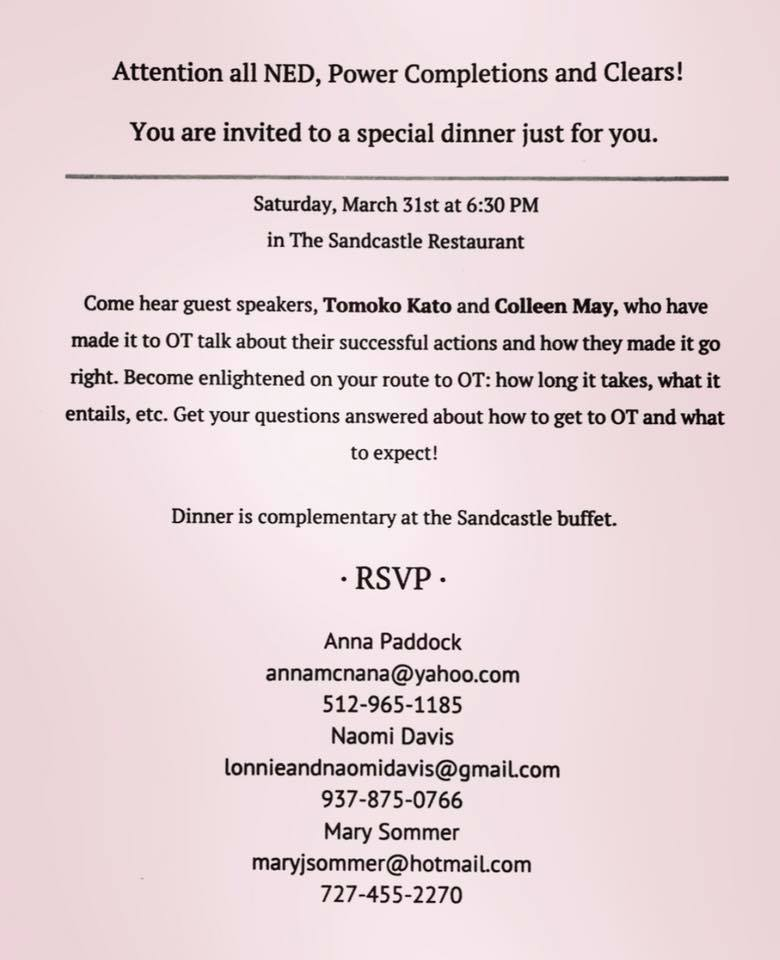 Strange…
No mention of signing a billion year contract?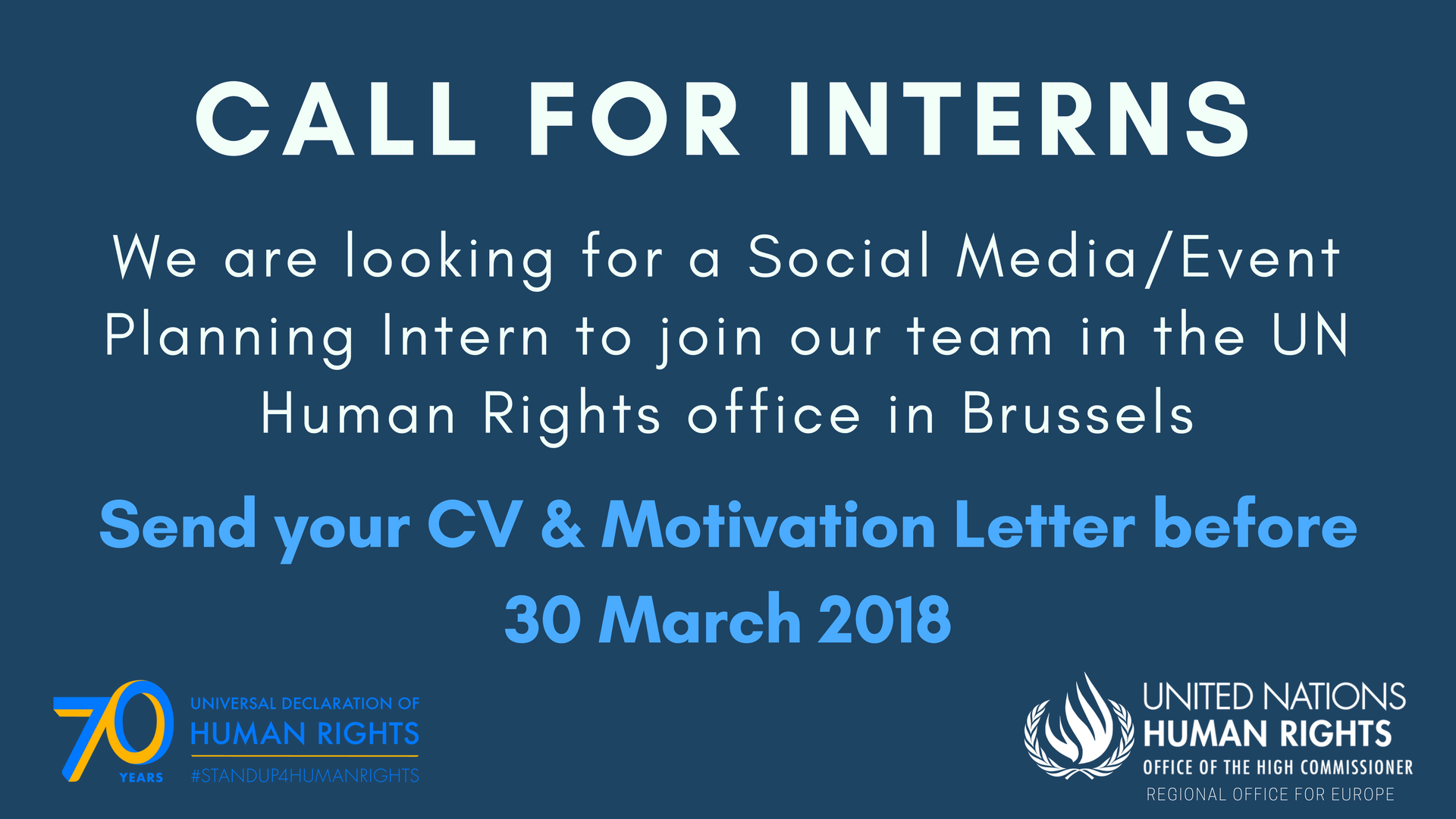 A big draw in Inglewood?
Bring on the stereotypical white guy music.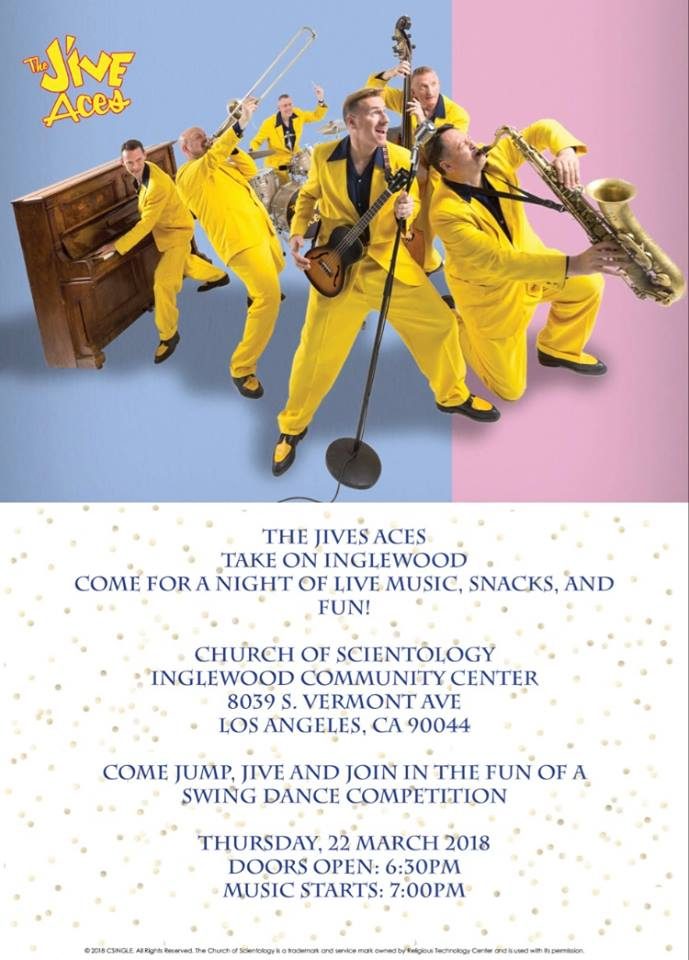 You're going to need more than that…
Prices aren't what they used to be. $450 won't get you through your first Ruds session.
You might get more satisfaction from admiring your "scietology simble" than you will from your scietology audering.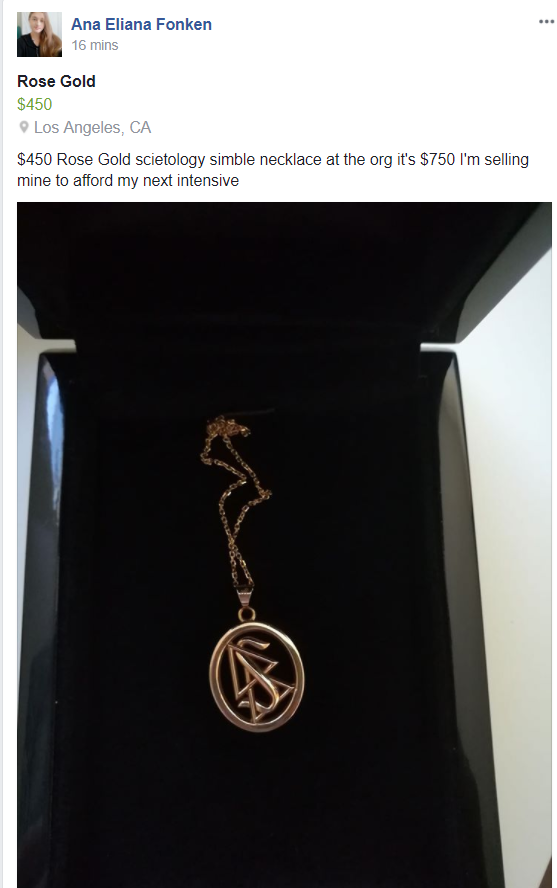 Get your CF on
Now there's a plan everyone can dig baby.
And surprise, surprise, you can do it this week. How special is that?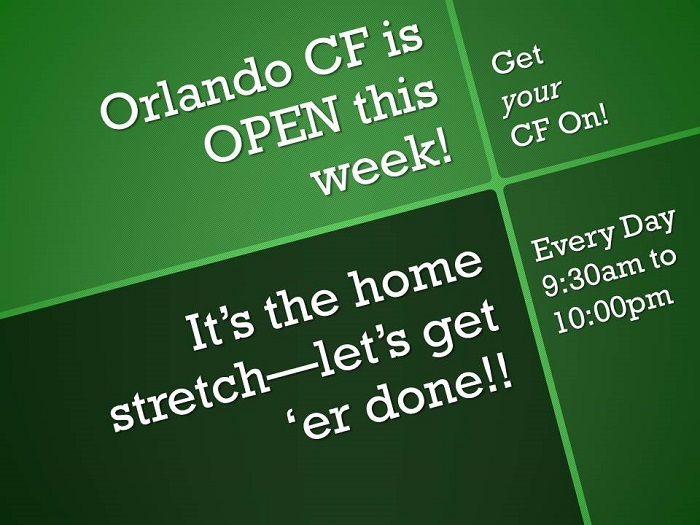 Eating chili and filing…
Doesn't sound like a good plan.
Is Anna Paddock on a big amends project for being ex-WDC? She is at the Sandcastle supervising "complementary" lunch and at the Orlando CF party supervising Pot Luck Filing…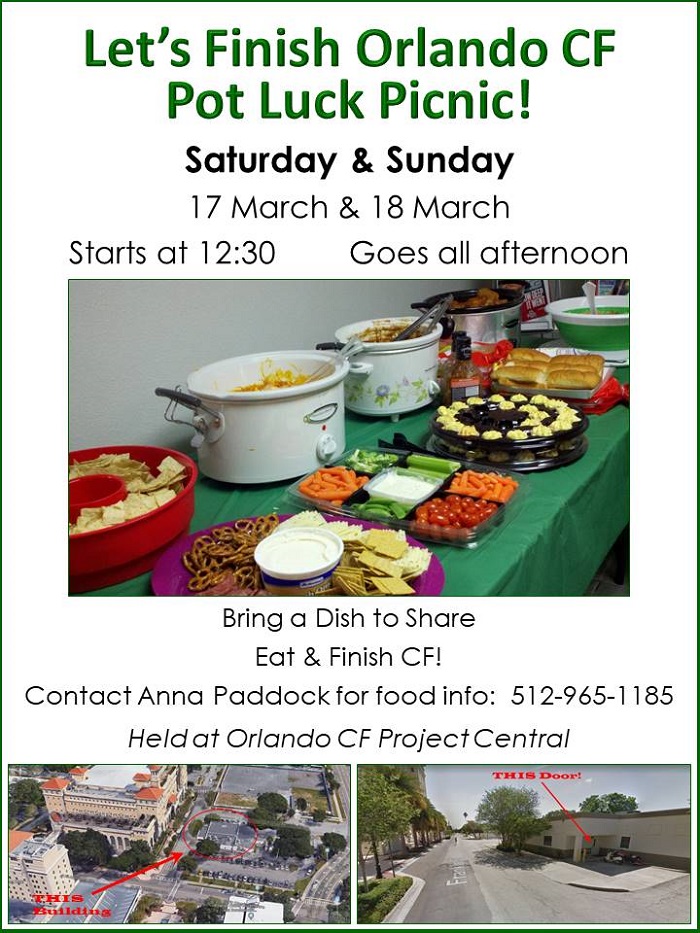 Yeah, we don't pay you and that's good…
Because that's your duty motivation.
The org itself however is entirely run on money motivation and that's good because it's "necessity level."
That's just how the world of scientology works.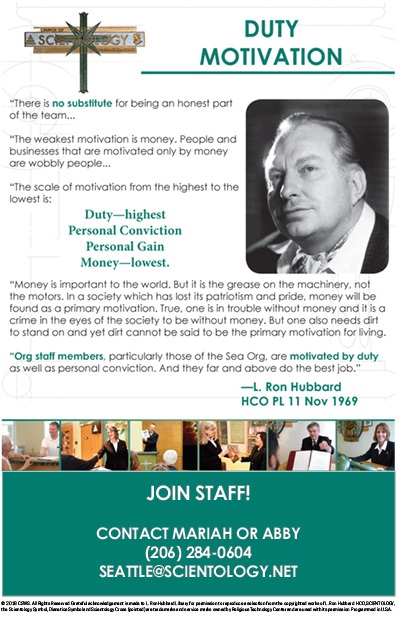 Nothing says be on services…
…like a completely empty courseroom.
And this is SO normal they don't even notice.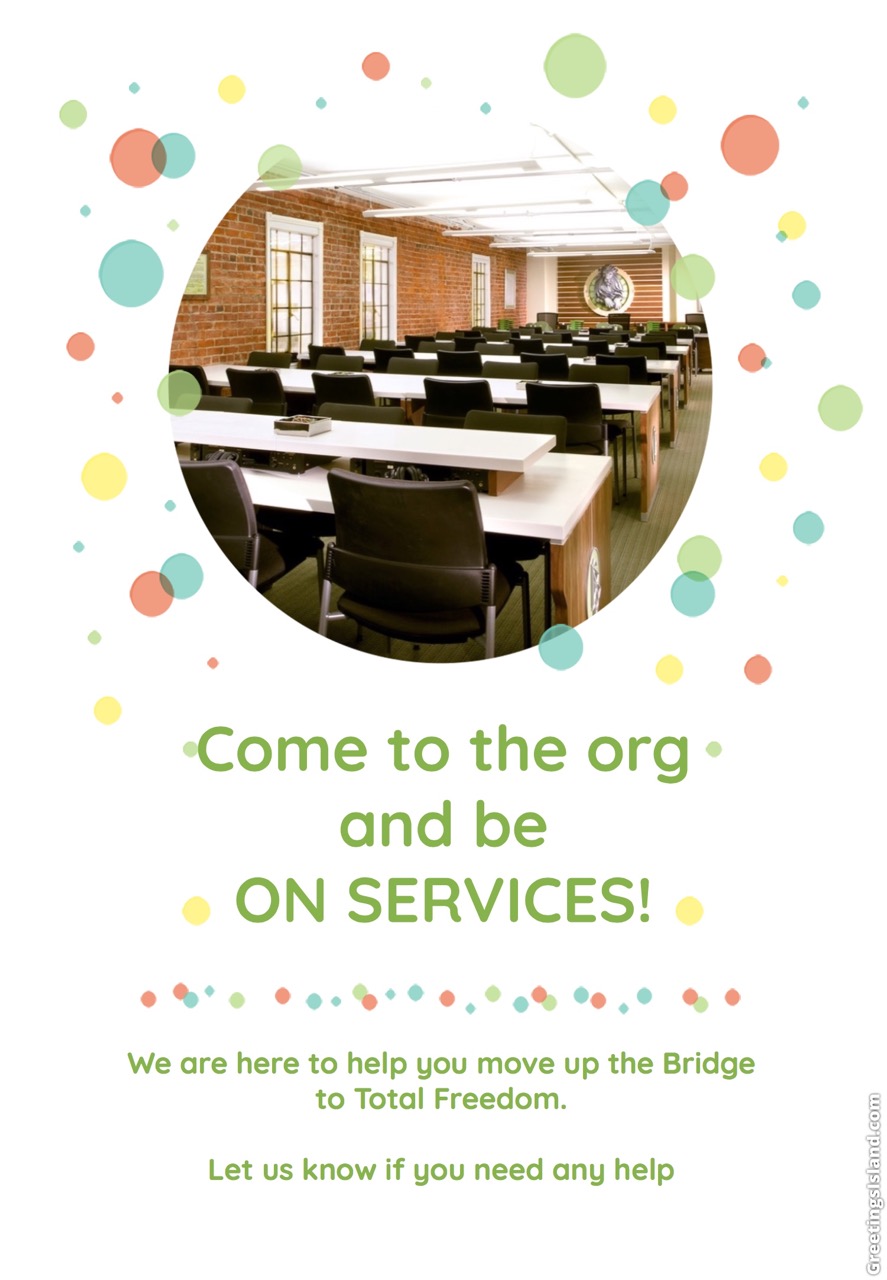 Definitely DO NOT THINK ABOUT IT…
Because if you do, you will see how insane it is.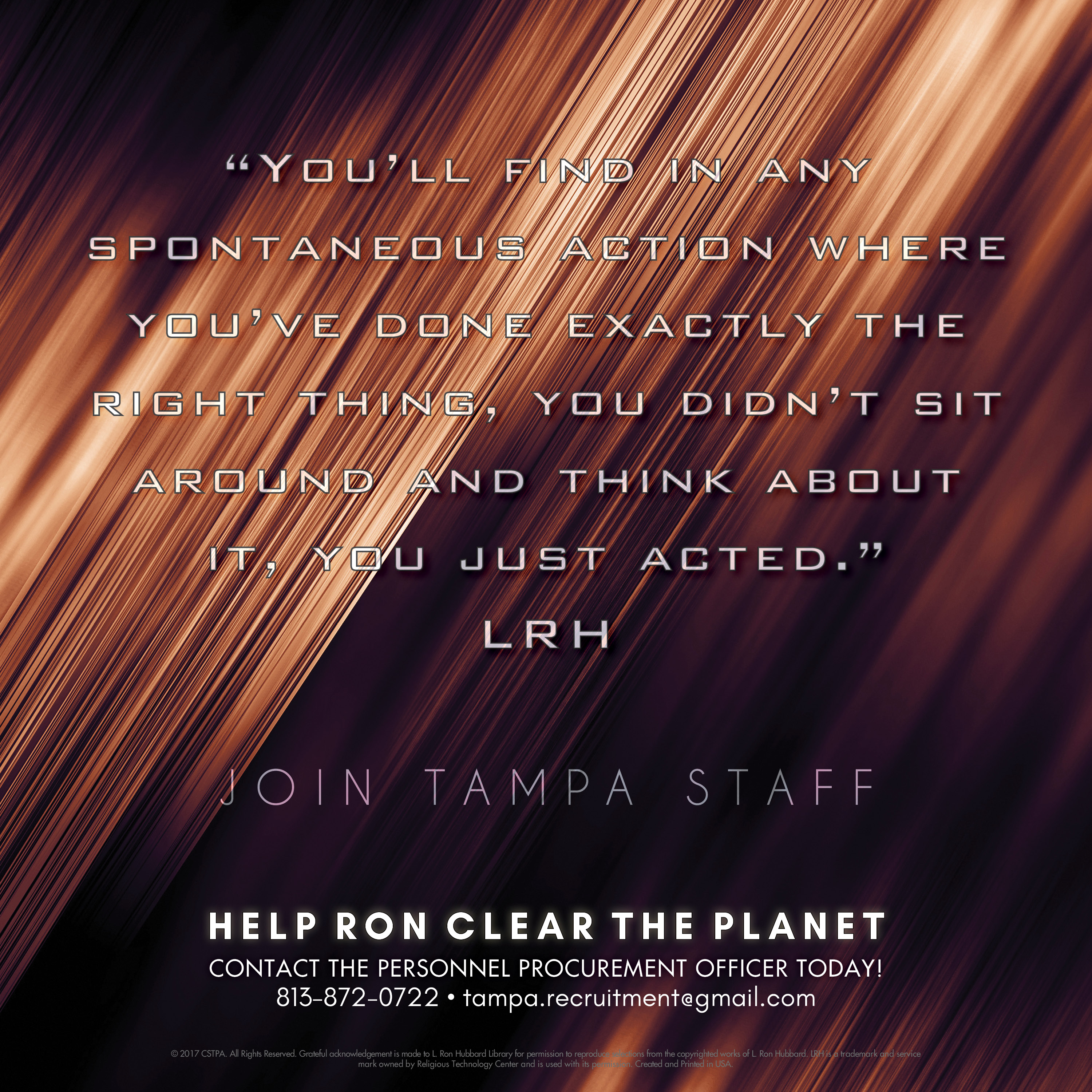 This is good news?
After 15 years there are still the same number of orgs in the US and there are still 16 not done and some don't even have pictures of buildings they can show.
And what news from these 28 ideal orgs in the US. Their impact is not measurable even on a 50,000X Mark VIII Super Duper meter.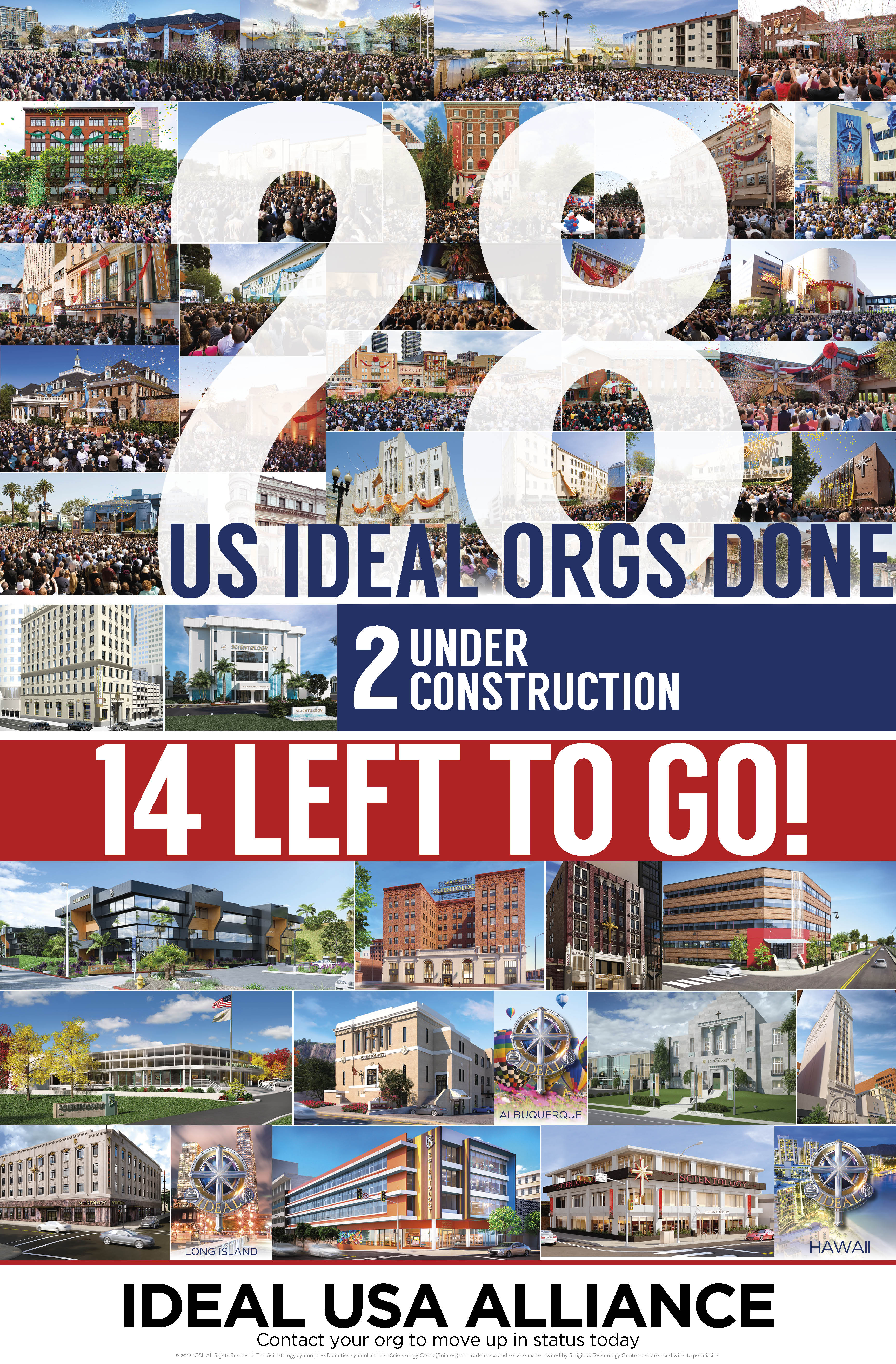 Speaking of no impact…
A whole year of absolutely no impact from the largest and most important ideal org on earth.
I guarantee the majority of people within 1/2 mile of the Valley Ideal Org don't even know it exists. Let alone the entire Valley.
This ideal org has had the impact of a flea tapping on the sole of an elephant's foot.
And this is the fastest expanding org on earth that won the Birthday Game. Wow.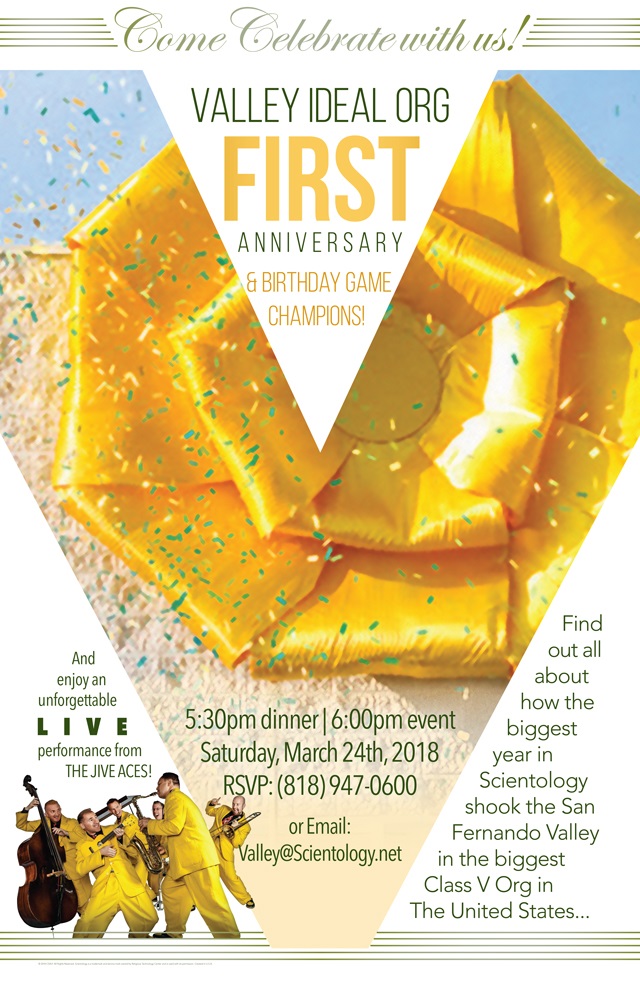 Bet they had a YUGE turnout…
The picture is staff and the OT Committee.
I would be willing to bet they did not have a single new person. After all, THEY ARE THE VALLEY.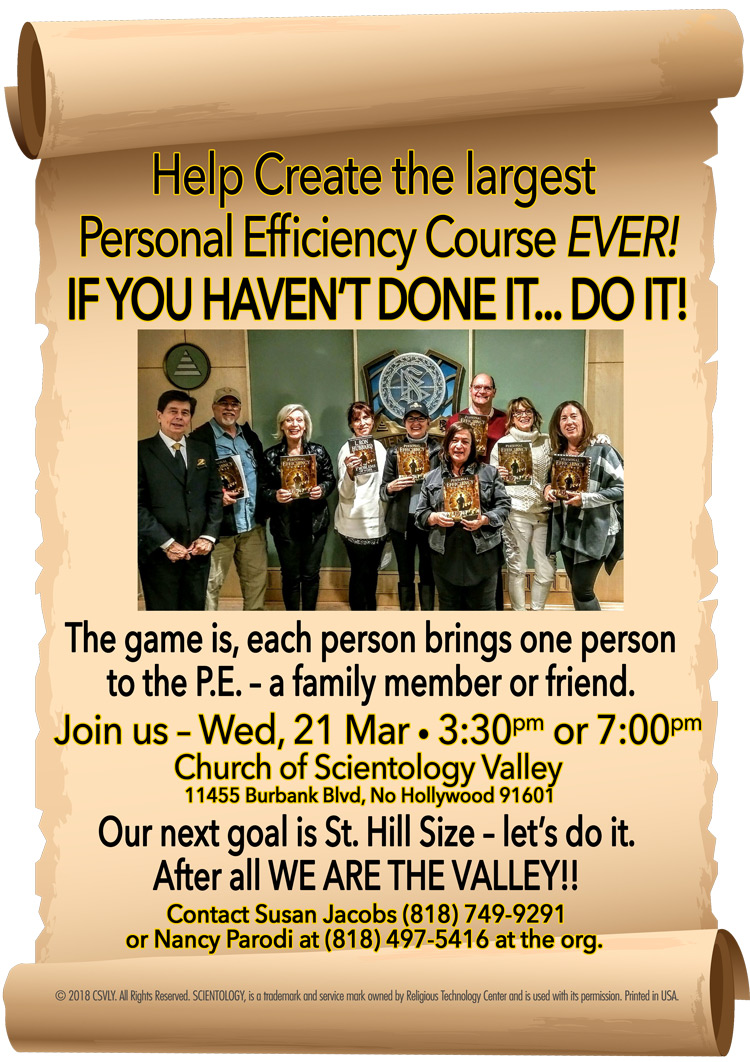 Brown-nose Award
Mrs. Theta doing her best to get out of lower conditions apparently. Maybe this is Anna Paddock again?
One of the reviews left on Apple TV.
I am sure this would really appeal to the "wogs" to know what Mr. Miscavige has done.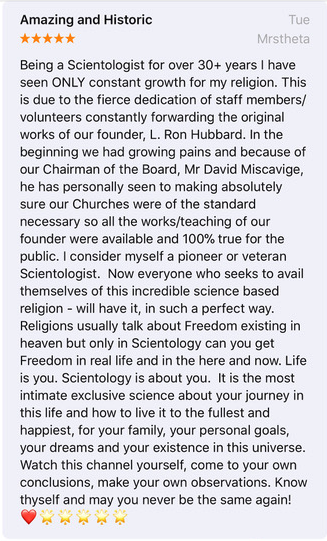 More fun with CSN
Only 1289 positive reviews? Where are the tens of millions of scientologists that have been ORDERED to get on google and leave positive feedback?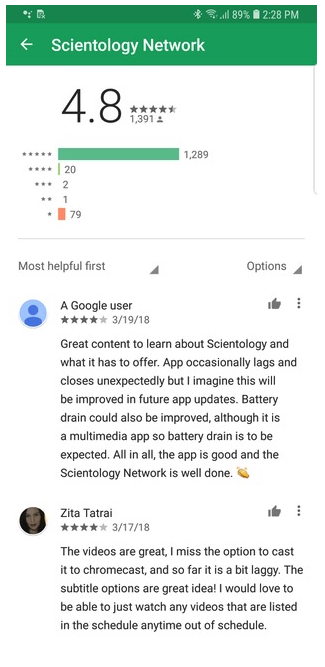 You do know Ron is dead right?
HE isn't doing anything to "Clear this Planet" — he long ago shuffled off his mortal coil.
Believe what you want about where he is and if and when he is coming back, it's undeniable he is NOT here right now doing anything.
Imagine Ford advertising their cars "Help Henry revolutionize the auto industry" or "Help Louis by joining a milk pasteurizing company"…