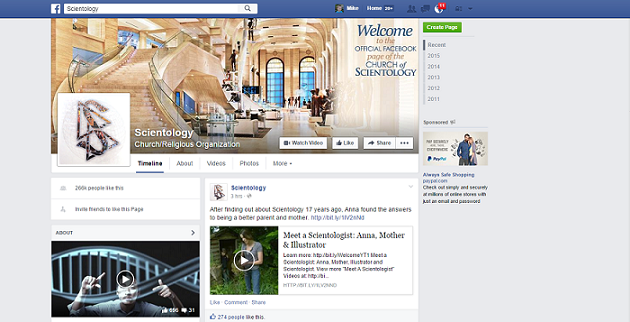 It's more straight up and vertical, monumental, milestones as scientology tech shows the world how to handle Facebook.
A special correspondent just sent this to me.
I thought it worthy of a post to demonstrate yet again, the nature of scientology. They are not popular. Their solution is to BUY the appearance of popularity. And then tell the world "Look, we a popular."
You can bet David Miscavige had planned to announce this "unprecedented" popularity at the Maiden Voyage event in June.  Ah well, down the crapper that one just went.
It's the exact same pattern they employ for trying to convince the world they are "experiencing unprecedented international expansion" by buying empty buildings and showing pictures of them and saying "we are opening new churches in major cities around the world."
Here is the report:
You can watch the straight up and vertical expansion on their face book website which shows 266,257 LIKES (as of writing this email). Tomorrow it will most likely be a higher number.
Then go to this website where one can check the composition of Facebook Likes.
It shows almost 60% are from Indonesia and 20% from Mexico.
FacebookLikes can be bought in these countries.  [You will also note if you visit the scientology home page that the "posts" have hundreds of "likes" and virtually NO comments….]
While at it one can also check TomCruise who has a staggering 8.8 million Likes. Over 2 million in India, 1/2 million each in Egypt, Pakistan and Bangladesh – the "classic" countries for an international superstar like Tom.