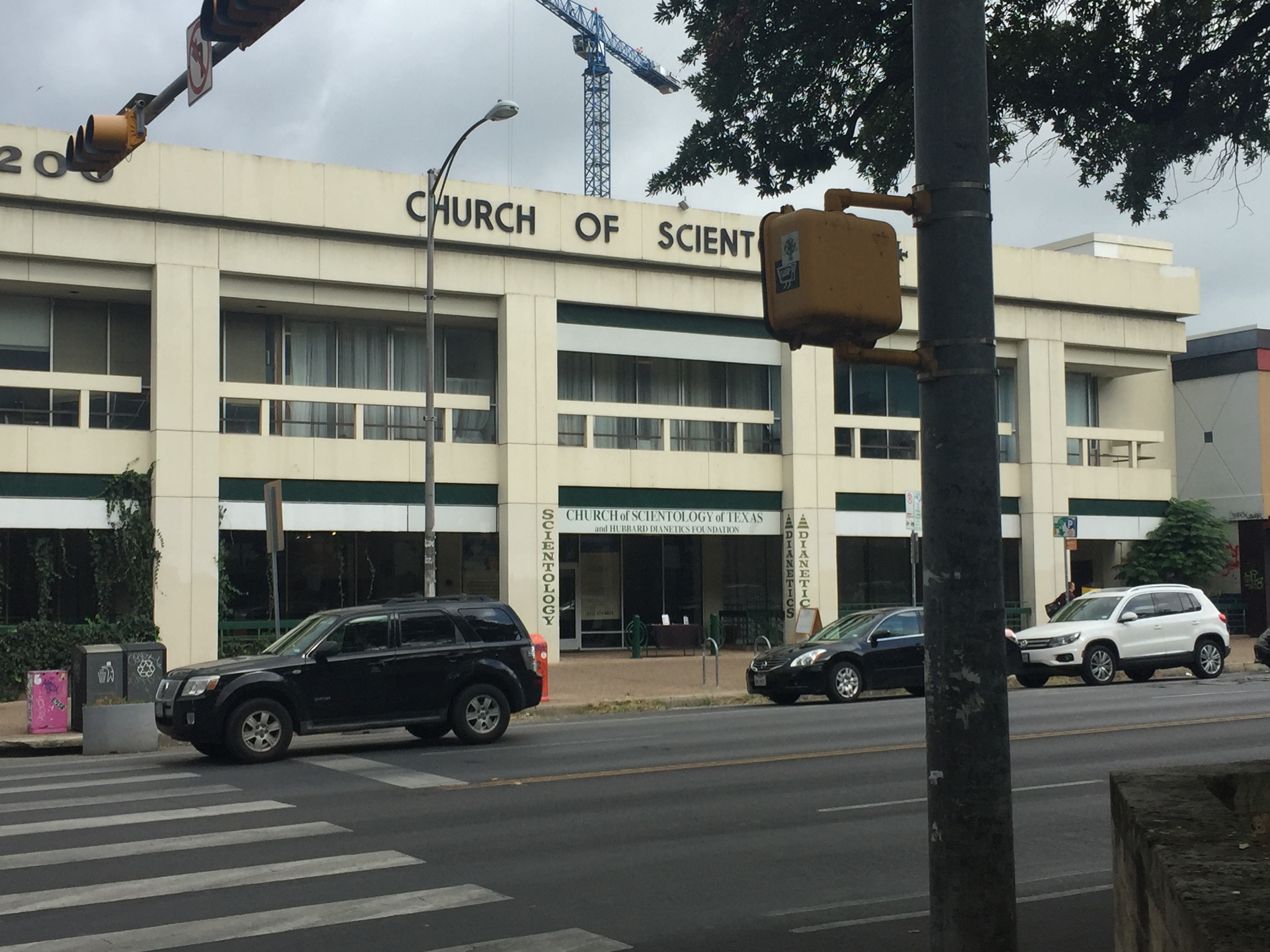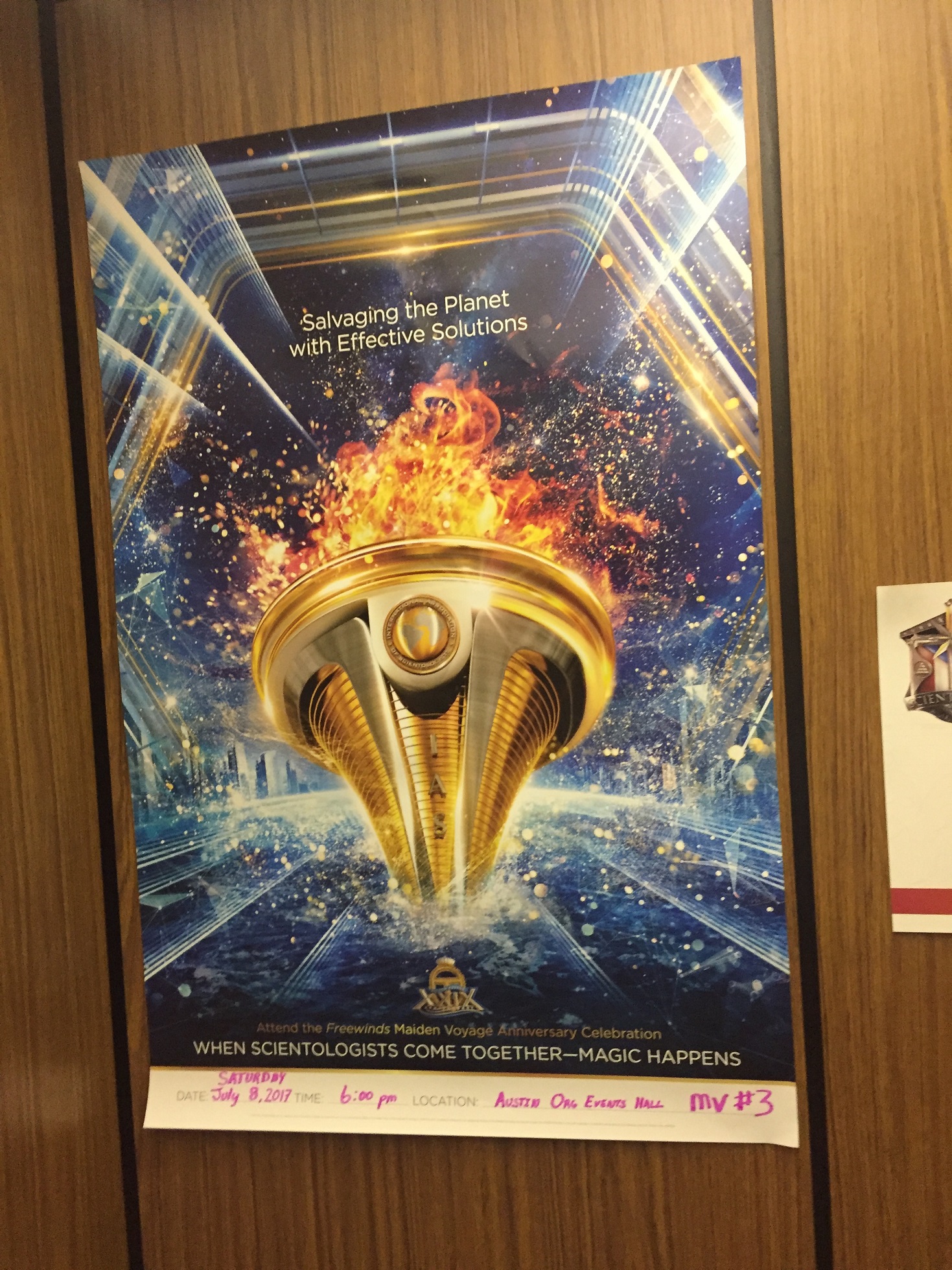 One of our regular readers stopped by the Austin Org yesterday, since he was town for the day. Here is his report:
There was an unstaffed table out front under their awning (their façade is back a few feet from the street), with some free movie tickets, free personality tickets, and brochures sitting under rocks so they wouldn't blow away.  They looked like they had been there awhile, a bit wrinkled.  There were a couple of older posters in the windows, one for OCA.
I spoke with Barbara McFadyen who has been in for decades.  She is apparently an OT VIII who appears to be about 70 – 75. There was also a younger male staff member with her, but not another person for the entire 45 minutes I was there.  Clearly they don't have a lot going on.
Building:   Fairly run down, carpet is old.  What was most striking is the walls are covered with posters – for Harry Potter and other movies.  Perhaps 40 posters, although I didn't count.  First I was surprised and then I saw that the posters weren't actually for the movies at all – they all had the names and photos of donors.  And there were two huge floor to ceiling lists of the various donors taped to the door of the meeting room with the label "Statuses."  Not a word about auditing.  
Ideal Org Plan:  She said Austin has raised $15 million for their Ideal org and they have the plans. They submitted the permit to the city and Austin City Council is going to vote on it Thursday August 3.  The building is two stories with a basement.  They plan to add a third story and to make the basement more usable.  The basement used to be retail space but they dropped all the tenants as their leases expired, and now it looks like they just use it for storage and extra office space.  They're also taking the façade of the building which is recessed and moving it out further into the street.  She showed me the photos of the planned upgrade along with fabric samples for the upholstery – she said they have their own milling factory in California somewhere that Scientology runs because she said they open 60 ideal orgs of 40- 50,000 ft.² and thus it is cost effective to have their own company. 
Staff:  She said they have 25 staff including one full-time auditor and three part-time auditors. They need more auditors, and did send one of their staff to FLAG for training.
Students: She said there are 10 people actively on course with a waiting list of preclears since they don't have enough auditors.
I did not point out that a $15 M renovation seems excessive for 10 students.
Obviously, the real reason scientology is going nowhere in Austin is that they have not yet added another floor to their building or extended the facade closer to the road. They are NOT MOVING this org. It is literally across the street from the University of Texas. It has been there for decades. And nothing has changed. If the lack of nice premises is really the "Why" then why don't they spend $50,000 of that $15 million and get some new carpet and paint and spruce the place up a bit. Surely if the bad look of the building was keeping people away, then this would at least help get some more people in the door and they could be hit up to donate. Like taking some of your food and using it for bait to catch more fish…
It is SUCH a farce.
And the gullible souls who have forked over $15 million are being lied to that "other orgs" are expanding "as soon as they go ideal."
It is total lies.
It's magic happening right before your eyes: money being put into a top hat and it vanishes.