Scientology is a study in contradictions. But it would seem even the most enlightened beings at the top of the bridge aren't able to perceive even the most obvious of them.
Read this first message sent to OT VIIIs by the Senior C/S for their "next OT Levels." Put aside there is no such thing, which they have apparently not realized yet, I wonder if they recall the "success story" they wrote after they completed OT VIII about how they were now total cause over the universe and had the full meaning of life revealed…
But hold on, these super beings who have completed the first of the "true" OT levels apparently didn't achieve the gains afforded by doing Objectives, those "auditing" actions done at the very bottom of the bridge. So, in order to ensure they are "prepared" for the non-existent OT IX and X now they have to re-do their Objectives Processes. Right now!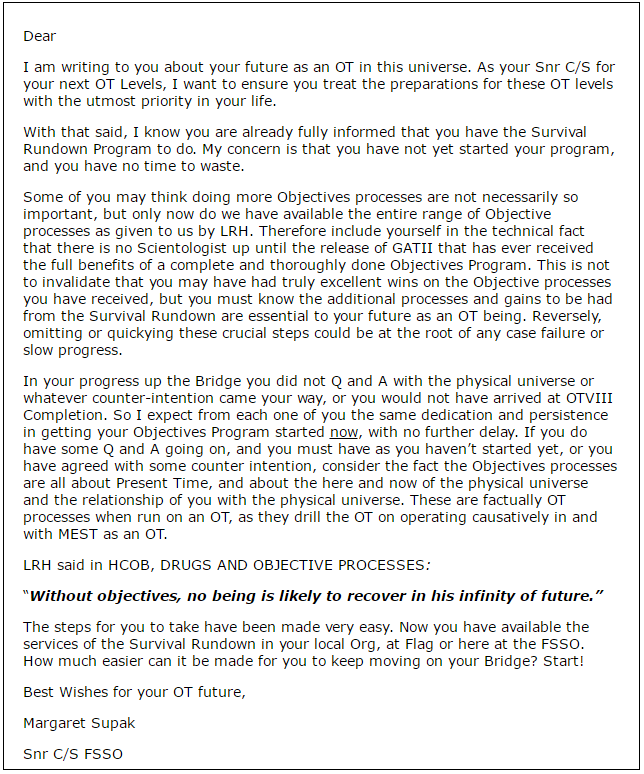 But here is what leads into the sentence by L. Ron Hubbard quoted above:
Objective processes, properly chosen and run, bring the person gradually more and more into present time.
As the process is orienting the person in the present time of the physical universe and as this present time is not threatening, he has a time point and a location point from which to sort out his confusions. His attention has been pulled out of his bank and has been placed on the physical universe around him. Because it is the backtrack that is causing his aberration, putting his attention on the physical universe tends to de-aberrate him.
The backtrack contains mass and taking his attention off of this backtrack mass tends to lose it for him. But the masses around him in the physical universe substitute for the track mass and he receives a remedy of havingness.
Apparently the quote they use is taken a little out of context. If you cannot be brought into present time with Objective Processes you are not going to be able to progress up the Bridge and thus will never recover.
Now, this sounds like the same sort of thing that is promised to be cured PERMANENTLY by OT VIII — freedom from the "backtrack" and "bank" (though after Clear one is not supposed to have a bank) and thus be operating in present time.
In fact, here is a recent "success" from an OT VIII, see what she says about her "backtrack,"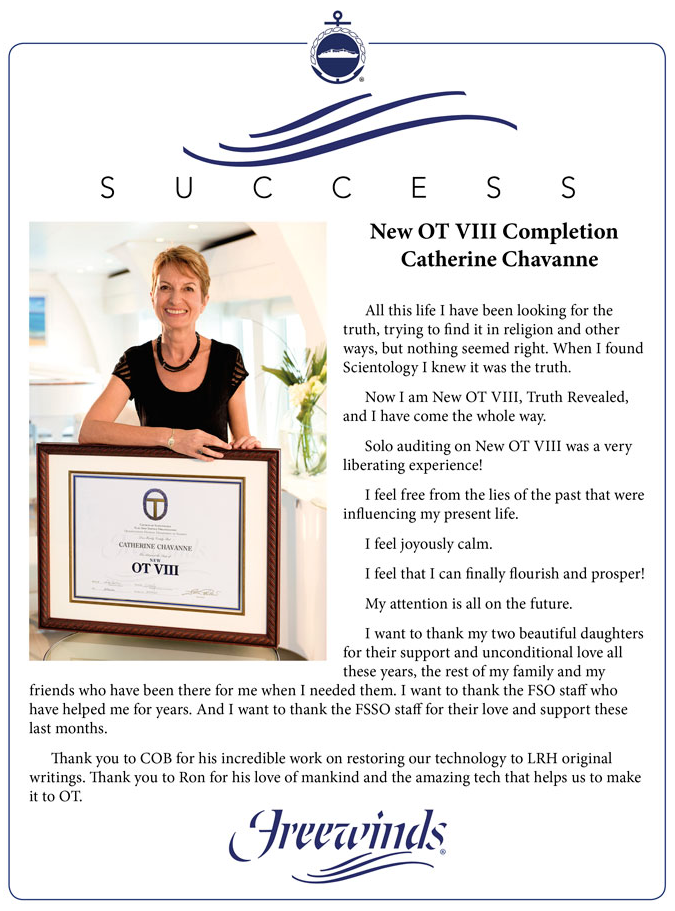 And here is another recent one.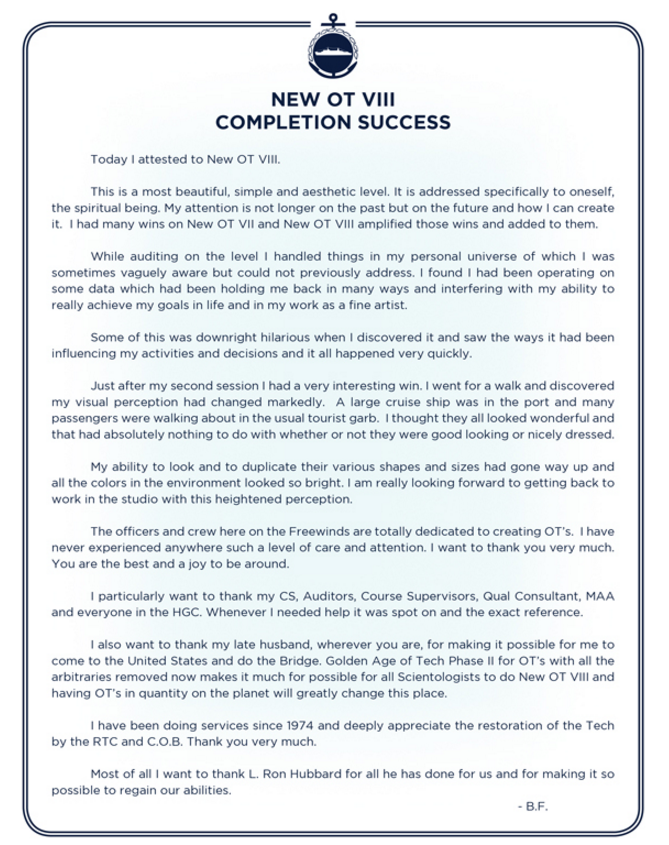 How long before these people are told they need to re-do their Objectives so they too can be temporarily freed from being stuck on the backtrack and brought to present time….
Insanity — doing the same thing over and expecting a different result.