My mother, Barbara, disconnected from me after I spoke out about Miscavige's abuses to the Tampa Bay Times.
Prior to that, even though I had escaped from the Sea Org (not as the church now likes to claim "that I was removed from all positions of authority") she maintained a mother/son relationship with me, corresponding back and forth about things that had nothing to do with Scientology. Her dogs, garden, grandchildren and great grandchildren, the weather, anything but Scientology. She told me I was her firstborn and that would always trump anything else, no matter what decisions I made in my life. I was careful to keep the communication light and unrelated to Scientology — sort of a reverse "good roads/good weather" PTS handling to ensure she was not upset. I knew it would break her (transplanted) heart to be forced to disconnect from me. Due to her age and physical condition (she had a heart transplant and two very serious car accidents that had nearly killed her) she lived with my brother and sister-in-law (until they moved her into an assisted living facility).
In fact, because of this, when I was first approached by Joe Childs and Tom Tobin for their Truth Rundown series, I informed them I was unwilling to be on the record because I was afraid of the consequences it would have on my mother.
Apparently, me then telling Monique Yingling and Tommy Davis I was not interested in their effort to buy me off in exchange for being allowed to communicate to my family caused the inevitable. My mother was given Sophie's choice. She could either stay in communication with my brother and family in Melbourne, Australia where she had lived all her life, or she could be abandoned by them and choose to remain in communication with me in the United States. Some choice. She was no longer able to even fly to the US and I was in no position to support her having just come out of the Sea Org.
In 2010 I traveled to Melbourne, Australia to attempt to see her. I had a feeling it would be the last opportunity I would have to see and speak with her. You can read about the lengths the "church" went to in order to prevent me seeing her on Marty Rathbun's  blog, There Is No Such Thing As Disconnection.
Today, I received this email (though the person who sent this to me did so with their name, I have deleted it to protect them from possible reprisal for having the temerity to communicate to an SP of my stature):
Hi Mike.

My name is Xxxxxx Xxxx. I live in Melbourne. I have been a Scientologist since 19XX.

This e-mail is a courtesy to you in case you have not been informed of events in Melbourne over the past several days.

I have met your Mum over the years and always found her to be a delightful lady. I have not seen her for several years.

I am sorry to have to tell you that she passed away last Thursday. I only found out today. I have just confirmed that she had a farewell service today and her body was cremated at Springvale Crematorium in Melbourne this morning.

I know your brother and sister but I am not in comm with them.

Mike I offer you my condolences and I am sorry to send you this bad news.

If you need to know anything please contact me and I shall endeavour to find out for you.

Xxxxxx Xxxx
My mother was an auditor and OT VIII.  She and my father had gotten into Scientology in 1961 and she had been a good Scientologist for fifty plus years, though she didnt have much to show for it in the end.
Anyone who ever came in contact with her was struck by her kindness. She was a truly sweet, caring woman who was a wonderful mother to me and my brother and sister. Her children were her greatest joy, and subsequently her grandchildren and great grandchildren.  I had hoped she would sometime be able to share in the joy that her newest grandchild brings to the world, but alas, that was not to be.
When my father (also an OT VIII) passed away, Barbara lost her lifelong best friend. It devastated her, as he was killed in a one-car accident and she was driving. At the time, things were "too hot" for me to leave the Int Base, so she was left in hospital in a small country town in Australia badly injured herself and stricken with grief. It is one of the biggest regrets of my life that I didn't just abandon my post and get on a plane to join her when she really needed me the most. I didn't understand the insanity of my callous lack of concern for her until nearly 20 years later after I had well and truly broken free from the brainwashing. This was the single thing I most wanted to tell her, face to face, when I tried to visit her in Melbourne, along with a simple "I love you mum, and always will."
I knew when I rejected the efforts of Monique Yingling and Co to silence me by using my desire to communicate to my family that I would thereafter dedicate myself to bringing an end to the destruction of families by the so-called church of scientology.
I also knew that I may not see that goal accomplished before my mother passed away. Sadly, I was right.
I also have a son and daughter and brother and sister who have been forced to make the same ugly choice. A son who had cancer, and the "church" didnt think they needed to inform me of that either (I was told by the media and when I went to try and see him at the Ft Harrison, Security called the police and had me cited for trespassing).
Of course, I don't have any photos of my mother as the church didnt send me any of my personal photographs. So the pathetically small shot at the top is taken from Google Images.
It is somewhat ironic that for her the end of Disconnection from me came with the end of her life and her disconnection from the church of scientology by the only means possible.  She is blessedly now no longer held by the limitations and rules that bound her in a mental (and towards the end, physical) prison.
I have come to understand on a very subjective level that nothing trumps real love and your true family and friends.  Especially not devotion to a "third dynamic" that actually destroys all other dynamics in its demand for absolute obedience and unquestioned loyalty to it and nothing else.
I shall not rest until this inhumane abuse perpetrated by the cult of scientology is ended. And it WILL be ended. Destroying families while crowing from the rooftops how they are champions of human rights and getting families into communication is not just hypocritical, it deserves to be exposed to widespread scorn and ultimately enough outside pressure that their evil impulses are permanently curtailed.
Mum, may you fly free and happy.  Able to choose once more who you want to share your affinity with so generously, as only you can do.
Peace be with you.
UPDATE:
Thanks to everyone for their kind words and well wishes. It means a lot to me to know how many good-hearted people there are out here on the very fringes of the internet, and just how many friends I have.
A reader sent me a relatively recent (99) photo of Barb. The postage stamp I originally included seemed almost disrespectful, here is something a little more appropriate….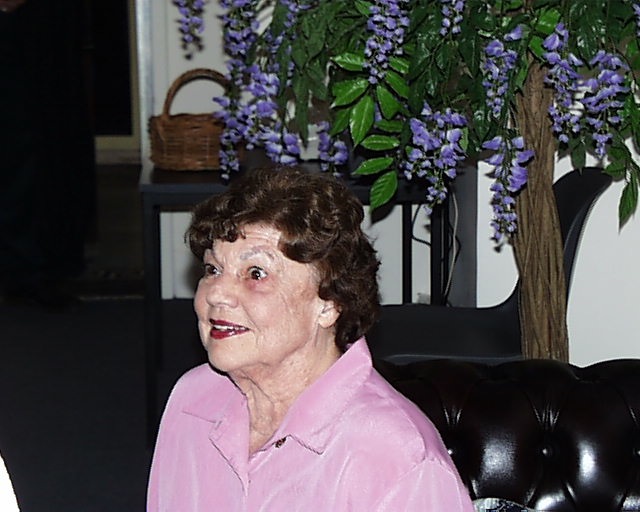 This is the post referred to above that is on Marty Rathbun's blog
There Is No Such Thing As Disconnection
by: Christie Collbran
Mike, Haydn and I visited Sydney for several days, spoke to Bryan Seymour from Channel 7, were followed by private investigators on a regular basis and despite that had quite a nice time there.
On Friday we drove down to Melbourne, approximately a 10 hour trip with the specific intention of visiting Mike's mother and brother. Mike's mother is in her 80's. He has not seen her for about 8 years. She is unable to travel all the way out to America for a visit, so this could have likely been Mike's last chance to see his aging mother.
Even after Mike left the Sea Org and prior to speaking on the record with the St. Pete Times in the summer of last year he was in regular communication with his Mom. She wrote him letters telling him about her grandchildren, and her activities and chit chatting about nice things. He wrote her the same kind of letters back and they were having a very nice time being in communication. There was no talk about the church between them.
However after Mike spoke on the record to the St. Pete Times he received disconnection letters from his Scientologist family members, his Mom included. These were obviously letters they were told to write, many of them sounding strangely similar to each other ordering him to go contemplate a rock until he decided to change his ways.
It is my belief that his mother was very saddened by this and that she would have much rather remained in communication. Her disconnection letter was far less harsh than the others. Due to her age she had earlier stated herself that she will not be doing any more services this lifetime as she is OT VIII and could neither travel to Flag nor the Freewinds, and it was obvious that she was taking much pleasure in having the comm line with Mike.
This was a total perversion of PTS/SP technology. There was nothing suppressive about her comm line with her son and she was forced to cut the line due to the control designed by David Miscavige. She now lives in a retirement home/assisted living facility in Melbourne near her only other son, Andrew. If she refused to disconnect from Mike she would also lose the support of Andrew and the right to spend time with him and his children, and her great grandchildren as well. These are usually the most important things in the life of an elderly grandmother. So you can understand the tough position she has been put in.
On Saturday morning we headed out to the nursing home where Barbara Rinder has been staying. Having had a lot of PI activity during our trip so far, it was strikingly quiet that morning. I said to Mike that I feared the church had sent his mother away for the weekend, because if she had been in town we would have had a lot more noise already. When we got to the nursing home Mike and I went to the front desk. There was nobody there immediately and we met a very nice elderly woman named Frances who was also a resident of the nursing home.  She told us that she knew Barbara, and that Barbara had gone on a trip to Adelaide for nine days.
We did eventually speak to a receptionist and somebody who was in charge of the place who confirmed for us that Barbara was not there. They tried to whisk us away very rapidly as well, and it smelled as if they had been briefed to expect us.
It was clear that they knew we were coming. Mike Sutter and Marion Pouw had been sent to Australia a week before we arrived to try and shore up the local Scientologists from being influenced by the SPs that were about to arrive. No doubt part of their Mission was to ensure that Mike's mother was not there so that she and her son could not be reunited one last time.
However, after the Receptionist had tried to send us on our way, Frances came out to our car and said "Don't mind that woman. She likes to boss everybody around. Would you like me to show you where Barbara stays?" Of course, we would!
We spent quite some time with Frances — she showed us where Barbara's room was. There was a sign on the door with her name. A cleaning lady had been nearby cleaning and she let us see inside of the room. Mike pointed to a picture of his Dad that was on the desk, Barbara's deceased husband. Seeing her room, speaking to one of her mates, knowing that she spent much of her time right where we were standing, but that Mike was unable to see her or speak to her brought me to tears and I stepped away for a moment to collect myself.
Mike is one of the most considerate, decent and loyal persons I have met. He deserves the right to see his own mother and she has the right to be in communication with him. David Miscavige has taken pleasure in ensuring that this does not happen. The whole thing was utterly suppressive and sick.
We decided to buy a card and some chocolates for Barbara and Frances. We took some pictures and chatted quite a bit with Frances who was a very sweet lady. I'm sure she will relay to Barbara how lovely her son Mike was, that she was fortunate enough to spend some time with him, and the other girl (myself) that came with him from the USA. She showed us pictures of her children and grandchildren and some of her accomplishments from her life. I took some pictures of her and Mike and Frances insisted that she get her camera and take some for her to keep as well. She was very happy to meet us and walked us to our car, waved goodbye and watched us drive away until she could no longer see us, waving the whole time.
She was very similar to how I imagined Barbara might be. Although we did not get to see Barbara, I know that the message will get through to her. Mike still loves her and always will. Her friend will be sure to let her know.
After that we also went to Andrew's house that was very close by, just to be sure. Nobody was there either and we assume that he took Barbara away. Mike left a card for Andrew in the mailbox as well.
This is just an example of thousands of similar instances of families being torn apart by the suppressive and evil works of David Miscavige and his church, and is why they must be brought to justice.
But we didn't let him spoil our trip.
We left, had a delicious Australian lunch, and then met with the lovely Heather Grace, a regular here on Marty's blog. We met at the zoo, found some koalas & kangaroos, and had dinner and drinks together. It was a wonderful time.
The following day we went to watch an Australian rules football game – otherwise known as "footy" and thoroughly enjoyed sitting next to two local and very vocal sports fans who were more fun than watching the game due to their constant banter back and forth (rooting for opposite teams) and the hilarious expressions they used.
Richmond Team Supporter: "What do you call a man with a rabbit stuck up his ass?"
North Melbourne Team Supporter: "I don't know?"
Richmond Team Supporter: "You call him Warren…… here comes Warren!"  (Warren being the name of a player on the opposite team whom he was having a go at).
You gotta love the Australians.  We all did.