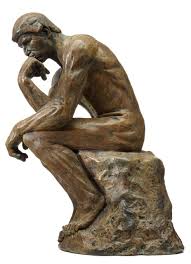 This was sent to me for publication by a personal friend. I have not published anything quite like this on my blog before — it is a declaration by someone who doesn't give his name (though anyone who knows him knows who he is and a lot of others will be able to figure it out). I think it is good food for thought. And I especially like his views of what a real friend is. I too know Dave and Sindy Fagen. Dave's write up of his story is probably the calmest, most intelligent and devastating indictment of the current state of the "church of scientology" that has yet been published. Read it here — though it will take you a little time, its worth it.

I am going to use a code name to write this open letter to people who call themselves to whatever degree, "scientologists".
There is one reason for this and that is because I have tons of friends who are not scientologists and I don't want them to think that I am in any way connected with the mess that this subject has become. Nobody outside of this small group of people who would call themselves or maybe once called themselves "scientologists" gives a shit anyways.
I have told nobody that I am doing this. So nobody can disconnect from me for what I write here.
Outside of that effort to protect my identity, I have completely nothing to hide.
If you continue reading, and you know me, (and I know lots of you) you will know exactly who I am. And you will have to decide several things about what should be done with what you read here.
I am writing this now with the purpose of demanding that David Miscavige resign from his position of "leader" of Scientology. The idea that someone can be a leader of a subject is folly. More on that later.
The following are facts about me;
As of this date Monday August 12 2013, I am in good standing with "the church" I am not a declared SP or anything of the sort. I am known as a wild guy, so you may know some stories about me. I have 567 friends on Facebook. I have many more real life friends. Most are not "scientologists"
This paragraph exists only because if any of my friends think I will allow them to disconnect from me based on anything I write here, they then fall into 2 categories. 1. is Facebook friends which is the same as "friends only because we're supposed be on the same scientology team" If you would "unfriend me" because of what I write here then I don't really respect you enough to call you my friend anyways.
However, since I am not using my name, I am not really going public to attack scientology. And remember, scientology is a subject. And nobody owns a subject.
Category 2 is people who I love and care about so much that I will never allow them to disconnect from me. Read this. If you are a member of OSA reading this (and I hope and assume that you are) you will not ever dream of declaring me for what I write here. And you if you're thinking about it, you're already in treason on your post.
(This message is to OSA: Please feel free to publish websites detailing the contents of my confidential PC folders. Put up websites when you figure out who I am. You can say I looked at a bunch of porn, I left my wife in a really shitty way, I routed off staff without completing my contract, I hurt my friend who I worked for at his construction company and took a bigger bonus than I earned, on and on you can go about all the bad things I've done. And I did do them. And I am not proud of any of it. But I know in my heart that I am a good person who cares about people. My friends have no question of who I really am. And this disconnection thing is over right here and right now. Everyone reading this knows that you start whispering campaigns through ethics officer leaks or you brief some idiot to contact everyone on Facebook connected to ____ and make problems for people. These are the actions of a church? Get real. Read, do not think you can fuck with me or my friends)
A couple of other facts about me so you in the church and those reading this can figure out who I am and I can get to my story.
I am a Class V Auditor. Interned Class IV. I'm a trained Div 6 Course Supervisor, a Purif I/C and C/S Lots of specialist courses, HRD, DRD auditor.  I did this training in San Francisco. I was on staff in Chicago for over 10 years and held the posts of PES, D/ED and Exec Esto. I got good products on all those posts.
I was responsible for establishing scientology at Ground Zero on 9/11 I drove straight to NYC, went to CLO EUS and got 2 Sea Org member executive friends of mine (both who are out of Scientology as far as I can tell) and the 3 of us went down to the site and I took charge. It was fun.
I play drums in a successful rock band and we currently sell out 1200 seat theaters all over the country.
You should know me from that. But now I'm going to tell a couple of stories that drive the point home that it is time right now to act and end this era of the subject called scientology.
I was Dave Fagens best man in his wedding to Sindy. If you ask them to tell the beautiful story of how they started dating, I hope they tell you that I had something to do with pushing them together. More on this story in a bit. I just wanted to make sure you definitely know who I am.
I was on my NED Internship getting great results on my PC's as of December 2010. I had been observing non standard actions inside the church for years and sending up reports and doing what I could to correct these based on whatever post I was holding. I was married to a great person who I didn't really want to be married to. This caused me a great deal of grief over many years as I tried to reconcile staying married to someone who I admired greatly and had huge respect for but was not romantically interested in. After living in Chicago and not doing well, I decided to split from her and move to San Francisco and get trained as an auditor, which was all I really wanted to do when I got into Scientology. This is known to anyone who knows me.
I was making $20 a week on staff and but I was getting trained as an auditor and in the process the subject of scientology became my own. It became totally simple. The tools of auditing are not complicated. They don't require golden ages of technology version 1 or 2 to work. You read some books, you practice some drills, you sit down with another person who you care about. You get into good communication with them and you use the tools to help them. That's all there is to scientology. Sorry it really is that simple.
While I was training and on staff I was also starting to tour pretty heavily with my band which was getting bigger and bigger. They were in Chicago and I was now flying back and forth for shows. Then putting on my auditor hat and auditing.
At the time I lived with the Senior C/S San Francisco and his wife the Tech C/S. The Tech C/S is the daughter of my best friend who is a field auditor. He and his wife had moved to the Bay Area to be closer to their family and me. His wife is dead as a result of this. You know her and you know him. She finished OT VIII and she got cancer and died. I love her so much and miss her so bad. It's actually too painful to include that story in here.
Now, get that. I lived with the Senior C/S. A supposed Class VIII. He was supposed to be my friend. He was not. (His success story for completing OT VIII was sent to me recently. He doesn't thank his family for financially supporting him for his whole life and he doesn't thank his wife or kids. But he sure thanks David Miscavige. Treason.
At this point I started hearing that something was happening in Chicago with Dave Fagen. And since I was going to be heading there for some shows I told some people in San Francisco that I was going to sit down with him when I went there.
We went to the bar next to my house and shot the shit. To make a long story short, I tried to find out where Dave was coming from. Dave, basically refused to tell me anything. He only said in so many words "you can find out on the internet"
So I started telling Dave what I assumed he was upset about. I said things like "The IAS is a fundraising machine? Ideal Orgs are bullshit? David Miscavige punches people? How bad can it be Dave??"
You know where I got all this data? From the church. The Freedom Mag with Miscavige on the cover was the most glutz piece of failed PR I had ever seen. And it was given to me to read by the Senior C/S San Francisco.
Simple conclusion. If the church is doing this much work to discredit all these good people, they must have a ton more to hide. I already knew that the church under Miscavige was almost 100% off policy. Nobody was making any auditors. Which is supposed to be the only thing it DOES do. This is not complicated.
Now I'm going to skip over a lot in order to get to the point.
Point number one is directed to everyone in Chicago. You all know Dave Fagen is THE BEST PERSON YOU KNOW!!!!!!
There is not a nicer more gentle person in the world than Dave Fagen. If you live in Chicago and you are an auditor, then Dave had a hand in training you. If you were ever supervised by him, you KNOW 100% that he cares and that he cares about helping you and making sure you get what you came there for.
He is one of the most dedicated and sweet people I have ever known. He's way sweeter than I am, for sure.
He chose me to be his best man and I want to tell you its an honor. This man dedicated his life to helping others. He's so kind and funny and awesome that it actually blows my mind.
And you're going to let him get declared? No.
This is not whatever you think scientology is. This is betrayal of a good person. And good person is the biggest understatement I can make. And you know it in your heart. And your unloyalty to someone as dedicated as Dave is not something you will forget. I know I wont. I love Dave. He is my friend.
So, I went back to San Francisco and re read this Freedom Mag and started to realize how really far the group had gone from what I thought it was. We weren't even defending Ron. We weren't even talking about policy or statistics or org boards or even making auditors. Here was a whole magazine dedicated to making David Miscavige look good for a failing program. Ideal Orgs? I was making $20 a week and the place was empty. What is ideal about that?
So, I went on the internet to see what all the noise was about. I went to the church sponsored Freedom mag site and it had a bunch of stuff about Anderson Cooper.
I went to you tube and searched for Anderson Cooper on Scientology.
I watched another one of my friends telling how her family had disconnected from her because she had been declared a Suppressive Person. That person was Christie Collbran (now Rinder, congratulations guys).
When I was Exec Esto Chicago, she was my senior. And she was the most competent and caring executive I had anything to do with in Scientology. I would have problems on my post trying to establish the Chicago org and put in policy and I'd have the ED throwing books at my head (literally, but not the current ED).  Christie always supported and encouraged me to look for myself and to make my own conclusions of what policy needed to be set straight. She was super competent and caring. I would go to New York for correction and she worked with me to make sure I felt I could do my job better. She literally was the best senior I had in scientology. She tells the truth. She's a great person.
And now the church had declared her Supressive. She's not. She's amazing. How dare you say these things about my friends.
I had some serious decisions to make about my future in scientology.
And then I went on a big rock tour for 2 months. And I met a girl. And I fell instantly in love and realized that I liked Love. And I went back to Chicago and told my wife I was filing for divorce and leaving staff. I then flew to San Francisco and routed off staff. Sec Checks and all.
And it's been over 2 years and I've had less than 5 calls from the church. I had a Comm Ev, which I did over the phone. It was pretty sad.
And so I've watched and contemplated what to make of all this. I read the websites just like all the public do. I see Leah Remini walk out.
The other day at work, a guy fell in the parking lot and hit his head and was basically dead. I heard it over the radio and ran out there and ordered him to get back into his body right this second!!! He did. I brought a dead guy back to life while 20 people stood there speechless. I love the subject called Scientology.
But I want to point out a couple of things. It's small. You know it is. Has anybody ever been in a packed Class V org? The biggest it gets is at the big international events. I play to that many people in my band a couple of times a month. It's NOT big. And maybe it's not supposed to be this big organized religion monster that it's grown into.
It is being done by a little man. David Miscavidge has zero power except the power that you are giving him. And by giving him the power he is destroying a subject  called scientology.
What do you think Ron would do if here were around? You think he'd have Miscavidge in charge? Not on your life. And let's stop pretending that this subject is about Ron.
Scientology will go as far as it works. And no further. It is being destroyed. Management is not based on statistics. Tony Ortega is a better evaluator than Miscavige any day of the week. And he has something in common with Miscavige, He doesn't audit.
Remember, the first definition of a scientologist is "an auditor" And the most basic definition of an auditor is "one who listens"
How can we help the world around us if we cant listen? If OSA really cared about doing it's job then they would read these blogs every day and evaluate the scene and find out where this is coming from and handle it. It is coming from the top.
And that top is there by a big illusion. David Miscavige is NOT the leader of the worlds fastest growing religion. He is a little man who weaseled himself into a position where he is setting the course of what is to be done with a body of data that was researched and developed by someone else.
I had hoped that scientology was capable of helping humanity raise to higher heights, but when I look at the group called "the Church" or "The Sea Org" they look the same as every corrupt government and business monopoly on earth.
There is no such thing as planetary clearing. It will never happen. Sorry, Tom Cruise.
Keep in mind that all those lectures Ron gave were to auditors. A small handful of guys and girls trying to make sense of some pretty amazing implications that evolved out of some powerful tools.
The only planetary clearing that will ever occur will only happen if one person audits one other person at a time. 
I've been 100% outside of my own body. I've looked down on it from outside of it and I know for myself that I am not mortal.
I had a new friend tell me the other day that he knew he would live forever. He said nothing about scientology.
If every person reading this looked around at their circle of friends and said "no more" Miscavige would be out tomorrow.
The world does need these kind of tools. But the world will never accept them in the way they've been offered. Its time to step back and look at what we've become.
I decided to finally write this because Sindy Fagen had the courage to expose the actions of the church and its disconnection practices. She put a message from our mutual friend> it broke my heart.
I saw a comment on a thread where Dave Fagen said the Bay Area people need to speak out. I know he was talking to me.
I don't want to try and tell you what I think should be done with the subject of scientology. It's all available. Its all in books. You can find a person who's done the OT levels to evaluate the materials and gather them up and you can go in session and decide if this that stuff is real to you.
The simple truth is that I got involved in Scientology because I care about other people. I don't care about making them scientologists or making them believe what I believe. I care about what they believe. And how they are doing. And are they happy? I care.
And if you have any inclination that scientology could make a better world or should make a better world then you need to look at the resources you have.
The only resource which we really have is each other caring. Everyone reading this is literally connected to other people who can simply band together and demand Miscavige step down. It will only get worse if he doesn't. The statistics show its failing.
Simply stop going into the org and stop taking calls.  Cant we learn from Martin Luther King? Non-violent civil disobedience. Combine that with confront and he's gone.
We can go the route of just letting if all fall apart waiting for someone else to fix it, or we can ban together as a group and demand he step down and then figure out what to do.
Certainly we could help the subject gain some credibility by doing so.
My ass is now on the line here and I have written this out the best I can to force the issue. The church has nothing over me that I cant handle.
The church says it has no disconnection policy. Let's put it to the test. 
All of these things are conditional. People can change and maybe scientology can be salvaged as a subject. It wont be able to hide behind the scrutiny of the public. The world is heading towards either a total police state or total transparency. My vote is transparency.
The way I see it is that the first step to any kind of future is demanding the resignation of David Miscavige. So I, as a member in good standing am hereby publicly demanding it.
Tell someone else to demand it. Demand it yourself. In a couple of days everyone in this small group would have spoken up. Then we can figure out how to work together to regroup.
I feel we owe that to Dave and Sindy and Christie and  Debbie Cook and Mike and Marty and Dan and Steve and and and and….. you owe it to your friends and family to make sure they know that you will never disconnect from them no matter who tells you to.
I'm glad Hubbard did the research he did and developed what he did. He was not perfect and neither am I, and neither are you.
Look at Edward Snowden, Look at Bradley Manning. These are people who risked their whole lives to confront the biggest government on earth in order to do what is right. Scientology is heading the same way as the great governments who rule by force and secrecy.
David wasn't elected by you or me.
I don't need a leader. I am one. Ask my circle of friends. If you can figure out who I am. Or better yet, don't and just be your own leader of your own circle of friends and make a great life in your environment.
The Thinker 
Read the next chapter of this journey here