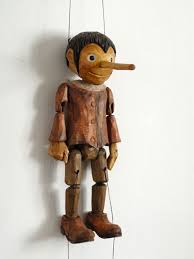 Miscavige sockpuppet, Karin Pinocchio Pouw is at it again.
The "church," as they always do, have turned the Shelly Miscavige missing person report into an excuse to launch more of their patented footbullets.
With a straight face, they are alleging to the Hollywood Reporter and other media that this is "ill-advised, ludicrous self-promotion"?  Say what?
Does anyone in the world, other than the most addicted KoolAid drinker, really believe that filing a missing person report is "ill-advised", or better yet "ludicrous self-promotion". It is clear from the media reports that the well-being and whereabouts of Shelly Miscavige was something of great concern to Leah Remini.  Asking about her in the first place landed Leah in hot water in the church. It has been clear in all the media since Leah departed the RCS that it was something she was very concerned about. And she could NOT get an answer. At all.
Let's not forget, the church has OFTEN played the "where are the police reports" card…. They have tried to discredit whistleblowers about abuses within the church by saying "if this is really true, why are there no reports to law enforcement"? They have hidden behind this smokescreen MANY times. Now someone files a police report and they claim its "self-promotion"?
Shelly Miscavige was no J.D. Salinger.  She was a VERY public figure. She accompanied her husband on every trip he made and was at his side for every public appearance he made until 2006. What caused her to suddenly disappear?
Given the recent history with Annie Broeker — who was also "disappeared" and the church covered up the fact that she was DEAD — even to her family, and Richard Reiss — Senior CS FSO who was also "disappeared" and his death was only disclosed when I went to the coroner's office and got his death certificate, I would say Leah's concern was well-placed.
And let's not ignore the fact that apparently the church is admitting again that talking about their abuses is the preferred method of "self-promotion" in Hollywood these days. They went on to claim  "the entire episode was nothing more than a publicity stunt for Ms. Remini, cooked up with unemployed, anti-religious zealots, such as Tony Ortega, who blog on the fringe of the Internet."  Somehow, if anything is reported by Tony Ortega it becomes a "plot" "cooked up" on the "fringe of the internet."
By making this ludicrous claim, the church just keeps promoting Tony Ortega. His blog is rated twice as popular as Scientology.org already. If I were a cynic, I would wonder whether the church isnt trying to gain some internet credibility by constantly mentioning Tony Ortega and hoping to cash in on his popularity.
These days, the media run the church statements virtually without comment (and Miscavige pats himself on the back each time "see, when I send something to the media, they always cover it") as they are SO ridiculously over the top they know everyone that reads them rolls their eyes, shrugs a little and thinks to themselves "those wackos are at it again."
By the way — if Shelly Miscavige was actually OK, and they were NOT worried that she might scream "Help Me!" — the EASY thing to do would have simply had her make a REAL appearance. It would have put an end to this once and for all.But that didnt happen, so for the time being, she remains a Patty Hearst — reportedly declaring she is happy, though not even in public like Patty Hearst did for the SLA.  It begs the question why NOT have her appear in public and be interviewed by some media AWAY from her church handlers?  Believe me, Miscavige would love nothing more than to be able to prove Leah Remini and the lunatic fringe of the internet to be totally wrong. It is telling that he could not afford to make the attempt.
So, from the fringe of the internet, I give a shout out to Leah Remini for doing what anyone who was GENUINELY CONCERNED about the well-being of a friend would do. After asking and asking and not getting any response she did what any responsible friend would do.  A REAL publicity stunt would have been to allege Shelly was missing in the media and then DO NOTHING.
That is not Leah Remini's nature. I have known her for a long time. While Tom Cruise famously claims he is a champion of human rights — he has ignored the abuses right before his eyes. Not so Leah Remini.