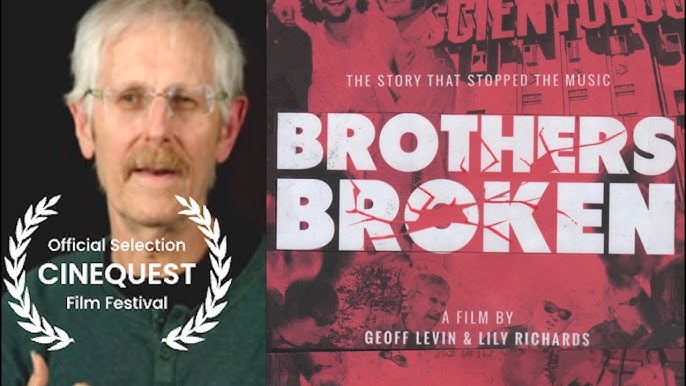 A couple of days ago, Tony put this message from Geoff Levin on his blog. I am republishing here in the event that any reader here may not have seen it at Tony's.
Geoff has been a staunch supporter of this blog and me generally. I am proud to be included in his movie — I met his brother, Robbie, when I was at Sundance for the premiere of Going Clear. Two talented and extremely nice men who have an incredible horror story to tell. Fortunately, this one has a relatively happy ending, though Geoff's children remain disconnected.
This is Geoff's message:
It's been a long journey getting out and speaking out and Tony's been there from the very beginning of my deprogramming in September 2011, when I read my first article in the Village Voice.
What a journey.
We released our PEOPLE! album after 50 years of disconnection, and we had the world premiere screening of Brothers Broken at the Cinequest Film Festival in San Jose on August 20th. There was great press coverage and interviews with TV stations and radio. We had one more screening for the festival on August 26th at the Icon Theatre and Kitchen.
Now, our Los Angeles premiere is on Sunday at 7:30 pm at the Laemmle NoHo7 in North Hollywood.
Our documentary is about Scientology's toxic disconnection policy but it is also about reconnecting. I have restored so many friendships and met so many wonderful new artists, musicians and filmmakers.
The world outside Scientology has so much to offer. Yes it's crazy right now and there are amazing, effective people who are genuinely helping and creating positive effects. We all have the potential to do that. I went from victim mode to "Something Can Be Done About It" — my other go to guy Mike Rinder's blog was my second source of deprogramming after Tony.
I look at where we stand now as Scientology and David Miscavige are exposed every day now.
The billions the church has cannot help them now. The echoes from all our voices started the avalanche that will bury the Scientology organization so it can no longer spread its lies, fraud, and human rights abuses. Thank you, Tony, and all the other whistleblowers. You all have been my guides to a life free of Hubbard's toxic beliefs.
— Geoff Levin
Here is the trailer for the movie. I encourage everyone in the LA area to attend the LA premiere tomorrow (Sunday) at 7:30 pm at the Laemmle NoHo7 in North Hollywood.