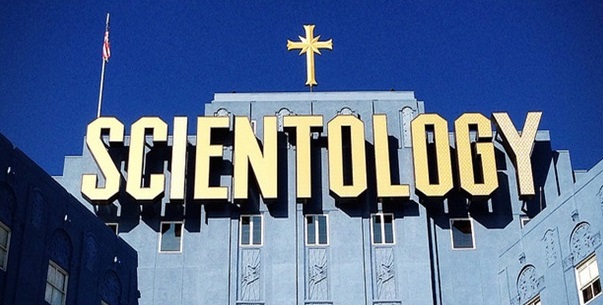 A new piece from the  author of the recent post "An Evaluation of Scientology."
Fear: That Which Drives the Church of Scientology
Religions go through cycles. They begin as seemingly benevolent and benign organizations with the intention of improving conditions and answering the basic questions of life. After a while, though, many—some would say all—devolve into strictly controlled practices ruled by fear in order to control their members and solidify their power base.
The Church of Scientology has followed this pattern and is steeped in a culture of fear, permeating every aspect of the organization, from the new person just starting out in Div 6, to the grizzled veteran redoing his Student Hat for the fourth time.
The Fear of Disconnection
Perhaps the biggest control mechanism of all is the fear of disconnection. Be it family and relatives, or friends and acquaintances, the thought of never again interacting with the people one loves the most is frightening.
Man is a pack animal. Most prefer being part of a group. Per LRH's theory on the Dynamics, groups are instrumental in man's very survival. From the moment a person walks through the front doors of his local Org, Scientology staff are there to provide such alliance and support.
All too soon, however, one comes to realize that this same staff is all too willing to revoke his membership for stepping out of line. The fear of getting kicked out of a group can be frightening. Actually getting the boot can be devastating. [Ed: Actually getting the boot can be LIBERATING]
Fear of Derision and Unacceptance for not FULLY Playing the Game
Scientologists are expected to fry no other fish but those strictly endorsed and approved by management. Contributing to the group and moving up the bridge as quickly as possible are the goals. Anything that would get in the way is considered out-ethics.
Fear of letting down the group by not attending events falls into this category. Filling out the after-event survey with anything but glowing praise is a related fear.
The fear of the group looking down upon one for not donating enough to the "ideal" org fund is a feeling many have experienced. Not helping to file folders in CF is another example. The guilt of not doing "new and improved" versions of courses one did years ago is another.
Not living up to the high standards of Scientology can be a real fear.
Fear of Ethics
I doubt any Scientologist has not experienced the fear of being routed to Ethics. From bypassing an MU, to questioning an HCOB, to staying connected to Uncle Harry, no crime is too small for HCO. The MAA is like the proverbial cartoon devil whispering in some poor soul's ear. "Better not do that or you're going to Ethics!"
Scientology has made getting sent to Ethics institutional. All you have to do is sign up for a service. Seeing the EO or MAA is a step on all routing forms! It's expected that everybody has overts and withholds.
The fear of being assigned lower conditions occurs all too often. Having to grovel and do amends before the group accepts you back can be humiliating. The fear of having to "handle or disconnect" from friends or family is enough to turn on physical reactions.
Confessionals originally intended for the purpose of unburdening one's soul, have metamorphosed into Gestapo-like interrogations aimed at uncovering things unflattering to the church.
If not only humiliating, the indignity at having to sit before a sanctimonious MAA thirty years one's junior can be cause for fear. Many have feared that by not ratting-out friends per Ron's policy on reciprocity, they would be assigned the same penalties and lower conditions as the perpetrator.
The fear of standing before a Committee of Evidence and Courts of Ethic is the ultimate threat to some.
The chronic fear that all of one's problems stem from his quadrillions of years of overts and out-ethics drives others up the bridge.
Fear of Questioning Tech, Policy, and LRH
Questioning tech, policy, or LRH is not done in Scientology for fear of getting sent to Review or Ethics. One must tread lightly even when discussing these subjects with friends. One errant word can become the subject of a KR, a trip to the ethics officer, and lower conditions.
For a church built on a foundation of communication, the amount a Scientologist is forced to withhold is astronomical.
Fear of Committing Overts and Withholds
The subject of overts and withholds in Scientology is huge. For only if one confesses his sins and becomes totally "clean" can one hope to achieve spiritual salvation—and attain true OT abilities.
Many fear that committing even the most minor infraction is a roadblock to freedom. A majority have come to believe that not revealing ANYTHING, whether it actually follows an overt act or not, is a withhold.  Doesn't matter if it was only a thought or a consideration. To withhold ANYTHING from a Scientology terminal is out-ethics and subject to penalties. "Lions and tigers and bears, oh my!"
Fear of Study Tech Violations
The fear that one bypassed a misunderstood word, skipped a gradient, or didn't sufficiently demo-out a concept is a near constant source or anxiety for many students. Not finishing a course by Thursday at two is a recurring source of stress—if not contention!
The fear of Method 9 word clearing fills many with dread.
But by far, the biggest fear of all: the sup seeing one yawn!
The Fear of Never Handling One's Ruin
Per LRH and his "Dissem Formula," everyone who enters the hallowed halls of Scientology has a ruin. (And "something can be done about it.")
The fear of not handling this ruin often drives church members from one level to the next. Reg's and Dof P's are fond of assuring PC's that their doubts and negative thoughts is simply the bank manifesting their next case level. (Nothing that a dozen intensives won't handle!)
Fear of Not Metabing or Getting Enough Sleep
PC's and their D of P's and auditors have come up with more hair-brained solutions to get a needle to fall prior to starting a session than a junk yard dog has fleas. The fear of not having gotten enough sleep and not metabing is real to anyone who's ever heard the words, "this is the session." Older and less spry PC's, whose metabolisms aren't what they once were, are especially susceptible to this fear.
Fear of Burning through Your Hours and not Finishing
How many who've ever held a pair of cans, have worried they wouldn't have enough hours to finish a process? And feared having to sit before the Reg and have to max-out yet another credit card after securing late night approval from your significant other?
For many, not making enough money to go up the bridge is a real fear. Many have quit vocations they loved for unsatisfactory jobs with greater compensation to achieve spiritual freedom.
Fear of Not FN'ing at Exam
How many have sat before the Examiner waiting for their needle to float? And waited. And waited. And waited. Wondering if you should say something else. Fearful of the dreaded RED TAG! Worried that something was missed and another intensive would have to be purchased. And that you'd have to return the next day. And the one after that. And get routed to Review. Or, god forbid, Ethics!
And the boss only gave you the one day off.
Fear that What's Revealed in Auditing Will be used Against You
Confidentiality in Scientology is a myth. Field group, mission, and Class V org auditors, D of P's, CS's, Qual personnel, Ethics Officers, and FES'ers all have access to a PC's folder. Anything said in session will likely be read by a whole hoard of staff. And that's just the beginning.
Once the folders are forwarded uplines to an advanced org, scores of other strangers will peruse its sacred contents. To think that staff don't discuss with each other what they've read is naïve.
Blackmail—especially of disaffected Sea Org members—is practiced by the church. The fear that what one said in session will be used against them is one reason why more ex-Scientologists don't come forward and speak out. The fear of "Fair Game," is all too real.
Fear that one hasn't Taken Enough Responsibility for Saving the Planet
Scientology is mankind's last and only hope for salvation. If one isn't doing everything he can to help clear the planet, he's not merely out-ethics, but is at risk of having to eternally wander a dark, unknowable universe. If he's really slacked-off, he faces getting electronically glued to some stranger with a corporeal body. Yikes!
One is taught that not "playing the game" is an overt and is a barrier to one's spiritual advancement. One can't go OT without contributing—be it joining the local OT committee or donating truck-loads of money to one or more of the church's numerous ancillary organizations. Flying to Flag without a thick wallet is foolhardy.
Fear of Disseminating; Fear of Not Disseminating
Disseminating can be scary. Not disseminating is an overt! Just know this: if one truly believed, and was absolutely certain, that Scientology was one hundred percent legitimate and would unequivocally solve their friend's problems, they would get that person into an org. Since little to no FSM'ing of new people is happening, church members must have serious qualms—if not grave doubts—as to the value and efficacy of tech, policy, and management.
Parishioners obviously fear their friends won't be handled and will be turned-off by many of the practices with which they themselves are uncomfortable. Revealing the true cost of going up the bridge is wholly un-confrontable!
Fear that there is no Other Tech for Handling Oneself
Psychiatry, psychological counseling, self-help organizations, and other religions, if not mere "other practices," are enemies of the church. Per KSW, there is no other tech for freeing man. Period. If you don't follow Ron's prescription for redemption to the letter, you're basically fucked. For eternity! Bummer, dude.
Fear of Life outside the Church
Leaving Scientology can be daunting. Life outside the church can be especially frightening to Sea Org members. Its rank and file possess few skills transferrable to the modern world, and thus, prospects for employment are poor. Many have been forced to leave with little or no money and with little or no help from family, friends, or relatives.
Many staff have grown up in Scientology and hold little reality of the outside world. Knowledge of life beyond the insulated walls of the church can be very limited. Many have become jaded from years of indoctrination.
For public as well, living without "guidance" from the church can be fearful.
Fear of Seeing or Listening to Something Forbidden
Scientologists must be vigilant for fear of seeing or hearing something taboo. The internet is rife with websites and blogs teeming with "black PR." Not only does visiting one of these sites court disaster, the act becomes an instant withhold.
Talking to an ex-Scientologist is best avoided. Talking to a declared Scientologist is grounds for Ethics intervention. Seeing either one strolling down the sidewalk is reason enough to dash across the street.
Scientologists are taught to fear a dangerous society.
Fear of David Miscavige
Though Miscavige's suppression extends throughout the organization, Sea Org members are the ones most directly affected by his rage, insanity, and vengefulness. The fear of demotion, being "RPF'ed," or thrown in the Hole, must be palpable.
From all the stories of his abuses and cruelties, those around him must operate in a perpetual state of fear. I would not be surprised if Sea Org members were especially fearful of being transferred to the Int Base outside of Hemet.
Fear of Scientology Finding Out Who Wrote this Shit!
Despite not caring if I get labeled an SP or not—I figure it's only a matter of time—I admit to the fear of Scientology meddling in my affairs. On one hand, I have nothing to hide. On the other, the church is famous for spreading lies about people, and I don't need the stress and hassle of being hounded by the dogs of the OSA.
That said:
a) I'm the same person who wrote "An Evaluation of Scientology" that Mike posted on his site on May 11th;
b) I hold little hope of any kind of meaningful reformation by the church; and
c) despite guesses to the contrary, I am fully OUT.