This email pretty much encapsulates the "think" of the fundamentalist scientologist.
Clubbed seals who have totally bought into the "ideal org" "strategy" and who firmly and stubbornly believe that they can do no wrong (i.e. "it isn't an overt") if they are forwarding the survival of "the church."
See text in red below (all of it is wacky, the red bits especially so).
———- Forwarded message ———-
From: East US Ideal Org Team <cloeus@scientology.net>
Date: Sun, May 10, 2015 at 4:44 PM
Subject: Getting Your Org Ideal
To: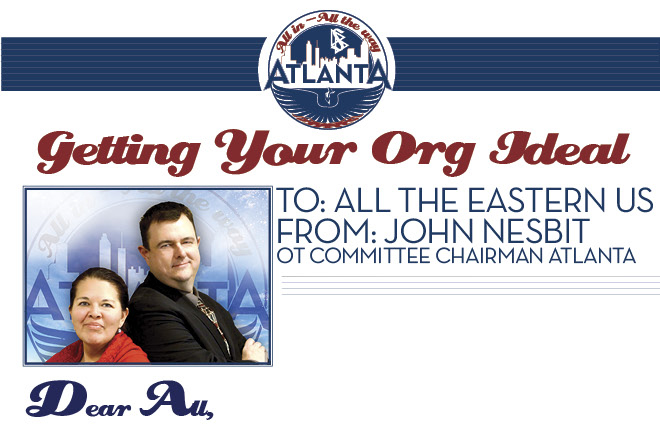 I want to give you my most sincere encouragement on your adventure to get your Ideal Org funded. 
No sugar-coating, it is a hellishly hard job and requires a special brand of defiance and stubbornness against social norms, bank agreement and physical universe barriers. Add to all this that the stakes are beyond life and death, and you've got a real knee-slapper of a good time! What a remarkable game!

You will need every LRH datum you ever learned to get though this cycle of action. This is raw 3rd and 4th dynamic auditing over out-ruds and with no correction lists! However, a being always rises to match the size of the games he plays so when this is all over you will know you are a 10 ft tall OT Scientologist, and you will breathe fiery purpose and eat impossible barriers for breakfast. I could not have imagined the wins would be so amazing.

Here are a few useful concepts that I recommend to you on your journey:

1. You cannot pull in a motivator on something that is not an overt.
Just because you break the financial rules, middle class agreements and your accountant's advice does not mean you will regret it. In fact, the regret comes from NOT stepping up and granting yourself the beingness to do what your honor and integrity demand.

2. Willingness trumps MEST.
As a leader, don't focus on who controls the most MEST. Focus on who has the biggest purpose and willingness. Invest in willingness. The MEST will follow willingness as sure as dawn follows the night.

3. Choose wisely.
The ups and downs of building an ideal org can either be an adventure or a nightmare. The good news is you get to choose which one.

4. Positive postulate getting done every day, even when its ridiculous (especially when its ridiculous!).
If you do, one day it will be true. On the days when it did not yet come true, ignore the losses and start again the next day. The focus of an eagle and the memory of a goldfish are perfect for this kind of work.

5. Lead by example.
If you are reading this letter you are a leader in your group. That's a fact. Non-leaders would not read down this far(!). Therefore you carry the responsibility of knowing that what you do will influence what others will do. You need to donate early and often. Lead the way. Show that you are committed to the purpose – even if you have to mock up the winning valence sometimes. Others will follow. If you hold back, they will sense it. I found that the less I resisted the entire cycle of action and my role in it, the more fun and wins I had. For maximum fun and adventure, go "All In".

6. Finally, keep it up-tone.
Find reasons to laugh often. Eliminate seriousness in your space. If things get solid, put on a funny costume and some dance music. Raise tone first, then raise money.

Bigger than the prize of a shiny new org building is the real prize of true salvation for the people in your area. Maybe its not fair, but realize that they are COUNTING on you to wear your hat and bring off this win. The fate of millions rest on a few slim shoulders in each area.

LRH was the first Ideal Org builder. He went "all in" personally and made his own "credit creak" when establishing the building for St. Hill – the first ideal org. His boldness means that now we have the opportunity to follow directly in his footsteps and do the same for our own areas.

I promise you the victory you will achieve is worth far more than the cost of the battle. The momentary sacrifice now is well rewarded later in massive wins and the knowing confidence of achievement. Once you slay this dragon, you will never be the same. You won't fear money or "impossible" goals. You'll have seen the best of your fellow man and know he is worth saving. Your group will take on a beingness and power of its own and mankind will be that much closer to finding freedom.

I think the greatest gift a person can get is the chance to change the world and to be involved in something massive, meaningful and that echos throughout the ages. This is that chance. Grab it and go for it!
An additional comment about the second section highlighted in red.
Not sure where this came from, but I don't doubt that these words were uttered by L. Ron Hubbard. Though the euphemistic "credit creaking" is not the same as "going into debt" and "filing bankruptcy" but no doubt this is how it is interpreted.
But the biggest difference is that when L. Ron Hubbard bought St. Hill Manor HE OWNED it.  It was an investment for HIM. AND he then collected income from the activities that occurred there. AND he collected money from selling it to the church at an enormous profit. no "ideal org humanitarian" gets anything in return other than the "knowing confidence of achievement."
Sort of omitted in the glowing rah-rah.
The "fate of millions" rest on their shoulders. And this IS what these people believe, and have been INDOCTRINATED into believing.
Right out of KSW#1 — The whole agonized future of this planet, every Man, Woman and Child on it, and your own destiny for the next endless trillions of years depend on what you do here and now with and in Scientology.
The blind and incompetent are leading the blind incompetents.