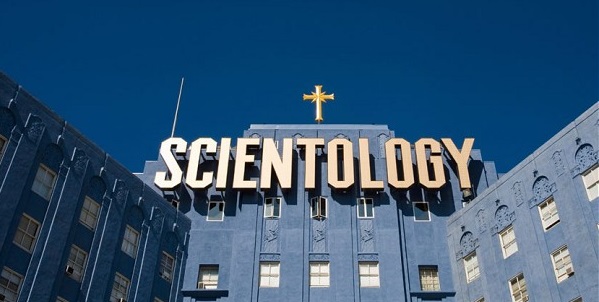 It's SatTerraDay
LRH, Scientology, and God
It's Sunday morning. The sun is shining brightly. I'm writing in a coffee shop with the person I love the most in the whole wide world: my spouse. God is good. Or…at least life is.
I was raised an atheist. Despite three-plus decades in Scientology, I'm pretty sure I still am. And you know what? I think LRH was too.
I never attended a place of worship while growing up. No churches, no synagogues, no mosques. Like Karl, "religion was the opiate of the people," in my household. God was a crutch in the minds of the weak.
If a young LRH got dragged to church on Sunday mornings back in Montana, the words of God must not have stuck, because once he invented his own religion, God took a back seat.
In the Beginning…
Ron's universe wasn't created by God. In Ron's cosmology, there was simply a cause. In 1953, he "Humbly tendered as a gift to Man," The Factors. The first reads: "Before the beginning was a Cause and the entire purpose of the Cause was the creation of effect." He doesn't mention a supreme being—nor in the rest of his twenty-nine factors.
In his Eight Dynamics—what LRH categorized as the eight basic urges, drives, or impulses in life—he wrote, "The EIGHTH DYNAMIC is the urge toward existence as infinity. This is also identified as the Supreme Being. This is called the Eighth Dynamic because the symbol of infinity, [infinity symbol], stood upright makes the numeral 8. This can be called the Infinity or God Dynamic." Notice that LRH says this dynamic is an "urge," not the existence of God.
At the top of his "Gradient Scale of Sensation" (Scientology 0-8, The Book of Basics, page 256), he wrote, "God, or what Man calls God." Again, he seems to imply that God doesn't actually exist.
Ron's model might have been right. I have no idea. I have no proof. If I was around back at "the beginning," I have no recollection of the event. Whatever happened, though, must have been spectacular.
Supreme Beings…and Lesser Ones
Can one be a spiritual being and still not believe in God? Sure, why not. In fact, you don't even have to be a spiritual being. From what I understand, God is all-inclusive? He loves and looks after all his creatures: Bob, Ted, Jane, and Alice; their pets, Rex and Duke; the coyotes howling in the hills behind my house; and the crows playing with pine cones on my roof.
Bob may not acknowledge the existence of a higher force, but as spiritual being he can make an ashtray rise up off a chair!
Conversations with God
The thing is, God's not real communicative. At least not with me. I've never sat down with the guy and had a heart to heart. We've never talked over a cup of coffee at Starbucks. He's never whispered in my ear late at night while I'm lying in bed. Notwithstanding all the assistance and guidance I receive from my spouse, I'm pretty much on my own. Which is maybe one of the reasons I got into Scientology. I was searching for answers.
Does God speak with others? [Terra shrugs.] All I know is that I'm not on his speed dial.
God, Money, and Prayer
Like me, I believe LRH thought that if we wanted to improve our lot in life (or make more money), we were gonna have to come up with something stronger and more "workable" than prayer. For every appeal, plea, chant, and invocation to God that goes answered on this planet, millions go unheard. The percentages are abysmal. For every fat American throwing organic ice cream in a grocery cart at his local supermarket, thousands of undernourished mothers, daughters, and sons struggle to survive a continent away. For every tanned European lying under the sun on a Mediterranean beach—toward the end of his required month-long vacation—someone on the other side of the sea wonders if he should rebuild his bombed-out abode or flee to France with what he and his family can carry in a suitcase.
If God exists, he must really like rich guys. Or in Scientology parlance, the able.
"Proof? I don't need no stinkin' proof."
If LRH didn't believe in God, it wasn't because the man needed proof of divine existence. It wasn't because Ron needed evidence, scientific data, or sworn testimony. Because, you see, he didn't require that sort of corroboration when he invented his own religion. In fact, he believed that everything about which he thought, wrote, and lectured were one hundred percent true and binding. He didn't need any help. He'd gone where no man—I mean person—had gone before. Questioning the word of The Founder in Scientology is akin to challenging the word of Allah in a Meccan mosque.
Jesus was said to be the son of god. LRH suggested he was the reincarnation of one.
Holes and Pegs
God just didn't fit in LRH's religion. In Scientology, there is only one supreme round peg for every round hole, and that one peg is L. Ron Hubbard. Other religions didn't offer a workable way out. Ron's did. Christianity, Judaism, an Islam were bogged down in thousand-year-old parables that didn't apply to a modern world. Eastern religions offered a little more insight into freeing man's soul, but not with any consistency or within the time constraints of our got-to-have-it-now-now-now culture. Other religions didn't fully work. His did. Scientology was quick and modern. Other religions were old, slow, and intransigent. They could have their gods. Ron didn't need one.
As for answers to life from modern psychology…well, you all know how he felt about that.
Last Words
Does God exist? You tell me.
Still not Declared,
Terra Cognita