They keep hyping the vital necessity of Orlando "ideal" org because there are so many tourists.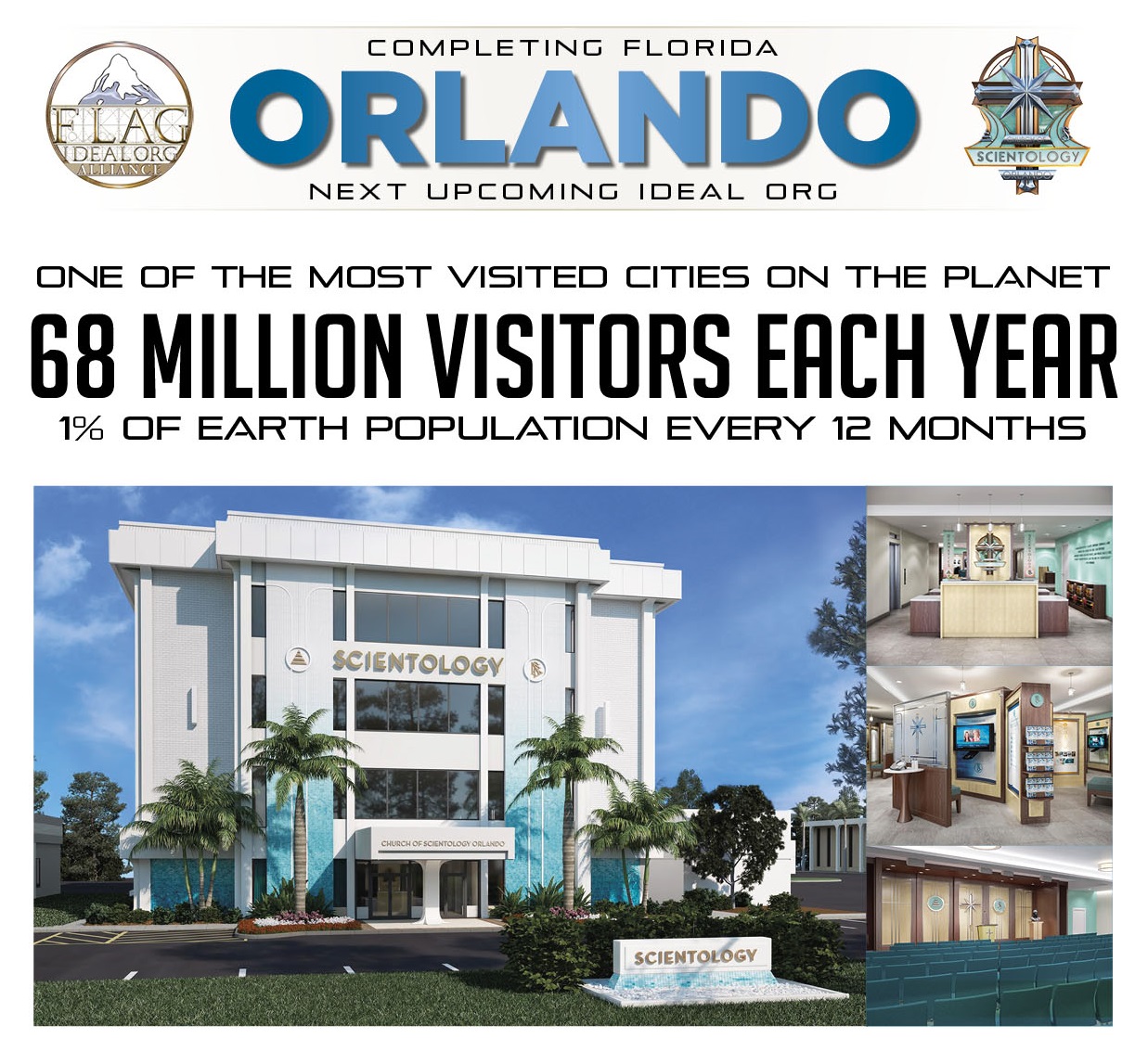 They've apparently got no better reason to try and persuade people this is important.
Of course, they don't mention that more people visit Los Angeles and New York each year, and they've had ideal orgs for decades. The result?  Zip, nada and nothing.
And even more on point, Las Vegas has almost as many vacationers, and arguably ones more susceptible to the scientology pitch than families on the way to Disney World (kids account for a good portion of that 68 million number — there are probably more adult visitors to Vegas). Las Vegas has had an ideal org for about a decade. Nobody even knows it's there. Just like Orlando, it's out in the boonies. It has a perpetually empty parking lot, few public, less staff and difficulty paying their utilities bills. That's quite a model to strive for. All those tourists in Vegas are absolutely meaningless. The Vegas ideal org sees none of them,
And now they are doubling down on their insanity. More "reasons" this ideal org is SO important (remember Silicon Valley that is going to take over the tech industry because they have a parking lot that borders a parking lot that Google people park in?) and they are even wackier than the tourist stats:

2nd best place for job seekers… and that is important because people without jobs are good candidates for scientology?
It has a nickname? And it's pretty lame. NY and Chicago have better nicknames. So what?
Largest University? I guess that means Boston is not such a big deal? Orlando has one university, Boston has dozens. So does NY, and LA. Chicago's got a lot too…
Clearly, they have NOTHING related to scientology to talk about so they are trying to sell the idea of "Orlando" as a nice place. Weird.
This really encapsulates the scientology mindset. They are like a guy sitting on a pier with a fishing pole, a pin and a worm. He announces to everyone who will listen that he is "tapping into the largest food supply on earth — billions of billions of fish right there in the ocean." He then starts asking for donations to get a better looking fishing pole (leaving the bent pin and the worm) proclaiming "I will be overwhelmed with more fish than I can eat and I will share it around with all of you and everyone will have fish. Jesus only fed 5,000, I am making planetary hunger a thing of the past."
And that would only be a good analogy if you added one final thing.  All the fish had internet with pictures of worms on pins and big letters underneath "stay away, it's a trap and they will eat you if you get caught."