Hubbard instructed scientologists to ally themselves with real organizations and religions in order to establish a "safe environment." This is something scientology treats seriously, especially in Clearwater, home of the "spiritual headquarters" of scientology. Lisa Mansell and Pat Harney work on trying to accomplish this almost full time. And they have local scientologists like Joanie Sigal who are also heavily involved in these efforts, along with other lesser lights like Daniela Nessen and Pam Ryan Anderson.
This is a page from the latest issue of Tampa Bay magazine covering a recent charity event.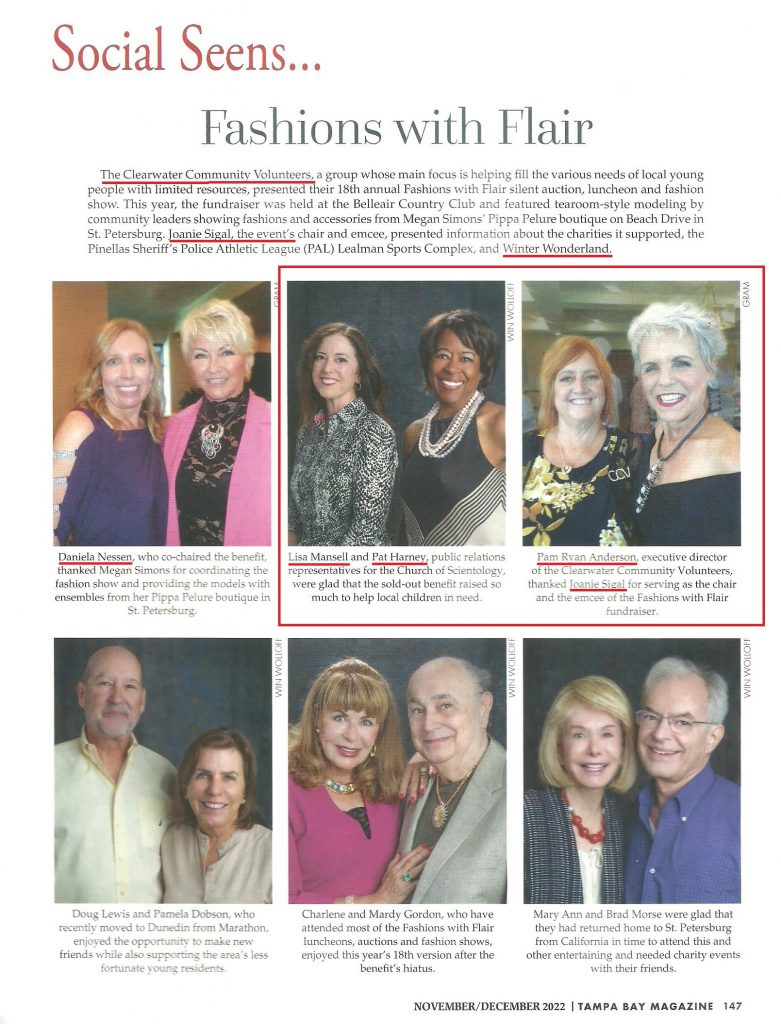 This event was a total scientology operation. Unfortunately, there are still people in the local community who allow themselves to be suckered by scientology. I do not think the rest of the people featured are scientologists — perhaps some readers here know otherwise: Megan Simons, Doug Lewis, Pamela Dobson, Charlene Gordon, Mardy Gordon, Mary Ann Morse and Brad Morse. They should all be warned they are allowing themselves to be used by scientology to try to gain credibility in Clearwater. While I imagine some money ended up with the Pinellas Sheriff's PAL, you can bet the biggest beneficiaries of this event is scientology's Winter Wonderland.
If you know any of these people, let them know they are shilling for scientology.
For more information about what is actually going on in scientology in Clearwater, I recommend you watch Aaron Smith-Levin's recent video: