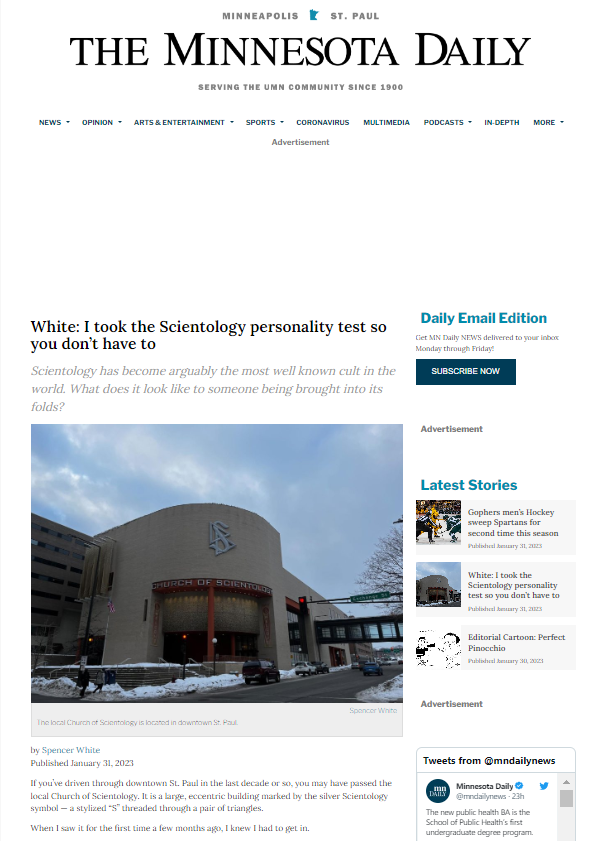 An interesting piece in the Minnesota Daily
Another inside view of an "ideal" org — empty like all the rest.
A few highlights.
The almost obligatory mention of Shelly and now the fact Dave is in hiding: Shelly hasn't been seen publicly since 2007, and any comment on her whereabouts from the church seems vague to say the least. David, on the other hand, has disappeared more recently in wake of a civil child trafficking suit.
The results of his OCA were, surprise, surprise "unacceptable": My OCA results considered me to be in a largely unacceptable state, only activity being deemed normal and aggressiveness being deemed desirable, and I was prompted to schedule an appointment at the local church. I did so excitedly.
The "ideal org" is "lavish": The whole building was very lavish. It was entirely orange and brown, with large indoor waterfalls, countless shelves of books written by Hubbard — all available for purchase in the bookstore, obviously — and large televisions with over-the-top control panels where a remote would've done just fine.
But, the place was EMPTY: Despite this exercise in excess, I only saw five other humans during my entire stay.
The conclusion:  Scientology is dying. They have been able to live off of money from their members at higher levels, but with their terrible publicity and lack of new members, they don't seem to have much of a future.
"Based on my ex-Scientologist sources who worked in that building, they said there's probably 25 or so members in this church," Joey Peters, a reporter for Sahan Journal, said.
Peters had visited the church roughly five years ago for a story and found the place was struggling to bring in new members and was ineffective at recruiting.