I have finally made it home. The red eye lived up to its name. I have had this posting sitting on the back burner for a week or so, and I think it is always valuable to have a reminder here that it is possible to practice scientology outside the church. It is one of the things that is used to keep people toeing the church party line "we are your only hope" and for anyone that believes scientology is the answer to their spiritual happiness, this is a powerful control mechanism. "If you leave the church, you forfeit your eternity" (as if it were something you could give up, or something anyone else can give you). "The only people out there are squirrels, and they will kill you with out tech" (though I must say, if you are going to be harmed by out tech, the less you pay for it the better and the MOST expensive out tech is the exclusive domain of the church). These two lies keep a lot of people from straying outside the electric clubbed seal fences.
And yet here is a shining example that utterly disproves the lies.
Dani and Tami Lemberger are two of the nicest, most caring people I have ever had the pleasure of meeting. They are long time, highly trained scientologists. They have a team of like-minded people working with them. The "ideal org" in Tel Aviv is like all the rest, an ideal morgue. Empty, shiny floors and vacant custom built chairs. Yet, a few miles away sits a flourishing center of activity. No marble floors. And no IAS Regges. No FART Div 6. And no Facebook Police. No GAG II. And no teenage Hitler Youth Ethics Officer.
Just good people wanting to help others.
On November 10, 2013, we posted an interview with Dani Lemberger, "Dror Center, One Year Later."
We recently asked one of our Middle East Special Correspondents to check in again with Dani to see how their second year went.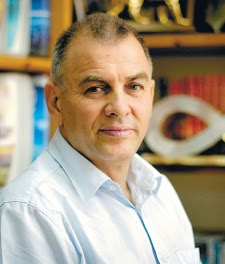 Q: Hello Dani. We last met in Nov 2013. You were very happy at the time with your achievements after a year of being "indie". Now you've completed the second full year, how did it go?
DL: Let's start with the bottom line. You may recall that I showed you last year our single most important stat, "Monthly Public on Lines". Well here it is for 2014.
Dani smiles with pride as he shows us the following graph and explains: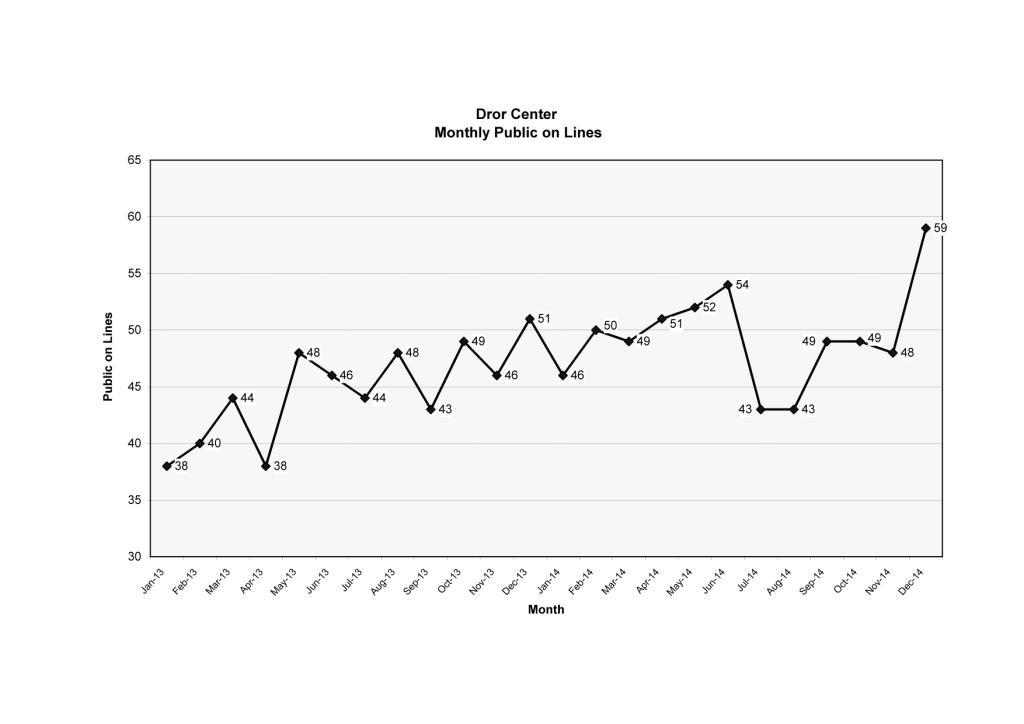 DL: You see here the two years 2013-2014. December 2014 was our "Highest Ever-Ever" with 59 public on lines! Before we left the church we had a highest of 51. And there are a few more guys on lines who failed to show up in December.
Q: This number means what?
DL: Simply the number of people who received services at Dror in December '14, who have paid, of course, were on course or on auditing.
Q: Who are the people behind the numbers? What are the new developments?
DL: The most exciting news is that we are getting a lot of new public on lines. In November-December 2014 we had eleven[!] new people start services, most of whom have never before done any Scientology. This is our most important achievement. Also, in Dec '14 we had five guys from Europe on services, three from Germany and two from Russia.
Q: From Europe they come to Haifa, why?
DL: It's easiest to answer with the example of Alexander Dantser. His last services were at Flag in Dec 2013. Do they still call it "The Mecca of Technical Perfection"? This guy was kicked out of Flag in the middle of a major action, it just cannot be grasped. He first did L11, then made a major donation to the IAS, then started L10. He said something they didn't like, in session, and got booted immediately. Shocking, I couldn't believe it when he told us.
Q: How did he arrive at Dror?
DL: One of our friends operates a blog in Russian. Alexander read about us and in October came for a short visit, to check us out, he's a smart businessman, did a thorough "Doubt Formula" before deciding. He liked what he saw, returned in November for six weeks and is now back home, solo'ing on OT II. He's doing great, sending in rave success stories. It fills me with joy, to see the Tech applied and people having miraculous wins.
Q: And the other Europeans?
DL: Similar stories, people who were on church lines, left with dismay or disgust and found us. Vicky Kluyev is here from Moscow, Josef Thering from Berlin just left Dror after a second visit and currently Marion Koehler, also from Berlin, is here.
Q: And locals?
DL: Our major win is finally attracting new local public.
Q: What do you mean "finally"?
DL: The last few years under the Church, we couldn't get new public to start on services. When they heard we were part of that cult, the Church of Scn, they fled. Now they know we are fully responsible for helping them, no one intervening from above. Some have never heard of Scientology yet want an effective system to improve their lives. Others have done some Scn in the past, they know the Tech works but refuse to go near the Church, so they come to us.
Q: How comes? They have an "Ideal Org", the Alhambra in Tel Aviv…
DL: This is exactly what drives them away. A top designer came here after she was on tour at the Alhambra. She said the building is impressive, a huge investment, lavish and modern. It looks like a ritzy club, all chrome and glass, but no soul. She said she would never seek help or spiritual advice in such a gaudy place. Others have told us that when they walked in, there was no one to talk to.
Q: And how do you assure the delivery of "Standard Tech"?
DL: That, of course, is the key to our success. The public comes for Standard Tech. They want LRH's Tech without additives or variations. The Church, under Miscavige, has bastardized it and perverted it repeatedly. They somehow reinvent "More-Standard-Than-Ever" Tech every few years by chopping it up, quickying, dropping key elements or by blanket C/S'ing. There are many examples, the Scn Drug RD has been "redone" but almost nothing left of it.
Q: How about the OT Levels?
DL: When you have OT 8's redoing Purif and Objectives, under the guise of a "new release" called SRD, that's just pathetic. It's a disgrace.
Q: I meant, your delivery of the OT Levels …
DL: Well, lucky for Ron and for Scientology, the full materials of the OT Levels have been made available to all, freely, for many years. Many courageous and caring Scientologists have seen to it. We have trained with the best of them and still exchange data with top Tech specialists.
Q: Can you give me an example?
DL: OT I and OT II have been decimated at the Church, replaced with inferior Tech and quickied to the point of no wins, almost nothing accomplished by the Pre-OT's. We made sure we had the proper, original LRH materials. We then consulted with Senior Tech terminals, some of whom have worked under Ron in the 1970's. We have acquired the precise Tech, with full certainty. We've had recent completions of these levels with wonderful gains. I am very proud of our Tech team.
Q: Who are they?
DL: It is still Tami Lemberger, Aviv Bershadsky, Dima Dubinin, Moti Weizman and Carmela Weizman. We help other auditors around the world and brilliant individuals are always willing to support us as needed. The six of us at Dror have been working together for over fifteen years, in harmony, dedicated, making decent salaries, no moonlighting allowed.
Q: How about the top of the Bridge?
DL: Yes, thank you for reminding me. We've just had our first Solo NOTs completion, what the Church falsely calls "OT VII". They've instituted an "E/P Check" that is insane. KGB-style interrogations to guarantee you get introverted and then your only win is from becoming an IAS Patron, a prerequisite to attesting to OT VII at Flag. Again, we researched NOTs, all LRH materials on it, and drew on the experience of experts who've delivered it before DM's onslaught. We have smoothly brought Alex Shur to completion of the level with huge changes in his life, truly "cause over life", across the dynamics, by his own attestation and real statistics in his day-to-day life.
Q: You sound very happy, too good to be true. Any concerns?
DL: Oh yes, serious ones. The church has destroyed the profession of auditing. I know of no young person aspiring to be auditor. We must create many new, young auditors. That's my major goal in life now. We are working on streamlining the training of auditors and then attracting young talent. We need to set up a scholarship program to fund auditor training. I have ideas, we're working on them.
Q: I saw something in the media about a lawsuit you filed against the Church?
DL: That's a personal matter, has nothing to do with Dror. I had to protect myself, my livelihood and friends from their attacks. It's part of creating a safe environment, exposing criminality. Most important, actually, applying "Ethics Gradients"; putting Ethics in on DM and his stooges. Some people are still intimidated, even terrorized, by the Church. It's about setting an example, Ethics Presence, being honest, publicly and demonstrably upholding ones values, integrity.
Q: There's been a lot of bad press about the Church, websites attacking them, an HBO documentary is coming soon. Any thoughts on that?
DL: Most websites and the films about Scientology expose the criminality of the Church but totally neglect the other side of the coin, the burgeoning "indie" field. There is more auditing occurring now outside the Church than within it. LRH Tech is producing miracles daily, that is the most important story and it should be told.
Q: Say or ask before we end?
DL: Thank you for coming, for your time and attention.