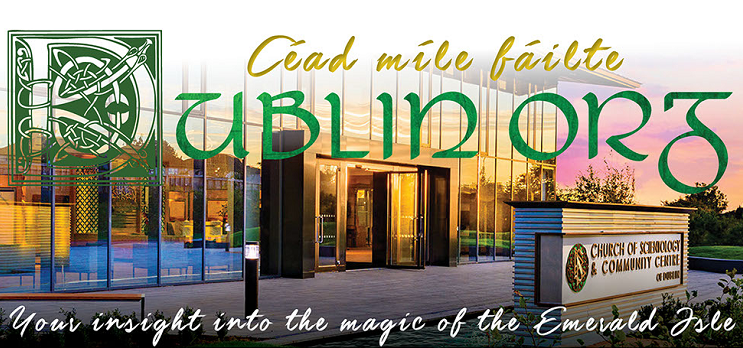 Dublin is one of the stranger scientology orgs on earth.
An enormous investment was made into this organization in a country where scientology has never been even remotely popular. There was a small, failing, bankrupt mission in Dublin. That was the extent of scientology's presence. Miscavige then bought one of the "Hubbard Offices" to try to preserve his "legacy" (and as a way of spending money for IRS purposes).  For a short while Hubbard had an office in Merrion Square in Dublin where he delivered the "Personal Efficiency" course which was supposed to be the tool that boomed scientology. It has never been successful there or anywhere else.
But, to add to the collection of his old office in London, the house where he wrote Dianetics in Bay Head NJ, the house he lived in for a short while in Johannesburg, and his old house in Phoenix, they found themselves with a "PR Office" in Dublin. But no org. Couldn't have that…
So, Miscavige decreed that Ireland get its own "ideal org."
Of course, the biggest problem opening an org of any size in a country that has had no scientology operation (other than the aforementioned bankrupt mission) is that there are NO SCIENTOLOGISTS.
They purchased a building on the outskirts of the city where there is absolutely no traffic, and then set about trying to find people to man it up.
They brought in Sea Org members from around the world, and enticed others to join staff there with the promise that the grass is always greener in Ireland. While that is in fact literally true — it's not called the Emerald Isle for nothing — this "ideal org" is as much of a failure as all the rest of them, but on a grander scale.
For those unfamiliar with the politics of being a Class V org staff member (as opposed to Sea Org), you are bound by a 2.5 or 5 year "contract" with the org. Truthfully, as you are a "volunteer" it is not strictly speaking an enforceable contract. But like the Freeloader Debt, there are ramifications within the scientology bubble if you "break" this "contract." And even if you fulfill the "contract" and work for the designated 2.5 or 5 years, when the "contract" is up you are expected to sign up for a further tour of duty. And if you don't sign up, it is demanded of you that you "find yourself a replacement" on your post as to not do so is a "Crime."
With that context, the plea below will make more sense.
Kent Auerbach was lured to Dublin and now wants (or needs) to go home to the US.
But he cannot just leave because that would be a "Crime" — even if he "transfers" his "contract" to another org. Dublin doesn't care about what he does elsewhere or his well-being. They only care about what happens in Dublin.
So, he is begging for a "replacement" — but it's so bad, he is not even trying to find someone to take over HIS post (which is what the supposed crime is — leaving your post without replacement). He is just asking for ANYONE to join staff.
And get his pitch.
The place is run by Sea Org crew. Like that's a big plus rather than an admission they cannot make it doing the usual.
There are "over 100 staff between Day and Fdn" (there are supposed to be 100 staff in BOTH Day and Fdn).
It's the "highest priority" to make sure staff don't need to moonlight (note he does NOT say you are paid enough to live on, just that it's the highest priority).
And people come to Dublin org "from over 50 countries" — gosh, they are the only org in all of Ireland (there is no scientology outpost at all in N. Ireland) you would think they would have enough people to keep them busy there?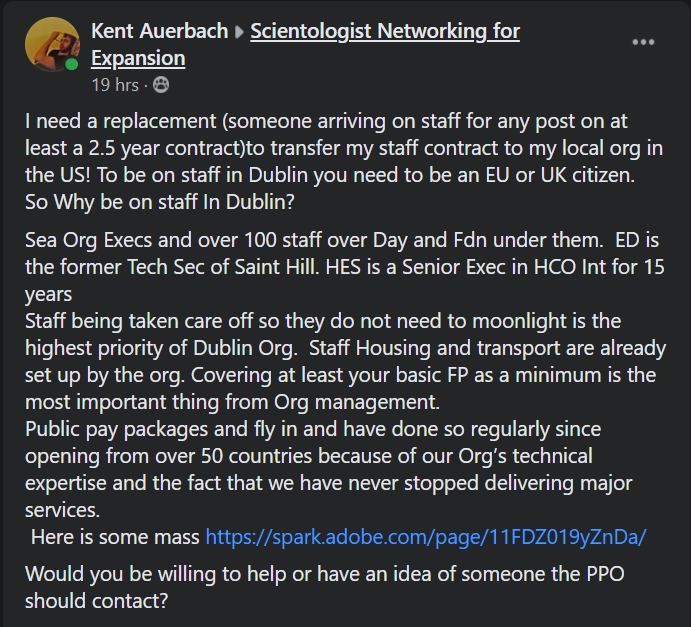 Here's a recent promo piece.
I doubt "Eduardo" is catering to the Spanish speaking population of Ireland.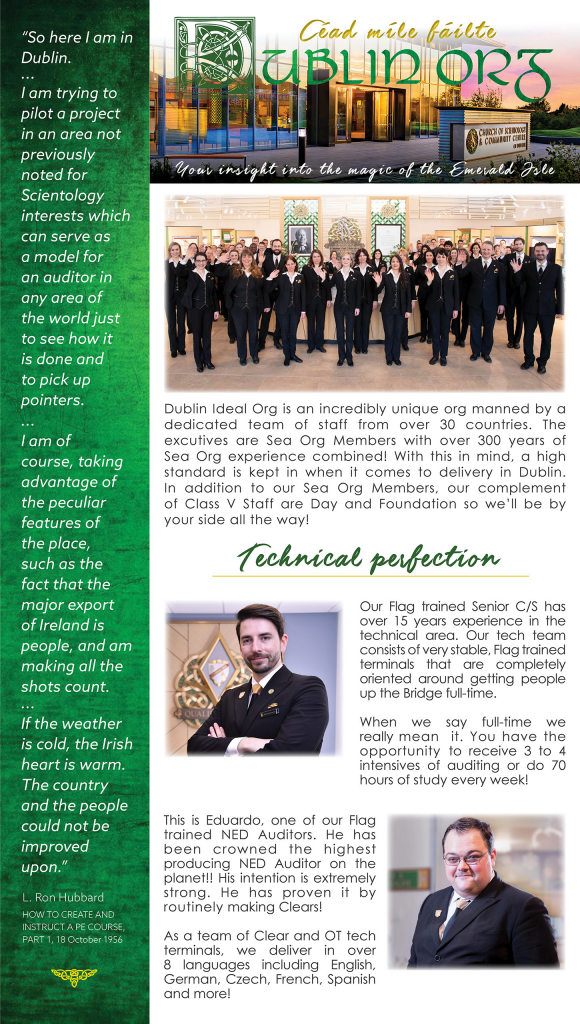 Even with a huge investment of money and resources, they cannot make an org function viably anywhere on earth.
Even in one of the most beautiful and wonderful, magical places on this planet.
Bonus for today.
My latest interview with Jon Atack.