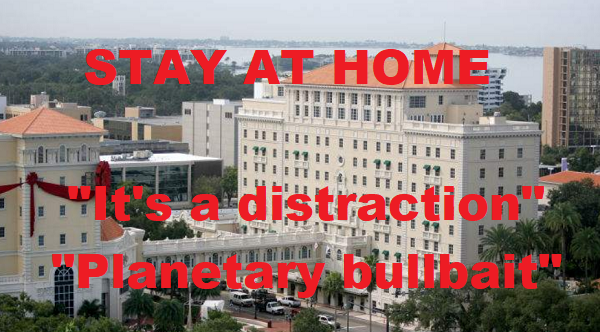 On Thursday 26 March, a "Stay at Home" order went into effect in Pinellas County.
I have included the complete order at the end of this post.
The order does NOT have an exemption for "religious organizations."
Among other things it says that people should stay AT HOME (including in the definition of "At Home" a dormitory, apartment, hotel or motel), remain at a distance of 6 feet from others and not congregate in groups of more than 10 people.
It also specifically states:
"All public and private gatherings of any number of people not meeting CDC guidance outside a family unit, single household or living unit are prohibited,… Any gathering involving groups of 10 or more may be told to disperse."
Were they following these rules, the operation of the Flag Service Organization should be shut down. Just like many other businesses in the county, country and on earth.
All Sea Org members should be staying in their berthing. They should not be traveling in crowded buses to "work". Course rooms should be dark. Communal dining should not be occurring (though clearly they could not be expected to feed hundreds of people in a different fashion with no notice).
If scientology were taking this seriously, all Sea Org members who have local family should have been sent home. Everyone else should be kept at the Sea Org berthing, NOT interacting with other Sea Org members or with scientologists from around the world who may be at Flag for services. Those people from out of town (and out of the country) should be staying in their hotel rooms and NOT congregating in course rooms, restaurants or "HGC waiting rooms"…
What are the chances this is happening?
Virtually zero.
Scientologists have been told by their Dear Leader David Miscavige that COVID-19 is a "distraction" and "planetary bullbait." His pronouncement even hit the headlines: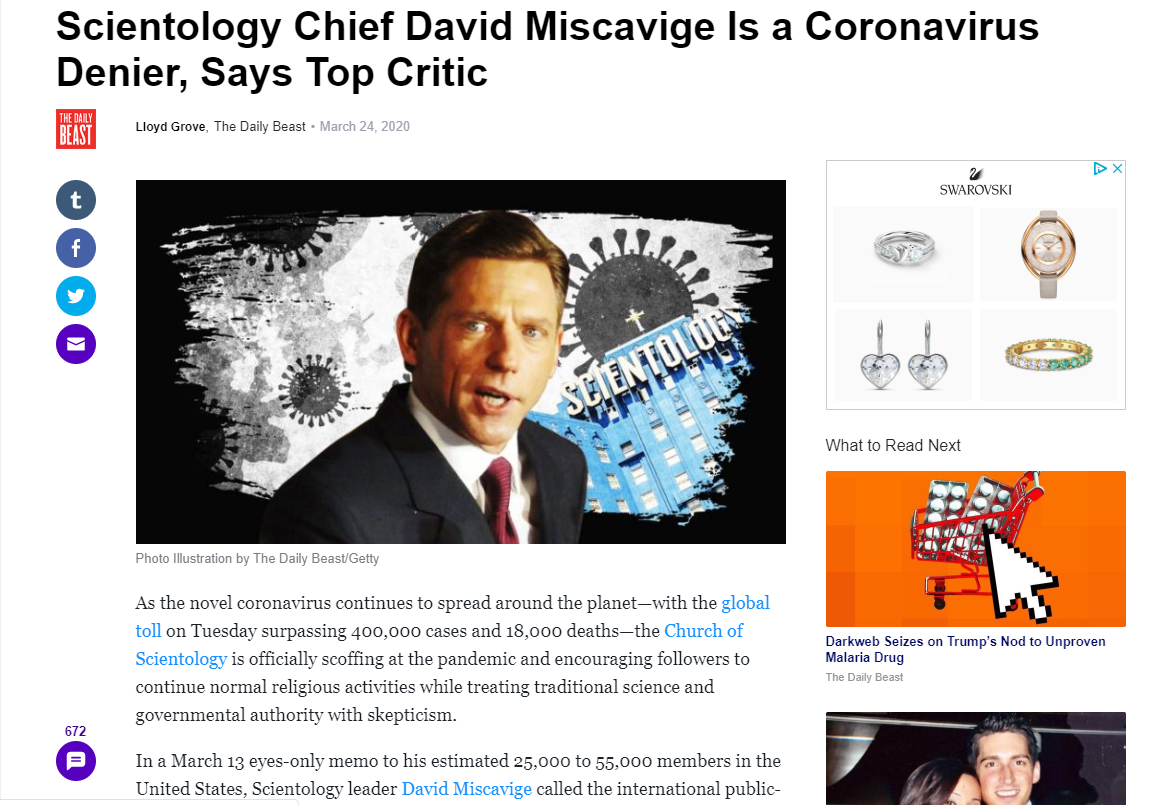 While scientology is now trying to get some brownie points by putting out a booklet and video telling people to wash their hands and "practice social distancing", like so much in the bubble of cult-think, it is simply for show. They truly believe if they are not "PTS" and fumigate their organizations with ozone at night, all will be well.
So, Aaron  Smith-Levin went out and about for 15 minutes in Clearwater last evening (Friday March 27) and what a surprise.
Here is a bus unloading Sea Org member at the SP Building — business as usual. You can see them crowded together on the bus waiting to get off…
This is a still frame from the video.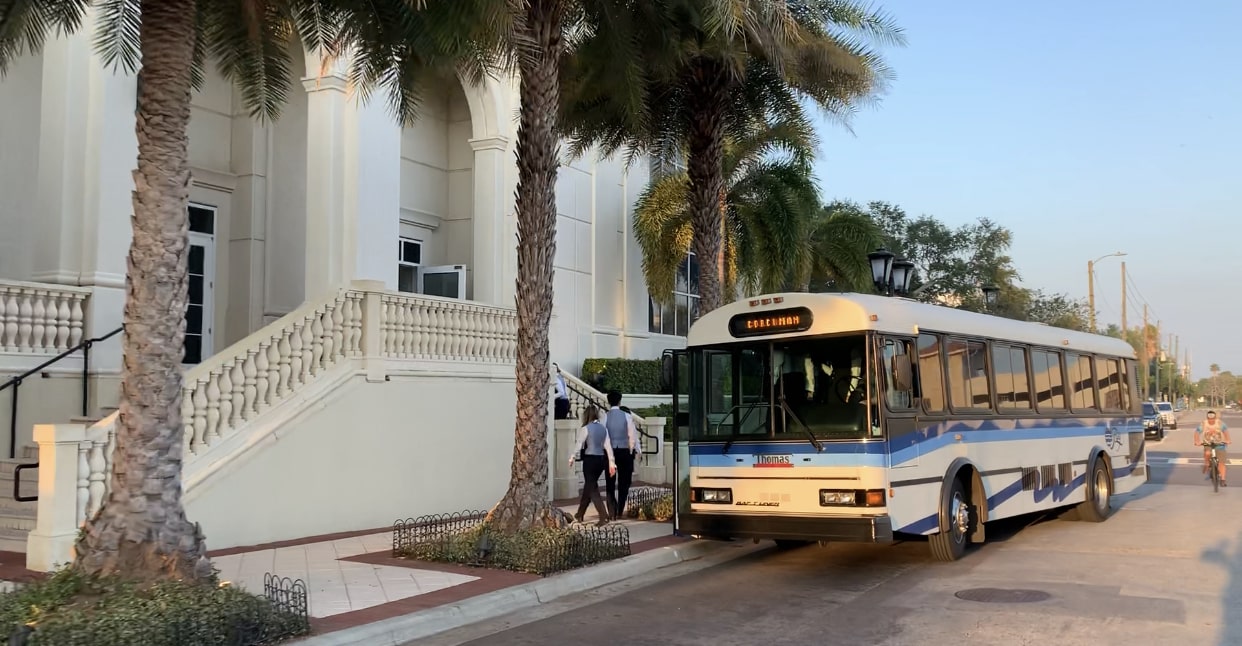 Bus turning into Hacienda Gardens SO berthing…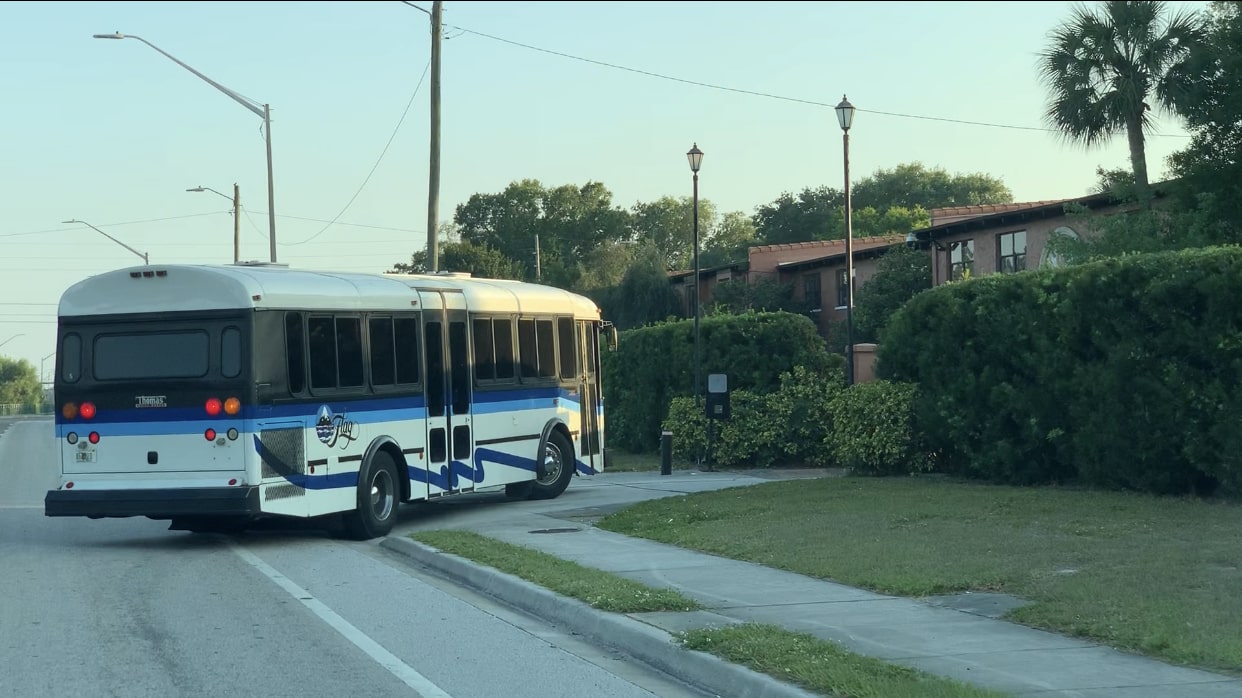 And disembarking more SO Members at the Sherwood Gardens SO berthing…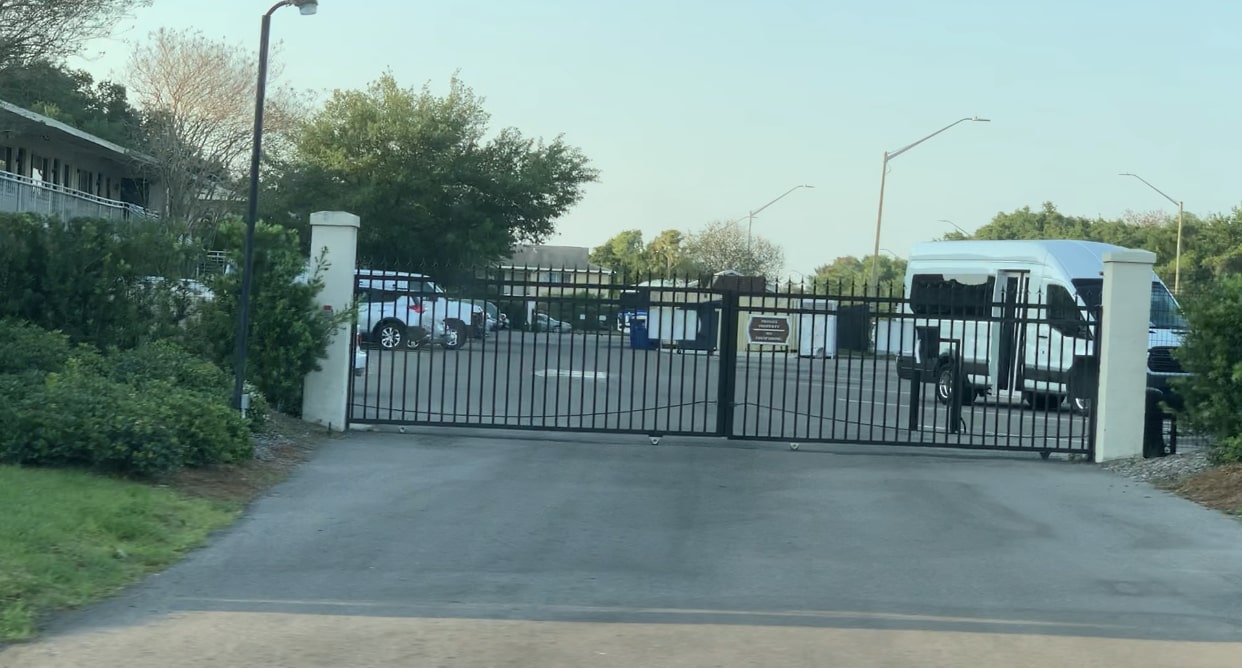 I noted on Twitter the other day that this might be the time for people who have loved ones in the Sea Org to try to extricate them from the potential dangers of living communally in an organization that believes the virus is a "distraction" from the work they need to do.
I suspect there is little interest in attempting to enforce the order, especially when it comes to scientology. But they are clearly flagrantly violating the order, just as anyone familiar with scientology would expect. "Wog law" is for wogs…
Here is the full order for Pinellas County (all of the Flag buildings are in Pinellas County)