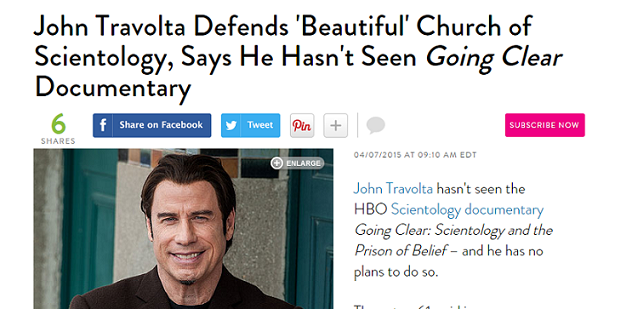 See the new article in People magazine which reports on John Travolta's response to Going Clear: Scientology and the Prison of Belief.
I give him kudos for at least being willing to speak (more than Cruise. Alley or even Miscavige) and trying to defend his religion instead of merely sending out statements from his lawyer saying everyone is a liar.
But, and there are a few very large "buts":
1. He says he has not seen the movie and has no plans to do so. That it would be a "crime" to watch it.
2. He stated he hasn't had any negative experiences with Scientology.
3. He called the documentary a product of "people who were disgruntled with their experiences."
Point number 1 is simply more evidence of scientology's cultish mind-control. He does not plan to see the movie, though he already knows he is featured in it, most devastatingly in the Spanky Taylor story. The truth is, he is afraid to see the film because it would put him in a tough spot because he would then have to specifically deny things revealed in it. It is easier to simply say he hasn't seen it. But to everyone in the world who HAS seen it (or even heard about it) this response is clearly a reflection of the control scientology has over him. It also confirms that scientology does NOT allow you to think for yourself. The pure idiocy of stating it would be a "crime" to watch the film is a wonderful microcosm of "scientology think."
John is going to be asked a LOT more questions about this film, and it is going to wear thin to just say, "I haven't seen it and I am not going to watch it." He put himself in the position of being a scientology spokesman and he cannot avoid the responsibility and questions that come with it.
2. This is a lie. At one point, he had basically left the church. I am sure today he would explain that this was "before DM took over" or something. Anyone who watches the film KNOWS this is a lie, think back to the advice he gave Spanky about not allowing herself to be abused. There are plenty of other things John has experienced or knows about that are NOT "positive experiences" in scientology. To say that there are NO negative experiences in 30 years sounds as unreal as it is.
3. Isn't that the point? He is not saying those "disgruntled" people are lying. They ARE disgruntled, and with good reason. Is there something wrong with people who have been abused, had their families broken up, money taken and head screwed with being disgruntled? How about mad as hell? And why SHOULDN'T they make this known?
He seems to have missed the big picture.
He is being called out in the film mostly because he is a celebrity megaphone for scientology, promoting it as all butterflies and unicorns. The film makes the point that he has a responsibility to know the other side before he love bombs people into getting involved with scientology. He, like an ostrich with his head in the sand, is saying "I am not going to look. I am going to keep promoting this regardless of what information is out there." He is acting like a child who doesn't want to acknowledge that he is being told to go to bed, so he sticks his fingers in his ears, closes his eyes and starts singing "Lalalalalala" as loud as he can.
Perhaps John has his eye on a part in Dumb and Dumber 3.