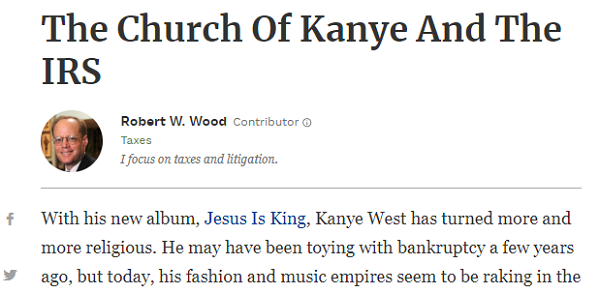 This is an interesting recent Forbes magazine article.
The author covers how Kanye West, who has changed his name to Christian Genius Billionaire Kanye West and conducts "Sunday Services," could actually file for tax exemption and reap mighty benefits.
He describes what the IRS criteria are for granting such a religious exemption:
Distinct legal existence;
Recognized creed and form of worship;
Definite and distinct ecclesiastical government;
Formal code of doctrine and discipline;
Distinct religious history;
Membership not associated with any other church or denomination;
Organization of ordained ministers;
Ordained ministers selected after completing prescribed study;
Literature of its own;
Established places of worship;
Regular congregations;
Regular religious services;
Sunday schools for religious instruction of the young; and
Schools for preparing its members.
These are the points scientology had to satisfy with the IRS (note especially number 6).
There are a few other requirements not mentioned on this list which apply to ALL exempt organizations — the proceeds may not inure to the benefit of any individual. The organization must not be "commercial." It cannot be in violation of "public policy." Scientology does not fulfill the last two of these criteria (it had long been denied exemption on the first test due to inurement to Hubbard though he of course claimed he didn't make a penny from the organizations and in fact they were in debt to him which was another of his fanciful tales). The United States Supreme Court in Hernandez v Commissioner determined the issue of commerciality but the IRS ignored that in their determination that scientology deserved exemption. There is tons of evidence of violation of public policy — specifically including the attacks on the IRS that caused them to cave in.
The author also noted that "a church does not even need to apply for tax exemption. The church can just operate that way without the IRS's explicit blessing. Most churches do ask the IRS for exemption, but they are not actually required to. This is just part of the proof that for a tax-exempt organization, church status is truly the gold standard."
And he concluded his piece: "That is one reason the Church of Scientology fought against the IRS for so very long. After many years of sparring with the IRS over whether Scientology was a church, there were numerous lawsuits and eventually the IRS ruled that Scientology was a church. But not everyone was happy. The New York Times claimed that the IRS reversed 30 years of precedent to grant Scientology Section 501(c)(3) status. As for Kanye, if he wants to go down this road, I'm betting it wouldn't be that hard for his tax people to put it together."
This last paragraph is the crux of the problem.
Scientology's tax exemption is not just harmful to those affected directly by scientology (like the City of Clearwater), it is harmful in the larger context of setting a precedent that opens the door for others to abuse the system.