Dear Leader jetted off to Milan for a ribbon yanking even last weekend.  It was certainly supposed to have happened PRIOR to the IAS event and couldn't get done in time. Ah well. It will be good to have something for the New Year's event.
And he got to spend a week shopping for some new shoes at John Lobb.
With the constant news from the Hurricane Leah, things have been backed up. I didn't want this to wait too long and tomorrow is Thursday Funnies and Friday is Regraded Being, so letting this see the light of day.
One of our Italian Special Correspondents sent in this report.
They took considerable time to put this together, so I am reprinting it as they sent it to me in their excellent english.
Hi Mike,
So last Saturday was the Milano Opening.
We didn't go but I did ask around for the attendance figure.
I found one article that says there were 2000 people which included a video:
http://milano.repubblica.it/cronaca/2015/10/31/news/scientology-126327591/?refresh_ce
I then asked a friend who's in the SO and he told me it was more than 7000.
Another guy who's ex-SO told us the attendance was 6000, and that this was for sure.
We decided to see what the official site would say. Eventually they reported 8000 attendees. An interesting point to note here is that the first Idle Org in Italy was Rome, which was reported to have 6000 attendees. The next one was Padova, which was reported to have 7000. It's only logical due to the unprecedented expansion, that Milano would have 8000 attendees. 🙂
Then we started compare the pictures. The official pictures are obviously photoshopped.
In the first article I sent you, you can see about 2000 people.
If you look the place up with google maps you can get an estimate of the space. We calculated almost 4000 square meters, which would hold around 4000 people, if you consider that there were 1500 seats. From the pictures you can also see that there are sections of the parking lot not used for attendees.
There is one official picture that is a "long shot."  It shows a huge crowd of people. If you look at the stage, you will notice that it's very small. You will also notice that the building itself lacks depth, which indicates the shot was not actually taken from this angle.

If you look at this picture from an Italian newspaper, you will notice it's taken from an almost direct angle, from a building behind the parking lot. You can see here that the stage is much bigger, meaning that it was taken much closer. This would mean that the official picture above is taken so far back that they would have to have been behind the building there the newspaper took the shot.
There were a lot of other shots indicating photoshop such as the lack of depth to the side of the side of the building, and the fact that there are people where there is a fence in reality:
And here is a shot of how it looks in the real world.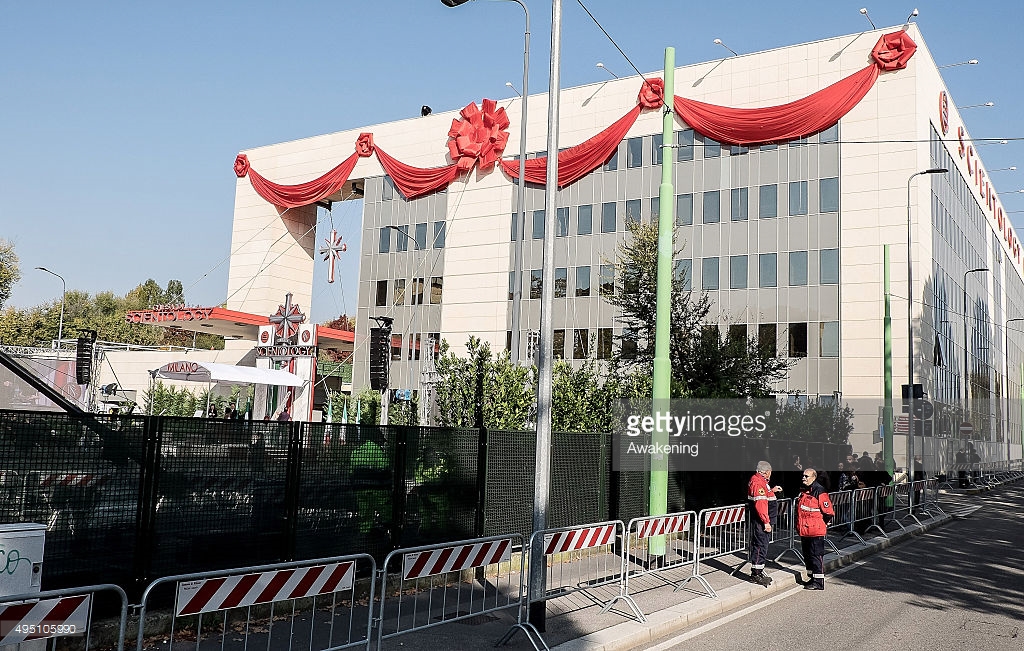 There are others, if you want them, just let me know.
There is just one more that I really want to share. I was going through the pictures, and I stopped because I recognised the girl in this picture with the red shirt.
I then went to the NEXT picture in the slideshow, and lo and behold, there she is again, right in the front left. Although it appears as though she changed the color of her shirt! Maybe they thought people wouldn't realise she was in both pictures.
I think the above is enough evidence that there were definitely not 8000 attendees. We believe they are only saying this to perpetuate their original lie at the Rome opening.
—
Everything in scientology is phony. There is little doubt that this is the biggest scientology org in Europe. It has been for many years. But even if they managed to scrape together half the number they claim, it is still a poor show when you know this is the entire population of scientologists in Italy and people from all over Europe were pressed to attend "to support Chairman of the Board."
Not the straight up and vertical, 50X greater expansion in the last few years than in the entire 50 years previously bs they churn out.
And believe it or not, they keep sending me anonymous emails with links to the scientology.org website page with Re: lines like "There were more people than you thought" and "Another magnificent Grand Opening"…
They are pathetic and rather sad.