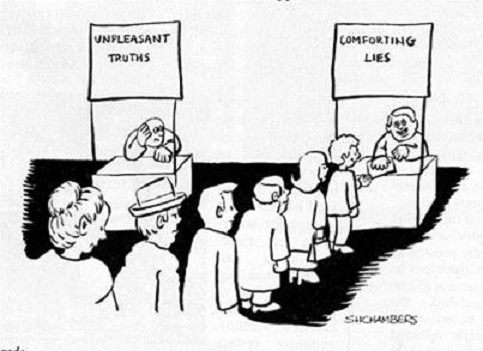 More OTC Minutes because they contain some unvarnished information about the state of affairs in the church.
We will soon hear the hype from Maiden Voyage with the usual magnificent "straight up and vertical" expansion lies news. The clubbed seals will applaud enthusiastically and offer standing ovations prompted by the shills in the front row that would shame a jack-in-the-box on steroids. They will talk about how "incredible" things are and how "this was the greatest event ever" and "we are so fortunate to have COB leading us to a cleared planet" blah blah blah. It's what they WANT to hear. Do you think David and Bonita Wilson, sitting there in the front, want to hear anything other than the "comfortable lies" that the half a million dollars they forked over to the Valley Org is going "make clearing a reality" just like it has now done in Portland and Sydney and Taiwan….
But here is the REALITY. And Sue and Nick are so KoolAid drunk they think this is GOOD news. Proof  if ever they needed it that they "are clearing the planet for real."
Wow.
All you need to know are these facts:
In all the Orgs and Missions in PAC (that is 3 SO Orgs, CC Int, 5 "ideal orgs", another org, about 5 missions including the two missions that have won the international birthday game for 5 years in a row) they managed:
13 books sold
5 Div 6 Services taken by a New Person on the New Introductory Routes (note, this is NOT 5 new people, it could be one person doing 5 services)
34 starts on a GAG II service
This is the result of 239 "Active OT Committee Members" doing nearly 500 hours of work.

If this is a "boom" and "unprecedented expansion" then David Miscavige is Mother Theresa disguised in a wig and spray tan.
Date: Fri, 13 Jun 2014 
From: PAC OTC <pacotc@earthlink.net>
Reply-To: sueaolaotc@gmail.com, nicklekas@gmail.com
Subject: Chairman's Update: New Game to Play

Chairman's Weekly Update

Hi Team,

Thanks to all that were on PAC Base this Monday to participate in the video for International Management. As you know, Maiden Voyage XXV is happening! On Monday June 23rd we will have a HUGE meeting/celebration to welcome back Claire and Nick from MV and get the inside story. You will not want to miss this! This is the official kick-off of our new year! 
 
We have a new game to play with all of the PAC OTC groups – we are shooting to get 100 starts each and every week in the coming year. The starts can be at any org and for any service or training. We want brand new people starting and veteran Scientologists taking their next steps. Our VFP is Volumes of Public moved up The Bridge to full OT. 
 
Have a very productive week and thanks for all you do.

ML,
Sue Frey & Nick Lekas
PAC OTC Co-Chairs

Next OTC Meeting: Monday June 16
LA Org Field Activities Area 6 – 7 pm

WEEKLY OTC STATS

Stat #1
5
Number of Div 6 Services taken by a New Person on the New Introductory Routes

Stat #2
3
Number of Clears or NED Case Completions onto their next OT auditing step.

Stat #3
5
Number of Pre-OTs onto their next step to OT.

Stat #4
34
Number of public started on their Golden Age of Tech Phase II training and processing steps at a Mission, Org or SO Org this week.

Stat #5
11
Number of Public Started on a Route to Knowledge Course or Extension Course this week.

Stat #6
$125
Amount of funds raised for Org Buildings or Renovations in US $

Stat #7
0
Number of Org Staff Assisted by OT Committee to arrive on Staff or the SO.

Stat #8
499:13
Number of OT Committee Volunteer Hours

Stat #9
1
Number of IAS Statuses Completed

Stat #10
$21,871
Funds Raised for the IAS in US$

Stat #11
0
Number of targets completed on the OT Ambassador Program or projects this week.

Stat #12
239
Number of Active OT Committee Members this week

Stat #13
13
Number of Books Sold to Raw Public

Stat #14
2
Number of Events, Seminars and Briefings Held

Are you an active OTC member? If you're not sure or need help to get going, contact Catherine Lepone, Deputy Participation Officer PAC OTC, cmlepone@gmail.com. To find activities to participate in, see the contacts list at the bottom of this email. And remember to report your stats!

SPECIAL EVENTS THIS WEEK

Saturday 14 June

Super Power: Discover the Astonishing Gains – 6 pm LA Org Chapel. With Fran Andrews, ED CCHR, 3 Ls and Super Power Completion, and Marty Sherman, Super Power, Cause Resurgence and L11 Completion.

Sunday 15 June

Postulates, Prosperity and Action – 6 pm AOLA Atrium, dinner served. With top consultant Kevin Bernes and Lead NOTS C/S AOLA Vicki Markin

FROM OUR FOUNDER

"The way an individual ages, the way he dies, is to give up his power of observation and his power of decision, and acts on the basis that he cannot do as much as he used to be able to do, he can't stand as much as he used to be able to stand. And he attributes this to advancing age. He never attributes it to being able to stand less. 

The source of advancing age is being able to stand less. Advancing age is not the cause of being able to stand less.

In other words, aging is caused by a lessening ability to confront action. That is all. It's not because the person can't, but he merely ages because he believes he can't."

– L. Ron Hubbard

Excerpted from the lecture "The Overt Motivator Sequence" delivered on 3 April 1962. This can be found in the Saint Hill Special Briefing Course lectures.

COMING SOON

Saturday 21 June

Flag World Tour – Doors open 6 pm, event begins 7 pm, Hollywood & Highland Center, Ray Dolby Ballroom, 6801 Hollywood Blvd, Los Angeles, CA 90028.

Sunday 22 June

FSM Awards Dinner – 6 pm AOLA Atrium. Acknowledge the most upstat FSMs, Field Groups, OT Committees and Field Auditors, and hear plans for the year ahead.

Maiden Voyage 26th Anniversary: Summer of Events
All on L. Ron Hubbard Way

Saturday 28 June
Maiden Voyage Anniversary Opening Night

Saturday 5 July
Maiden Voyage Anniversary Expansion Briefing

Saturday 12 July
L. Ron Hubbard Source Night

Saturday 19 July
IAS Night
Meanwhile, Jeff Mintz provides us with more stats from Flag — things at the "top of the Bridge" (if you can still call an org that delivers more Purif and Objectives than Clear and OT levels the top of anything) look just as dismal.
721 Super Power completions since release — and a spectacular 20 per week!!! 20 per week? They have 200 auditors and $150 million dollar building… This really is pathetic. And 7 OT VIIs?
At this rate, if they were to actually have 12,000 Scientologists in the Tampa Bay area and EVERY SINGLE ONE OF THEM WAS ON SERVICE, it would take them 600 weeks to just get the LOCAL scientologists through Super Power. That is 12 YEARS. They cannot have it both ways — 10 million plus scientologists and 20 completions are CONTRARY FACTS.
The massive international boom that has been going on now for the entire reign of Dear Leader (30 years now…) just doesn't seem to be showing up ANYWHERE.
Date: Sun, 15 Jun 2014 
From: Jeff Mintz <fscwus@flag.org>
Subject: Good News from Flag!

GOOD NEWS FROM FLAG!!
W/E 12 June 14

*    15 Purif Completions!!
*    20 Survival Rundown Completions!!
*    20 Full Super Power Completions!!
*    18 Cause Resurgence Completions!!
*    21 Ls Completions!!
*    11 Clears!!
*    7 OT VII Completions!!
     (From the WUS: Rosser Cole, Mary-Jane Jewell and Don Davis!!)

With 20 Full Super Power Completions just in this past week, brings the total to 721 since Grand Opening!!

There are 225 public training through Class IV and 255 moving on their Golden Age of Tech II training!

Bring your friends, selectees or contacts into the Flag Office and we will help you get them to Flag! 
Call: Jeff Mintz (323) 953-3230!
UPDATE:
A  Special Correspondent just sent me this, which confirms the "top of the Bridge" is in fact empty. They don't send the "Lead Solo NOTs D of P" off post to LA if they are flooded with public. Nor do they promise that a "Class IX" is sitting around ready to take you in session to "get you onto your OT levels" (that is the job of a Class V auditor).
CLEARS AT THE FLAG AO
SPEED—CERTAINTY—KNOWINGNESS
Clears and Power completions are flooding into the Flag AO in never before seen numbers as the word gets out that they can have a Class IX Auditor and that we WILL get them onto their OT levels in a very short time.

And of course with the Golden Age of Tech Phase II its high speed but with 100% CERTAINTY and KNOWINGNESS!
Right now the TM for New OT V is 2-3 weeks, OT VIA 3-4 weeks, OT VIB 5 days, OT VIC 3 weeks and then onto Solo NOTs!!
Come in, get an interview, find out what you need and allow us to assist you!

•   Stephen Blake, Class IX Auditor from Flag, is in Los Angeles to interview the Clears and OTs to assist each of them to get onto their next step on their Bridge.

•   Nancy Lowe, Lead Solo NOTs D of P, is here in L.A. on a special project and she too is available for consultations to answer any questions you may have.

Contact us at (323) 953-3230 now to set up an appointment with one or both of these wonderful terminals.

Love,
Edy Lundeen
Flag Service Consultant